Highlights
Animal Crossing: New Horizons allows players to fully customize their space, showcasing their creativity and design skills.
The dream feature, which allows players to visit and explore other players' islands, was added in a later update, but should have been available from the start.
Dream islands are a convenient option for players who can't be online simultaneously or if the maximum player limit has been reached. It also allows for affordable island exploration without spending in-game currency.
An extremely important part of every Animal Crossing game, including Animal Crossing: New Horizons, is a player's freedom to completely customize their space to their tastes. Players have designed incredible things in Animal Crossing: New Horizons, which truly stand out amidst other games in the same genre. There's no doubt that Nintendo has crafted a reliable franchise to express player creativity. However, there's an important feature to help with this that should be available from the get-go.
While the customization options in Animal Crossing: New Horizons are incredibly interactive, some people also find it gratifying to be able to share their creations with others. One of the most popular methods is to visit their town. There are a few ways to do this, but if someone isn't friends with the host, or they aren't online, it can become a bit more difficult. Fortunately, players can dream of other places to bypass this issue.
RELATED: The Next Animal Crossing Should Make a Few Changes to One of Its Most Important Features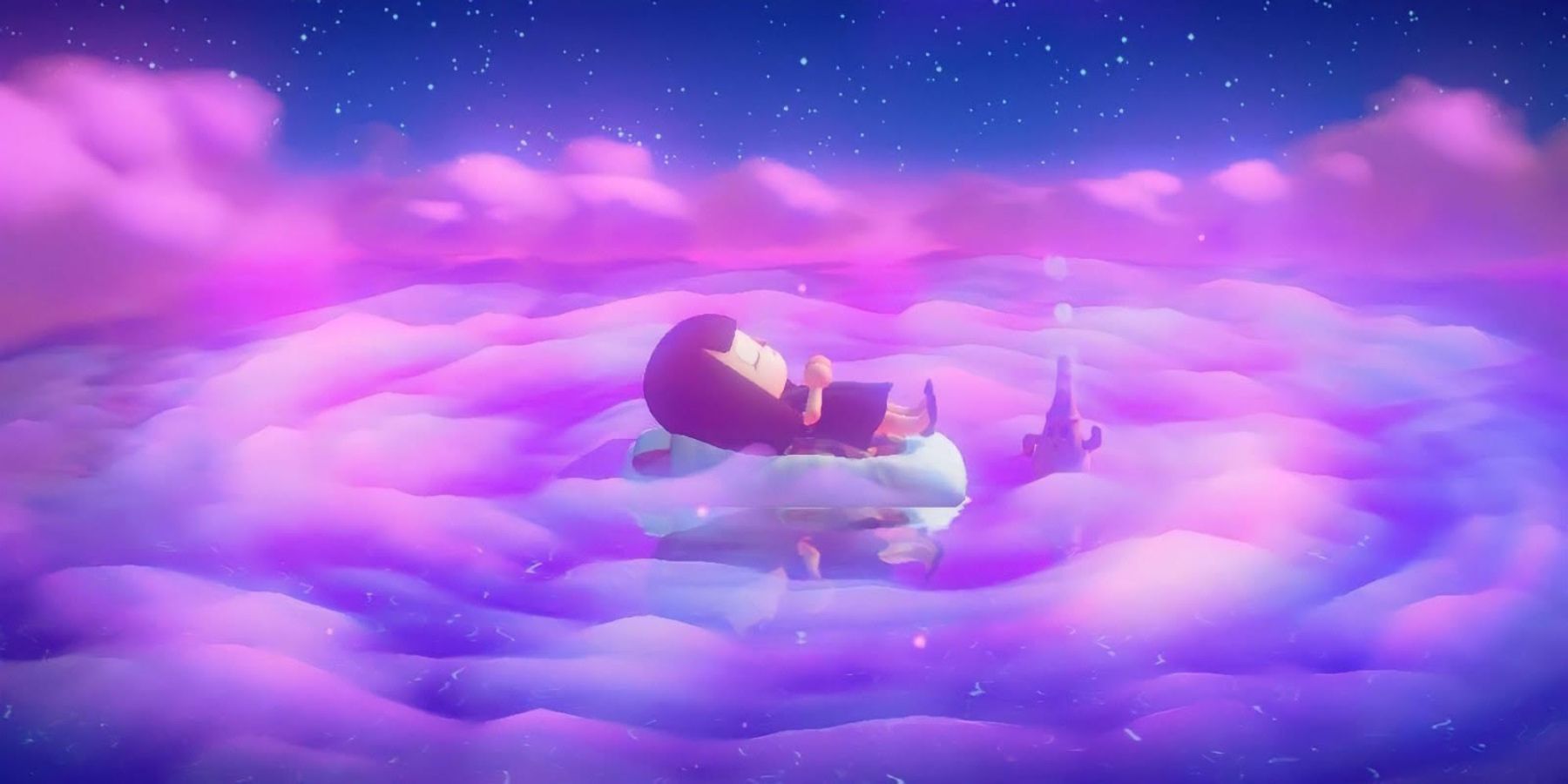 The dream feature was first introduced in Animal Crossing: New Leaf which debuted on the Nintendo 3DS in 2012. Animal Crossing: New Horizons didn't release with this option, though it was added in the Free Summer Update Wave 2 in July 2020. This option essentially allows players to look around another person's land while physically still in their own town. As such, the host doesn't need to worry that anything on their island will be altered when they return because the visitor was only there in a dream and can't actually make changes.
Dreaming was very well-received by the community when it came out for both games. Now that it's become more popular, it should be an option on day one in the next Animal Crossing game. Unfortunately, in order to dream about an island in Animal Crossing: New Horizons, players first need to obtain a bed and a house. This means it isn't accessible at the beginning of the game since people start with a simple tent as their living quarters.
Dream islands are useful for a multitude of reasons. It's extremely helpful for players that can't be online simultaneously or if the maximum player limit has already been filled. Visitors also won't need to spend any Nook Miles or Bells to travel there which makes it a more affordable way to see other islands. Of course, it should be noted that in Animal Crossing: New Leaf players used to have to pay Luna, a special Tapir villager in charge of dreams. This was originally a fine of 500 bells per dream.
Additionally, dream addresses can be updated once per day. This is nice for those that are constantly refreshing their towns with decorations and new villagers. Individuality is a huge part of Animal Crossing titles, but if the next game lacks this feature at the start it could be shooting itself in the foot unnecessarily. After all, some of the best New Horizons Dream Islands may never have been discovered, or appreciated, if not for dream addresses.
It's very likely that the next Animal Crossing game will have a dream option, though how Nintendo plans to execute this is uncertain. To the disappointment of some, a new game has not been announced yet, although that's not surprising given how successful New Horizons was. Perhaps in time, there will be good news, especially since Animal Crossing: New Horizons is reportedly finished receiving new updates.
Animal Crossing: New Horizons is available for Nintendo Switch.
MORE: Animal Crossing: New Horizons Should Make These Changes to Milestones
#Animal #Crossing #PostLaunch #Feature #Horizons #Day