Quick Links
Rogue Class Introduction & Overview
Best BG3 Rogue Build: Thief Character Creation
Baldur's Gate 3 features a huge number of classic Dungeons and Dragons classes pulled right from the Fifth Edition of the tabletop RPG. Because it draws such heavy inspiration from D&D, some of the best builds in BG3 happen to also be the best builds players are already familiar with, including the Thief Rogue.
RELATED: Baldur's Gate 3: Which Class Should You Pick?
The Thief Rogue build is based on the Thief subclass that grants an additional Bonus Action in combat, which is ridiculously useful for getting into and out of stealth. Considering how completely busted Stealth is in Baldur's Gate 3, even with the chances from Early Access, Thief Rogues are sure to dominate damage-wise.
Updated August 12, 2023 by Erik Petrovich: More than a week after its PC launch, the Baldur's Gate 3 community is slowly, but surely, coming to understand how each class works – and how to use their strengths to one's advantage. Before considering which of the best builds in BG3 to try out, players should understand these basics for each class. This guide to the best BG3 Rogue build has been updated to introduce players to the core features of the Rogue before getting into optimal build choices for a Baldur's Gate 3 Rogue build. Read on to find out more about the best Rogue subclass, abilities, and other choices to get the most out of your BG3 Rogue build.
As a guide-in-progress, this build will be continually updated with more information about choices in the mid to late game as players make their way through the expansive Baldur's Gate 3.
Rogue Class Introduction & Overview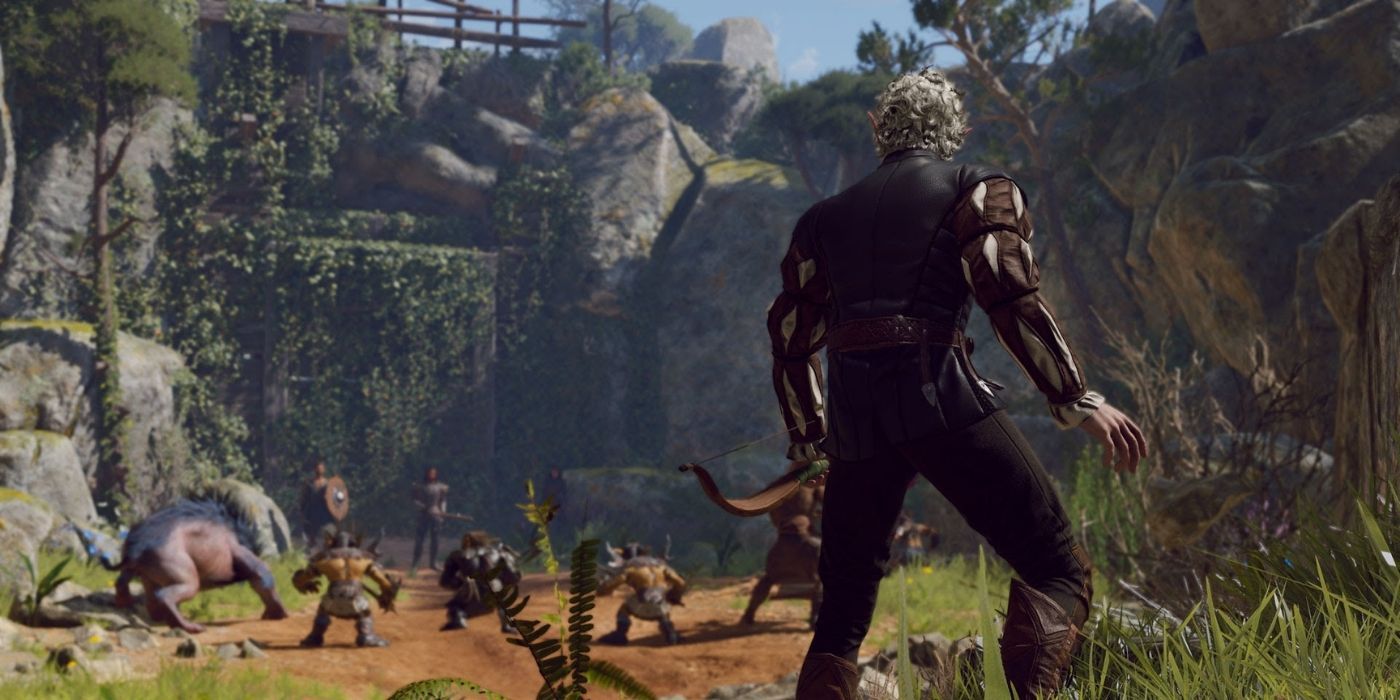 Rogue Playstyle & Signature Abilities
"With stealth, skill and uncanny reflexes, a rogue's versatility let's them get the upper hand in almost any situation."
Rogues are masters of Stealth and are easily able to slink in and out of dangerous situations while masterfully gaining Advantage whenever possible. They aren't too bad at Lockpicking and Disarming traps, and can dual-wield with ease, making them a good addition to a team that needs a dextrous melee member to do some dirty work. They aren't restricted to melee combat, and can be just as powerful when out of sight at a range thanks to the class' unique Sneak Attacks.
RELATED: Baldur's Gate 3: Best Warlock Class Build
Rogues' unique class feature is the Sneak Attack, which deals massive damage with a higher chance to hit, but can only be initiated if players have Advantage over a target. There is a melee and a ranged option, both of which will break Stealth when used. Because of the Rogue's other unique class feature Cunning Actions, they are able to use a Bonus Action to re-enter Hiding, Disengage, or make some distance with Dash. Play the Rogue for a fast-paced, Stealth-oriented playstyle, and to have an easier time accessing Locked containers and Disarming traps.
Rogue Subclasses
Arcane Trickster: Grants Spellcasting abilities to Rogues, greatly expanding options in combat for movement & controlling enemies.
Assassin: Focuses on ambushing enemies and entering Combat through Stealth. Refunds Action Points upon entering Combat, among other benefits.
Thief: Standard Stealth and subterfuge-oriented Rogue that gets improved Sneak at later levels and an extra Bonus Action early on.
Rogue Class Proficiencies
Rogue Armor Proficiencies: Light Armor
Rogue Saving Throws: Dexterity & Intelligence
Rogue Skill Proficiencies: Choose from Acrobatics, Athletics, Deception, Insight, Intimidation, Investigation, Perception, Performance, Persuasion, Sleight of Hand, & Stealth
Rogue Weapon Proficiencies: Simple Weapons, Hand Crossbow, Longsword, Shortsword, Rapier
Best BG3 Rogue Build: Thief Character Creation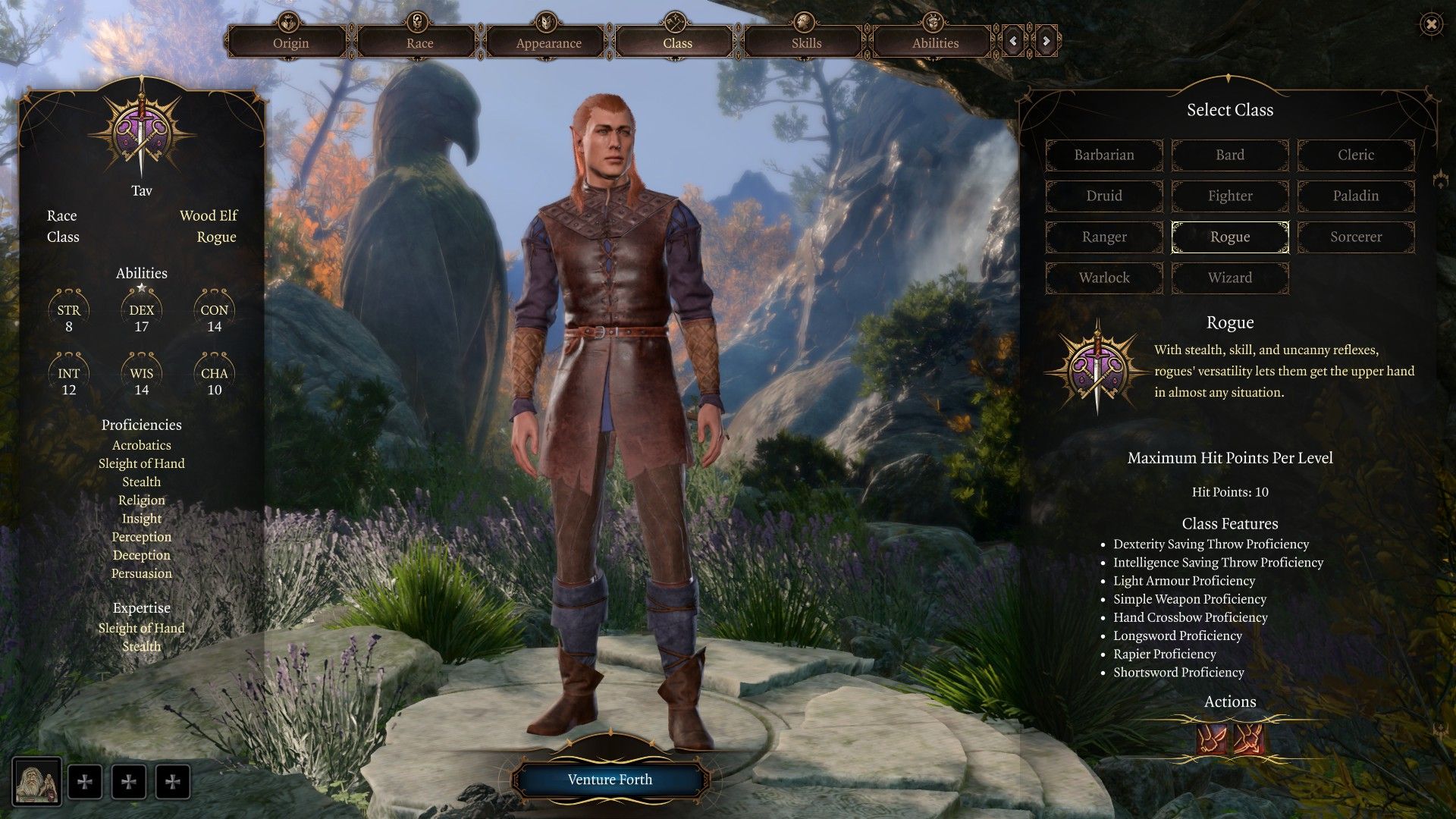 What Makes Thief the Best BG3 Rogue Subclass?
"Thieves use their skills in stealth and larceny to acquire whatever they wish, whether from a third story window or the depths of long-forgotten ruins."
The Thief Rogue subclass offers one simple, but powerful, benefit over the Arcane Trickster: an extra bonus action. With this extra Bonus Action, the Thief Rogue is able to move further away from enemies, disengage from Opportunity Attacks, attempt a second Hide action if a first fails, and much more. Arcane Tricksters gain access to a repertoire of useful spells and cantrips, but when focusing entirely on Stealth, the Thief Rogue's extra Bonus Action becomes incredibly powerful.
RELATED: Baldur's Gate 3: All Sorcerer Subclasses, Explained
Thief Rogues, therefore, are able to set up Sneak Attacks more often, and the boost Rogues get to Sneak Attack damage at Level 5 makes it all the more powerful. The most broken way to play a Thief Rogue is to keep them separate from the rest of the party before combat, then sneak to a vantage point, and fire off a Sneak Attack for free before entering the fray. Oftentimes, this one-shots weak to medium-strength enemies.
Because of the extra Bonus Action, Thief Rogues can virtually always remain Stealthed, or Dash/Disengage to get away with their Cunning Action. Thief Rogues also gain resistance to Fall damage, which comes in handy more often than one might think.
Best BG3 Rogue Race: Wood Half-Elf
The Wood Half-Elf is the best race for the Thief subclass, and the best race for Rogues overall, because of the Fleet of Foot and Mask of the Wild passives. The Fleet of Foot racial increases movement distance to 10.5m, 1.5m more than the default movement speed, and the Mask of the Wild passive grants proficiency in Stealth, an incredibly useful boon to the playstyle.
Best BG3 Rogue Proficiencies and Background: Urchin or Charlatan
If one chooses a Wood Half-Elf for their Thief Rogue BG3 build, the Urchin's proficiency in Stealth is wasted as the subrace already grants that. Instead, choose the Charlatan background, which grants bonuses to Deception and Sleight of Hand, or the Guild Artisan background, which grants proficiency to Insight and Persuasion.
A Choice at Level 4: Dual Wielder Feat Or Ability Scores
At Level 4, Thief Rogues face their first major choice: do you take a Feat, or do you take an increase to two Ability Scores? Ultimately, it depends on the style of combat a Thief Rogue will engage in.
An extra bonus action means a Thief Rogue can still move or Hide (or deal up to two Offhand attacks each turn) while dual-wielding, so in general, a Thief Rogue will fare better at melee combat than ranged. As such, the Feat called Duel Wielder can be really useful, as it increases AC when wielding weapons in both hands and lets players use the Two-Weapon fighting style even if their weapons aren't Light.
But players who want to focus entirely on Ranged combat as a Thief Rogue should instead choose to improve their Ability Scores at Level 4, with a focus on DEX to hit more often and deal more damage.
Baldur's Gate 3 is available for PC and will release for PlayStation 5 on September 6, 2023. A version for Xbox Series X/S is currently in development.
#Baldurs #Gate #Rogue #Class #Build