Quick Links
Wizard Class Introduction & Overview
Best BG3 Wizard Build: Evocation Character Creation
In Baldur's Gate 3, there are a few spellcasting-oriented Classes that players can choose from – Classes that actually thrive when normal weapons are taken out of the equation. The Wizard is arguably the most iconic Dungeons and Dragons spellcasting class thanks to the breadth of spells they can know. In Baldur's Gate 3, the Wizard's diversity makes it hard to pin down its best build.
RELATED: All Baldur's Gate 3 Wizard Subclasses, Ranked
In the Early Access version of Baldur's Gate 3, there were only two subclasses (or Schools) of Wizard to choose from: Evocation, and Abjuration. Because Evocation focuses almost exclusively on damage output, it tends to be the best Wizard build to follow. However, the full version of the game has quadrupled the number of available subclasses for Wizards, making it likely that Evocation won't remain on top forever. Until fans figure out the best Wizard School in BG3, though, it's a safe bet for dishing out damage.
Updated August 12, 2023 by Erik Petrovich: More than a week after its PC launch, the Baldur's Gate 3 community is slowly, but surely, coming to understand how each class works – and how to use their strengths to one's advantage. Before considering which of the best builds in BG3 to try out, players should understand these basics for each class. This guide to the best BG3 Wizard build has been updated to introduce players to the core features of the Wizard before getting into optimal build choices for a Baldur's Gate 3 Wizard build. Read on to find out more about the best Wizard subclass, abilities, and other choices to get the most out of your BG3 Wizard build.
As a guide-in-progress, this build will be continually updated with more information about choices in the mid to late game as players make their way through the expansive Baldur's Gate 3.
Wizard Class Introduction & Overview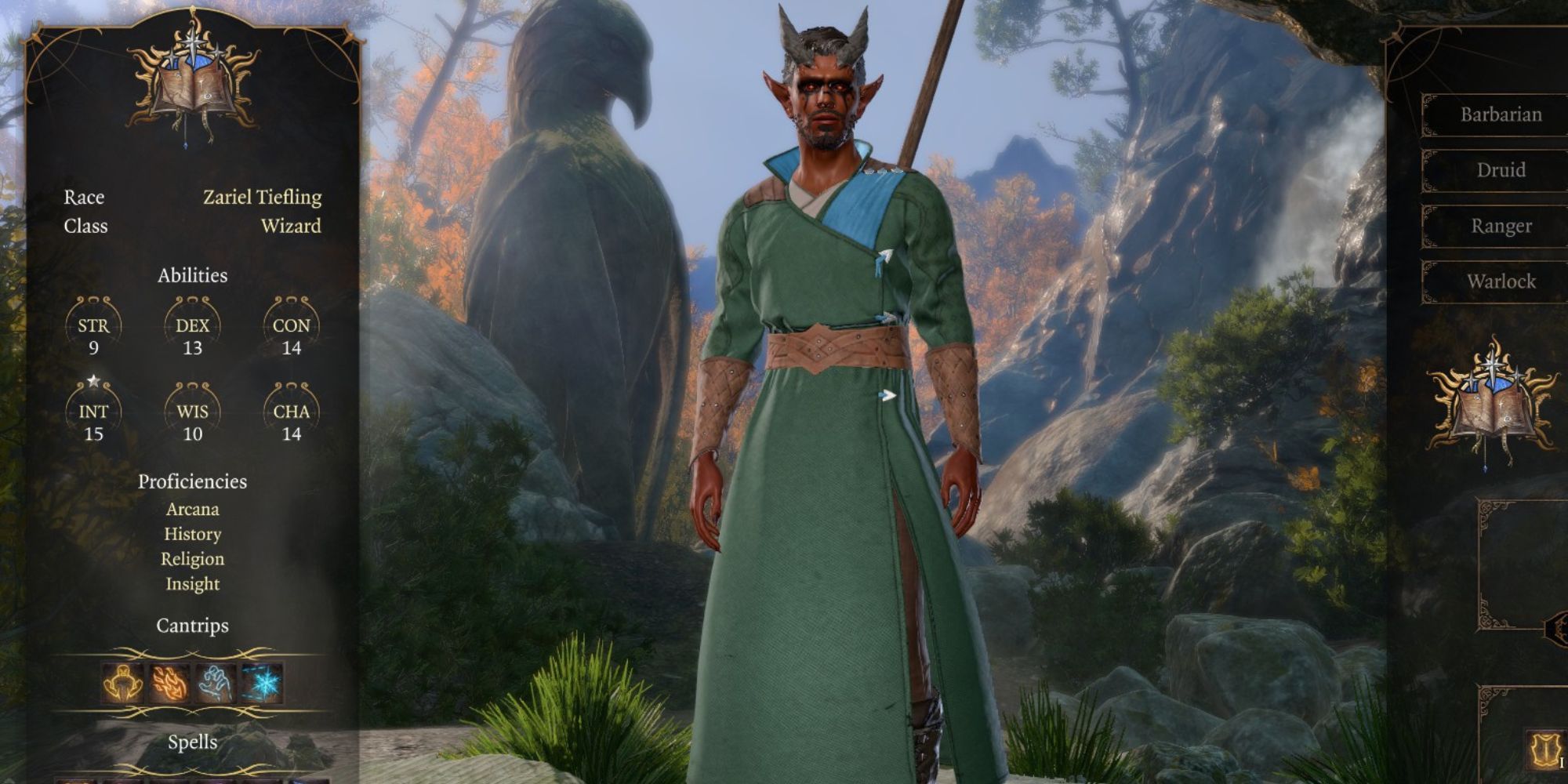 Warlock Playstyle & Signature Abilities
"Wizards master the arcane by specialising in individual schools of magic, combining ancient spells with modern research."
Wizards are the classic spellcasting-focused class of Dungeons and Dragons, brought to Baldur's Gate 3 with all the variety and complexity needed to make a class useful no matter the party. It's nigh-impossible to make a melee Wizard, but their spells can be attuned for many different functions in combat: Evocation Wizards focus on damage, Illusion Wizards focus on tricking and deceiving enemies, and Necromancy Wizards summon and control the dead, as one might expect.
Because of their enormous repertoire of knowledge, and the ability to swap prepared spells from their entire available list of spells anytime outside of combat, Wizards are generally considered the class with the most diversity and utility in Baldur's Gate 3. Wizards are the only class that can outright learn new spells directly from Scrolls rather than waiting for a level-up, which costs gold. But this cost is reduced if the spell corresponds with one's chosen BG3 Wizard Subclass, or School.
Wizard Subclasses
Abjuration School: Grants the ability to create Wards and other defense-oriented spells. Learns Abjuration spells for half the cost.
Conjuration School: Grants the ability to conjure Water, Teleport, and maintain concentration. Learns Conjuration spells for half the cost.
Divination School: Can re-roll die for Attack Rolls or Saving Throws twice each day, recovered with each Long Rest. Learns Divination spells for half the cost.
Enchantment School: Improves ability to Charm enemies, and grants unique Charm spell Hypnotic Gaze. Learns Enchantment spells for half the cost.
Evocation School: Prevents allies from taking damage – and forces successful Saving Throws – from Evocation spells. Learns Evocation spells for half the cost.
Necromancy School: Refunds HP when killing enemies, and empowers Undead summons and resistances. Learns Necromancy spells for half the cost.
Illusion School: Grants improved Illusion spells, like Minor Illusion, and the ability to see Invisible enemies. Learns Illusion spells for half the cost.
Transmutation School: Focuses on potion brewing and alteration to buff and debuff targets, and can shapeshift into a Bird at later levels. Learns Transmutation spells for half the cost.
Wizard Class Proficiencies
Wizard Armor Proficiencies: None (Robes/Clothing)
Wizard Saving Throws: Intelligence & Wisdom
Wizard Skill Proficiencies: Choose from Arcana, History, Insight, Investigation, Medicine, & Religion
Wizard Weapon Proficiencies: Dagger, Quarterstaff, Light Crossbow
Best BG3 Wizard Build: Evocation Character Creation
What Makes Evocation the Best BG3 Wizard School?
"Evocation spells focus elemental energy into powerful attacks and enchantments. Those who specialize in this school are known as Evokers."
All Wizards get access to a list of ridiculously useful out-of-combat spells, but Evocation Wizards specifically hone in on their ability to dish out massive damage in a short amount of time. All Wizards suffer from the lack of easily rechargeable spell slots, but Evocation Wizards can put these limited slots to good use – plus, Arcane Recovery can help when a Long Rest isn't possible.
The Evocation Wizard is a master of all things related to magical combat, in large part because their offensive spells no longer damage (or affect) allies thanks to the Spell Sculpt passive. Just be sure to pick up Evocation spells to take advantage of the subclass' passive, which lets melee party members stay in close range of enemies without worrying about an incoming AoE spell.
The Evocation Wizard is one of eight total Schools that players can choose from in selecting a Wizard Subclass.
RELATED: All Baldur's Gate 3 Cleric Subclasses, RankedThe game's full release further empowered Wizards with a slew of new abilities, proficiencies, bonuses, and the likes with all of the other Subclasses available. As time goes on, the best Wizard build Subclass could change. But until then, the Evocation Wizard's ability to protect teammates from their own arcane destruction is really nice at Level 5, when Wizards pick up Fireball.
Best BG3 Wizard Race: Half-Elf or High Elf
The best race for Wizards in Baldur's Gate 3 is either the Half-Elf or the High Elf because of their extra racial Wizard cantrip. Because Wizards tend to sling spells constantly during a fight, it's good to have spells to fall back on that don't require slots. This brings the total number of cantrips the Wizard starts with to 4 – consider picking up a handy out-of-combat cantrip for this slot, like Light, Mage Hand, or Dancing Lights.
Best BG3 Wizard Proficiencies and Background: Sage
It might seem like a natural fit, but there's a reason the Sage is the best background for Wizards. It gives Proficiency to History and Arcana, two skills that are based on INT, and removes them from the pool of other proficiencies Wizards can learn at Level 1. From the remaining choices, choose Insight and Investigation, which can help in both dialogues and exploration.
Best Evocation Wizard Cantrips
Level 1: Fire Bolt, Ray of Frost, Acid Splash, and Light/Dancing Lights/Mage Hand
Level 4: Blade Ward
Best Evocation Wizard Prepared Spells
Level 1: Grease, Thunderwave, Mage Armor, Magic Missile
Level 2: Chromatic Orb
Level 3: Misty Step, Cloud of Daggers
Level 4: Detect Thoughts, Crown of Madness
Level 5: Fireball, Hypnotic Pattern
Baldur's Gate 3 is available for PC and will release for PlayStation 5 on September 6, 2023. A version for Xbox Series X/S is currently in development.
#Baldurs #Gate #Wizard #Class #Build