Highlights
World of Warcraft: Dragonflight introduced new player-friendly mechanics, boosting excitement for the game's future.
The initial excitement around the Trading Post feature has diminished as Blizzard tied it to the cash shop, making it seem like another microtransaction front.
The recent changes to the Trading Post have made it less appealing, transforming it from a rewarding gameplay feature to just another income stream for Blizzard.
After the extremely controversial Shadowlands, World of Warcraft had a lot to prove going into Dragonflight. Blizzard desperately wanted to win players back, and it seemed to know how to do just that. World of Warcraft: Dragonflight saw the story return to Azeroth, and it introduced a plethora of new player-friendly mechanics that made players want to return. It has also had some of the most consistent content of any expansion so far, which has made players excited about the game's future again. While that is all great to see, recent decisions that Blizzard has made have put that player-friendly future in doubt.
One of the most exciting additions that came with Dragonflight was the surprise Trading Post feature. This feature was supposed to reward subscribers with new cosmetics simply by playing the game. It was unlike anything World of Warcraft had ever seen and felt like the perfect example of Blizzard changing its approach to the iconic MMO. However, the studio has also decided to tie it to its cash shop, and that has made the feature look like nothing more than another microtransaction front.
RELATED: World of Warcraft: One Toy from August Trading Post is a Must-Have Quality of Life Feature
WoW's Trading Post is Quickly Losing Its Appeal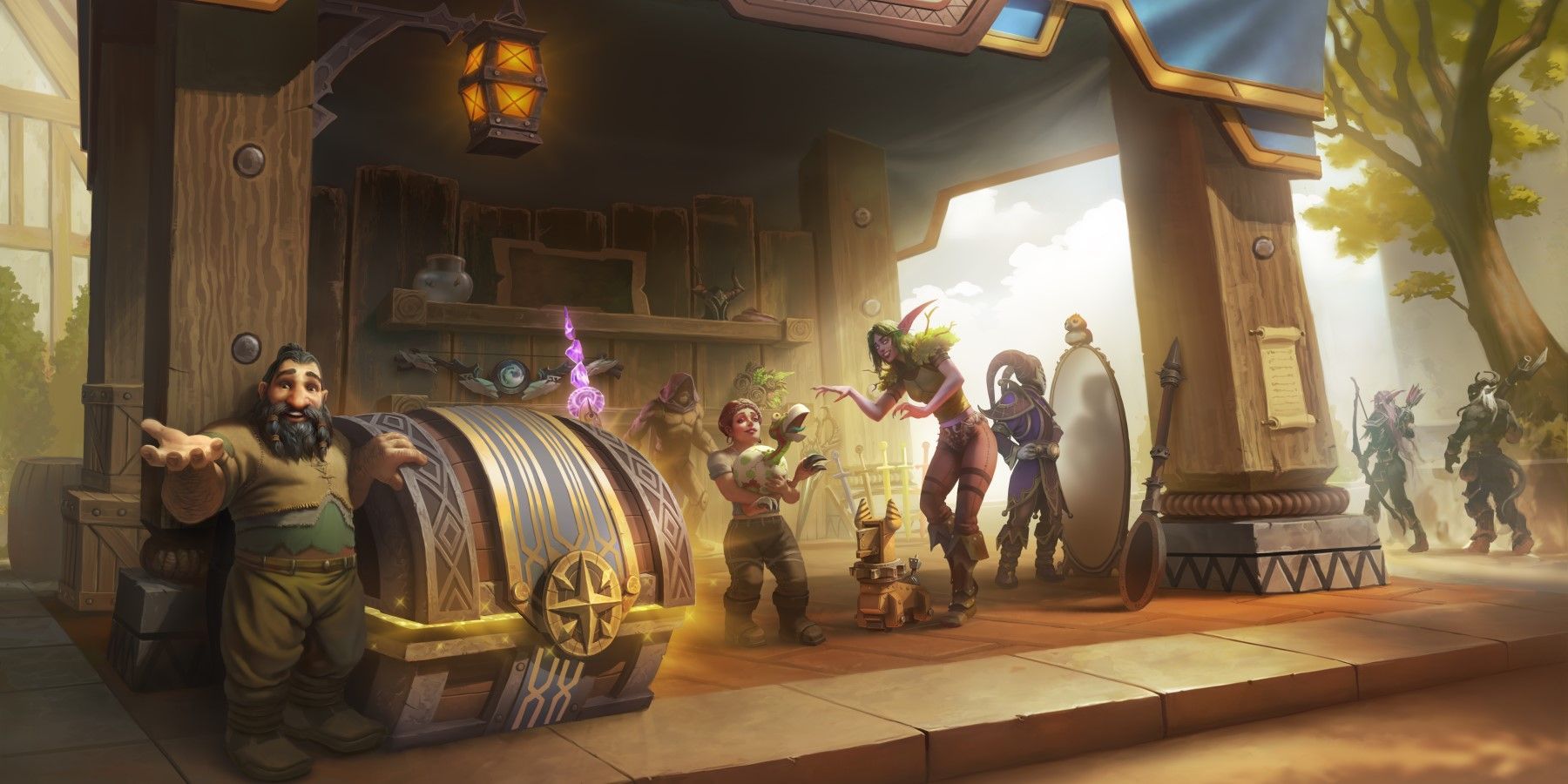 World of Warcraft's Trading Post seemed like an easy win for Blizzard when it was first introduced. It was going to be a rotating monthly catalog of cosmetics that players could earn simply by playing the game. These cosmetics would be an assortment of brand-new ones, returning promotional ones, items that were removed from the cash shop, or ones that had been sitting in the game files for a while. It gave the game its first true piece of evergreen content, and the Traveler's Log gave players a reason to interact with content they may never have experienced before.
Players got to enjoy that version of the Trading Post for a little while, but then things quickly changed. At first, players were just annoyed that their monthly Trader's Tender was capped. While this prevented them from buying all the cosmetics they wanted, it did not hurt the feature much as items would eventually rotate back in and players could freeze one item if they did not want to miss out on purchasing it. The cosmetics were also great additions to the game, and that made it seem like Blizzard had something special here.
In May, Blizzard added a new cosmetic bundle to World of Warcraft's cash shop called The Guardian Pack. For $8, players could get a new outfit inspired by Medivh. While this is standard for the shop, the bundle was labeled as a limited-time offer that would see it leave at the end of the month. The cash shop also said that this bundle was going to be available on the Trading Post sometime between September 1 and December 31. This made it feel like a new type of microtransaction tied to the Trading Post as players could either spend the $8 now and save their Tender for other items or be willing to spend the Tender once the bundle finally arrived on the Post.
While this was a very controversial move, things got even worse with the reveal of the Corsage Pack on World of Warcraft's cash shop. This pack includes two wrist accessories and 200 Trader's Tender for $5. This comes after players datamined store assets last month that looked like Trader's Tender bundles and confirms their worst fears. This makes the Trading Post look like the cash shop in all but name, and that goes completely against what players thought the service would be.
These changes make the Trading Post far less appealing than it was when it was first introduced, and that is a real shame. The Trading Post was supposed to be this new evergreen feature that rewarded players for playing, but now it is nothing more than another income stream. Things will likely only get worse for the Post from here, and that may make the playerbase write off the feature they once embraced after only five months.
World of Warcraft is available now on PC.
MORE: How World of Warcraft's Timeline Would Have Changed If the Old Gods Won
#WoWs #Trading #Post #Face #Reaper #Sooner