The Mission: Impossible franchise is nearly thirty years old, and with the recent release of Dead Reckoning Part One, the exciting action series keeps getting bigger and better with each installment. After seven features with an eighth film on the way, Mission: Impossible II may be the oddest entry in the series because of its distinct style and over-the-top action.
Acclaimed Hong Kong filmmaker John Woo, one of the five directors involved with the franchise, helmed the second film and brought his own unique display of dangerous stunts, shoot-'em-up gunplay, and intense fight sequences. Of course, star Tom Cruise also delivered a committed performance to make a thrilling movie, but what set this sequel apart from the other Mission: Impossible films?
RELATED: Every Mission: Impossible Movie, Ranked
What is Mission: Impossible 2 about?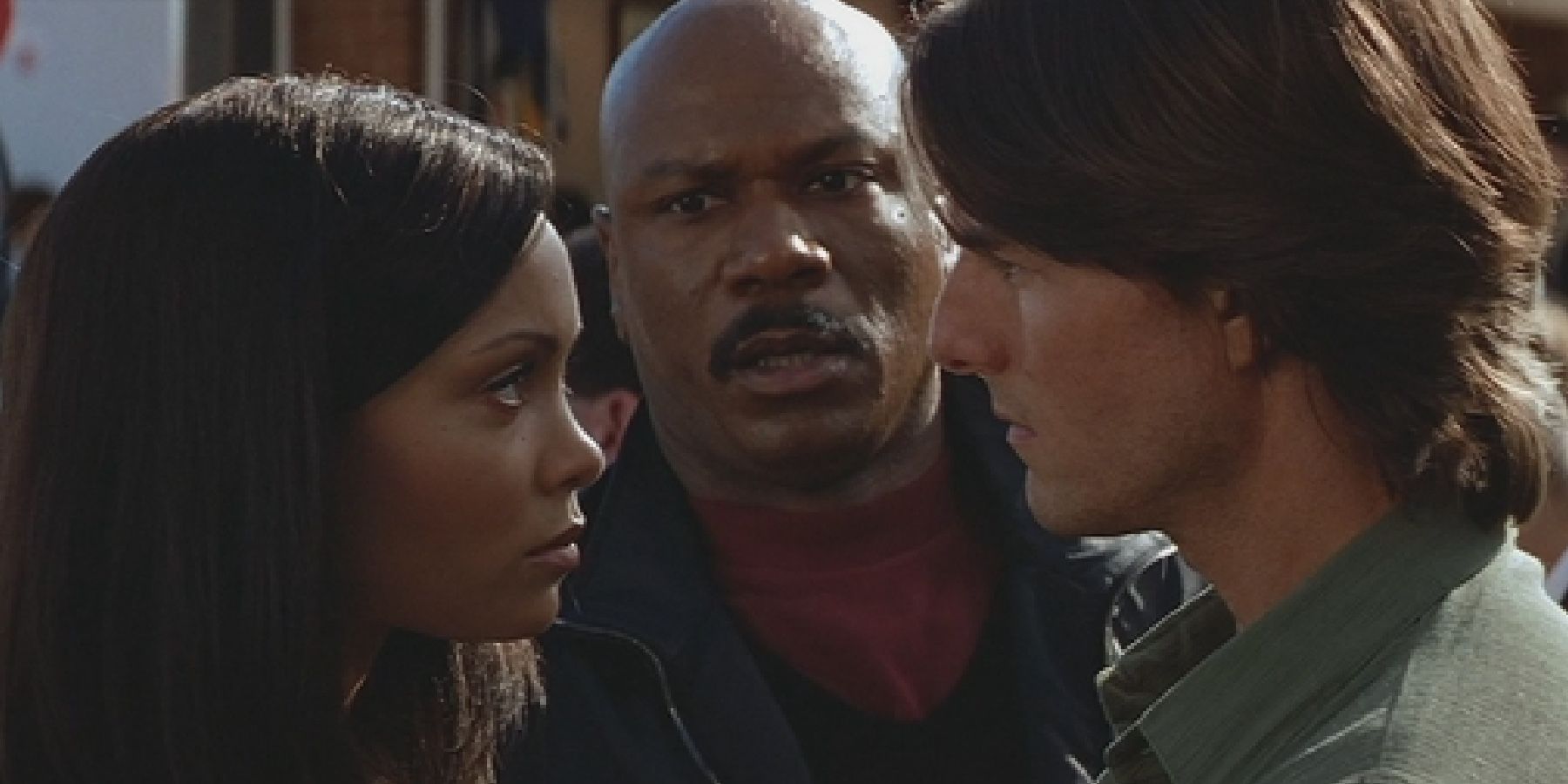 Mission: Impossible II finds IMF (Impossible Missions Force) agent Ethan Hunt (Cruise) investigating a rogue IMF agent named Sean Ambrose (Dougray Scott). Hunt learns from IMF director Swanbeck (Anthony Hopkins) that Ambrose has stolen Bellerophon (a cure for a biological weapon called the Chimera virus) from Dr. Vladimir Nekhorvich (a bio-genetics scientist and an old friend of Hunt's). Ambrose kills Nekhorvich and intends to profit off the cure and the virus.
In order to get close to Ambrose and unveil his plans, Hunt approaches Nyah Nordoff-Hall (Thandiwe Newton from Westworld), a professional thief who used to be in a romantic relationship with Ambrose. As Nyah goes undercover, Hunt receives help from computer hacker and longtime companion Luther Stickell (Ving Rhames) and helicopter pilot Billy Baird. Hunt and his team also try to encounter and destroy the virus samples, so Ambrose's billion-dollar deal with Biocyte Pharmaceuticals (the company that forced Nekhorvich to develop Chimera) is unsuccessful.
Mission: Impossible 2 is a time capsule for the late 90s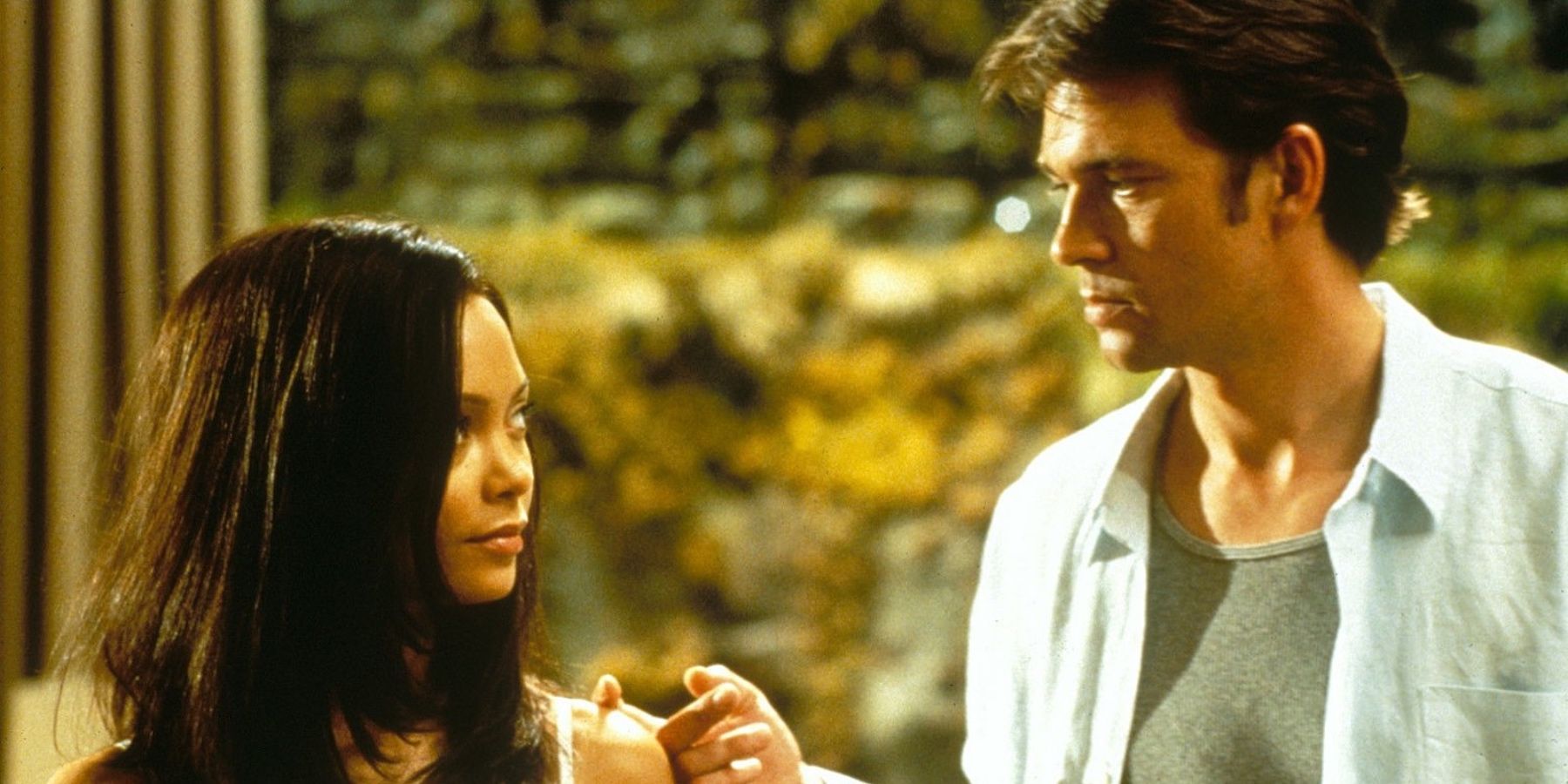 While future sequels heightened the intensity of the storylines and Cruise's daring stunts (as well as minimizing the romantic subplots), Mission: Impossible II is very reminiscent of a 90s action picture because it contains a blend of romance and stylized sequences of violence. This sequel also has an upbeat rock-themed soundtrack and an epic score composed by Hans Zimmer (who was a staple for several 90s action features like True Romance, The Rock, Crimson Tide, and John Woo's Broken Arrow).
Mission: Impossible II resembles the first 1996 feature in terms of the protagonist going up against rogue members of his agency. However, unlike the first film and the other sequels where he is blamed for murder and corruption, Hunt's job isn't in jeopardy. This sequel is also reminiscent of Pierce Brosnan's James Bond films from the 90s, particularly Goldeneye and The World Is Not Enough, where 007 battles crooked former agents who intend to destroy the world, with plenty of gun battles, physical combat sequences, and major explosions. Similar to many 90s actioners, the male hero saves the woman he loves from the villains.
John Woo's fingerprints on Mission: Impossible 2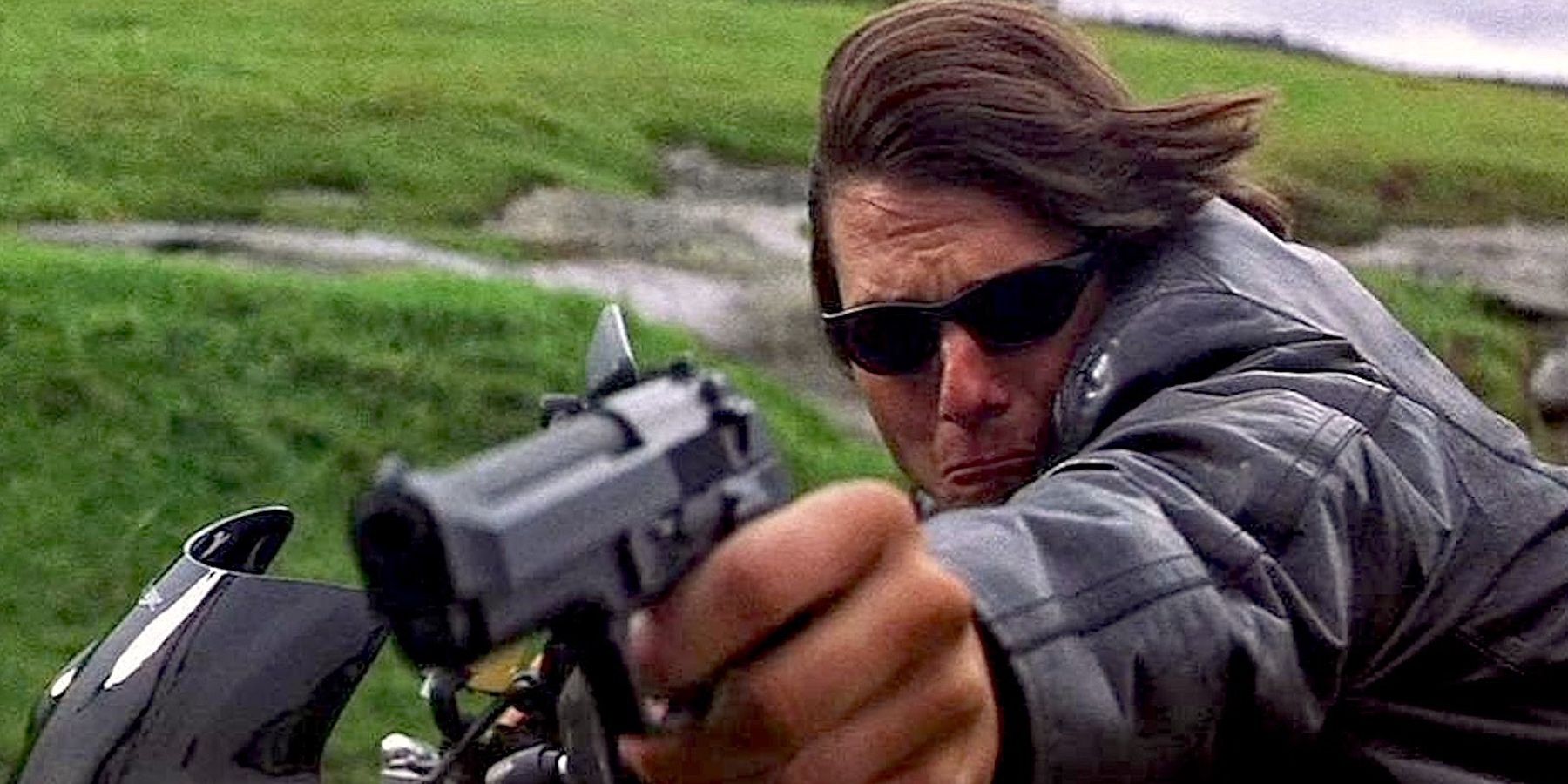 What makes Mission: Impossible II a unique entry in this franchise is director John Woo's style of high-octane action. The shootouts and fight scenes resemble Woo's classic Hong Kong actioners like The Killer, Hard Boiled, and A Better Tomorrow in terms of the filmmaker's use of gun-fu, bullet ballet, and Mexican standoffs, along with a combination of slow-motion scenes and action taking place in Western-like settings (particularly the desert). These elements are evident when Hunt shoots and battles Ambrose's army, along with explosive high-speed car and motorcycle chases.
Given that the Mission: Impossible films always involve IMF agents and villains disguising themselves as other people with face masks, Woo expertly displays this concept in the second film, especially after he experimented with a hero and villain swapping faces in Face/Off (the bombastic action thriller starring John Travolta and Nicolas Cage). In M:i-2, Hunt disguises himself as Dr. Nekhorvich in order to interrogate John McCloy (CEO of Biocyte) and get information about his business deal with Ambrose and the location of the Chimera and Bellerophon samples. Ambrose disguises himself as Hunt to kill Nekhorvich and steal Bellerophon at the start of the film. Ambrose also uses his disguise as Hunt to deceive Nyah, learning that she has been working with Hunt and the IMF all along to take him down.
How does Mission: Impossible 2 end?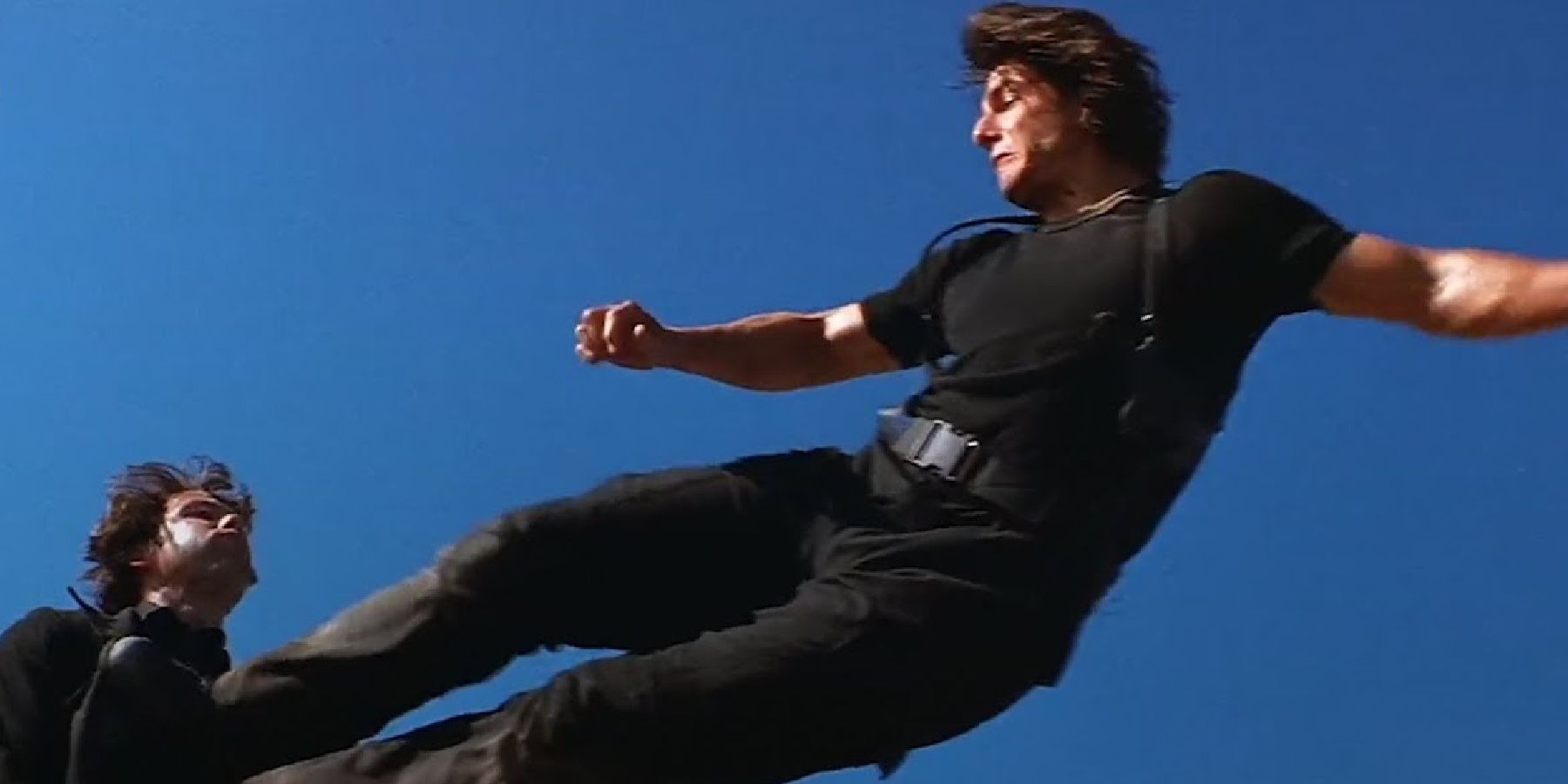 The conclusion of Mission: Impossible II contains vintage John Woo action in which Hunt steals samples of Bellerophon from Ambrose in order to cure Nyah after she injected herself with the last of the Chimera virus to save Hunt during a previous gun battle. As Hunt tries to reach Nyah before her time runs out, he explosively shoots and kills Ambrose's men, and engages in a high-speed motorcycle chase with Ambrose. When both men reach the desert, they battle each other in intense hand-to-hand combat.
Ambrose lands some big punches on Hunt, but the heroic IMF agent prevails, landing bigger punches and kicks, defeating the villain. Hunt ultimately shoots and kills Ambrose in self-defense, and cures Nyah of the virus with an injection of Bellerophon. Nyah's criminal record is cleared due to her successful cooperation with the IMF, and she and Ethan vacation together in Sydney.
Mission: Impossible II may be the outcast of the series due to John Woo's over-the-top action sequences and its resemblance to escapist action features of the 90s and early 2000s. However, the sequel still contains many qualities of the Mission: Impossible franchise such as big stunts, fight scenes, facial disguises, vibrant settings, and storylines involving espionage. Future films in the series proved to be superior in plot and characterization, but this sequel raised the question of whether Tom Cruise's Ethan Hunt can carry a major action franchise, and of course, after almost three decades, the answer is a resounding yes.
MORE: Best Mission Impossible Villains, Ranked
#Impossible #Franchises #Weirdest #Movie