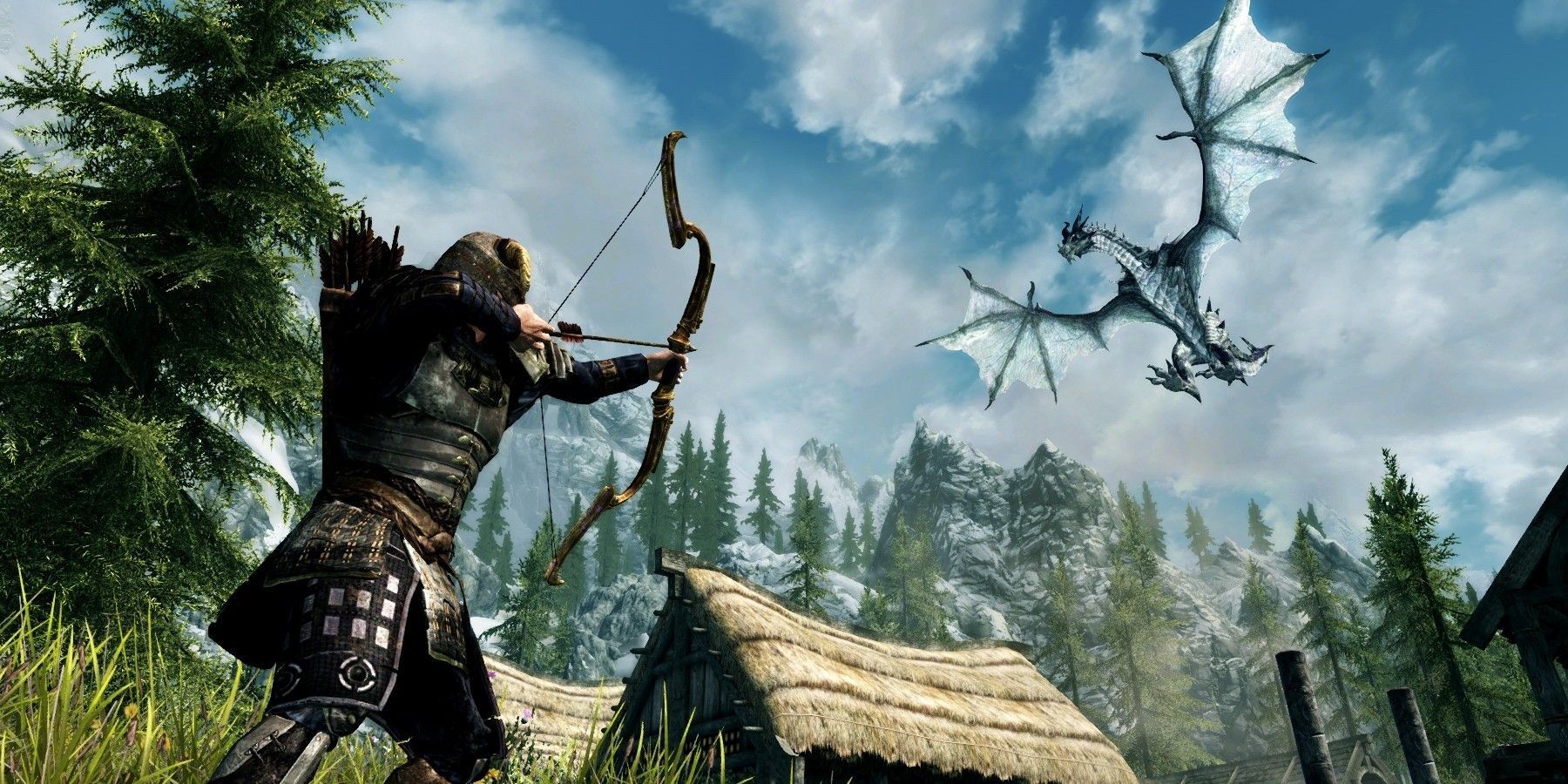 A Skyrim player triggers a cinematic killcam during a fight, but the battle takes an unexpected turn. Cinematic killcams play a key role in the combat of The Elder Scrolls 5: Skyrim, as they allow players to finish off enemies in a stylish fashion.
Since its release in 2011, many Skyrim fans have shared videos of funny incidents involving these killcams. As an example, one fan triggered a cinematic killcam while fighting a dragon in Skyrim, only for their arrow to kill a nearby bunny instead of the target. Now, another player's cinematic killcam in The Elder Scrolls 5: Skyrim doesn't go as planned, as the enemy manages to casually avoid their attack.
RELATED: Skyrim Player Shows the Might of the Dragonborn Against a Bunch of Horkers
A fan on Reddit has shared a clip of them fighting a spider inside one of the dungeons available in Skyrim. The player takes aim at the enemy before unleashing the shot, resulting in a cinematic killcam that shows the arrow's path in slow motion. However, the spider is unfazed by the oncoming attack, as it manages to casually sidestep the arrow to continue the battle. It looks like the spider was already moving to its right when the arrow was fired, allowing the enemy to avoid getting hit despite the cinematic killcam.
Many players in the comments section compare the spider's dodging skills to Neo from The Matrix, with one user sharing a helpful Skyrim mod that disables the enemy AI's ability to sidestep ranged attacks. This doesn't appear to be an isolated incident, as several gamers claim to have encountered something similar in their playthroughs. One fan also mentions that they disable ranged cinematic killcams in Skyrim to avoid such scenarios, but it seems like this is only possible with the help of mods.
Overall, it looks like most gamers are annoyed at Skyrim enemies being able to sidestep cinematic kills, to the point where players have installed a mod to prevent it from happening. It's not universally hated though, as one user claims to love this unexpected gameplay element, while another fan states that it keeps them humble.
Killcams in The Elder Scrolls 5: Skyrim can look extremely satisfying when they work correctly. One Skyrim fan shared a montage of them killing a variety of enemies with this feature, as they highlight the brutal nature of the combat in the game. This impressive clip includes dragons as well, showing off the number of unique ways users can dispatch enemies in Skyrim.
The Elder Scrolls 5: Skyrim – Anniversary Edition is out now for PC, PS4, PS5, Switch, Xbox One, and Xbox Series X/S.
MORE: Skyrim's Thieves Guild Quests Are Worth the Slog, and The Elder Scrolls 6 Should Take Notes
#Skyrim #Cinematic #Killcam #Embarrassingly #Highlights #Players #Fail