A new look at the upcoming Star Wars series Ahsoka on Disney Plus teases a surreal look at an iconic image from the animated show Star Wars Rebels. With Ahsoka poised as a continuation of Rebels in all but name, such connections were expected. But the nature of this one may confuse some viewers.
Series creator Dave Filoni confirmed Ahsoka's connection to Rebels earlier this year. As a result, Star Wars Rebels fans immediately cranked up their hype levels. The new live-action series is already set to feature several returning characters from Rebels alongside Rosario Dawson as the titular sometimes-Jedi Ahsoka Tano. So now, a newly revealed image is driving that point home. But while some had already seen this visual in a lower quality last year, now it's got a clearer look, and it's a bit surreal to see.
RELATED: Star Wars: How Did Ahsoka Survive Order 66?
The new look at the mural was released alongside several other high-quality images from Ahsoka (posted via the Star Wars TV Updates Twitter account). The picture in question depicts Rebels character Sabine Wren (now played in live-action by Natasha Liu Bordizzo) looking at the mural, giving viewers a perfect view of it. Sabine painted it in the show, so this shot seems appropriate. The strange part is that it appears to have been re-drawn by a new artist. However, the presumably new artist in question still maintained the style of the original seen in Rebels, meaning this live-action series features a canon depiction of these same characters' animated versions. That might be a Star Wars first.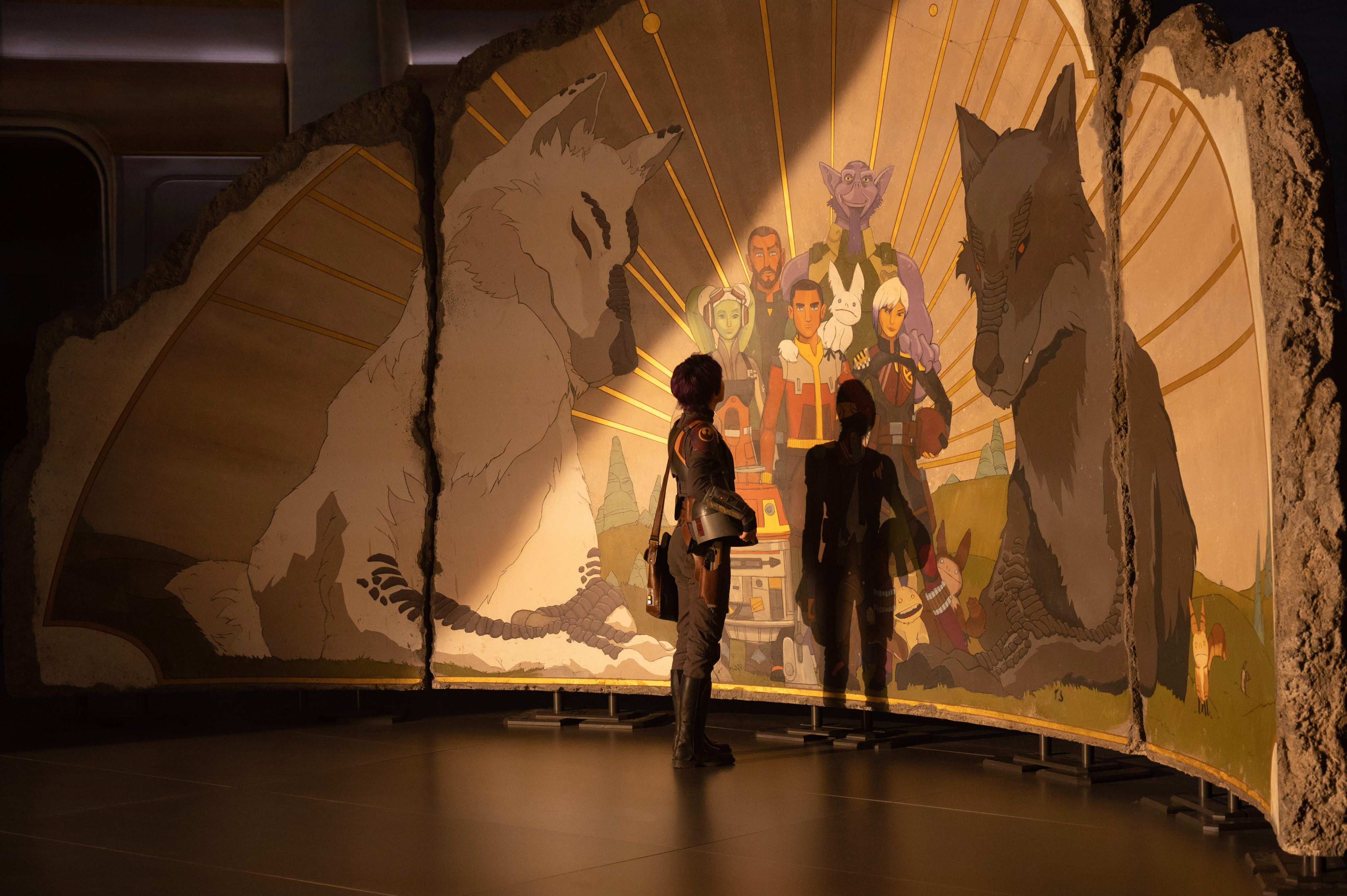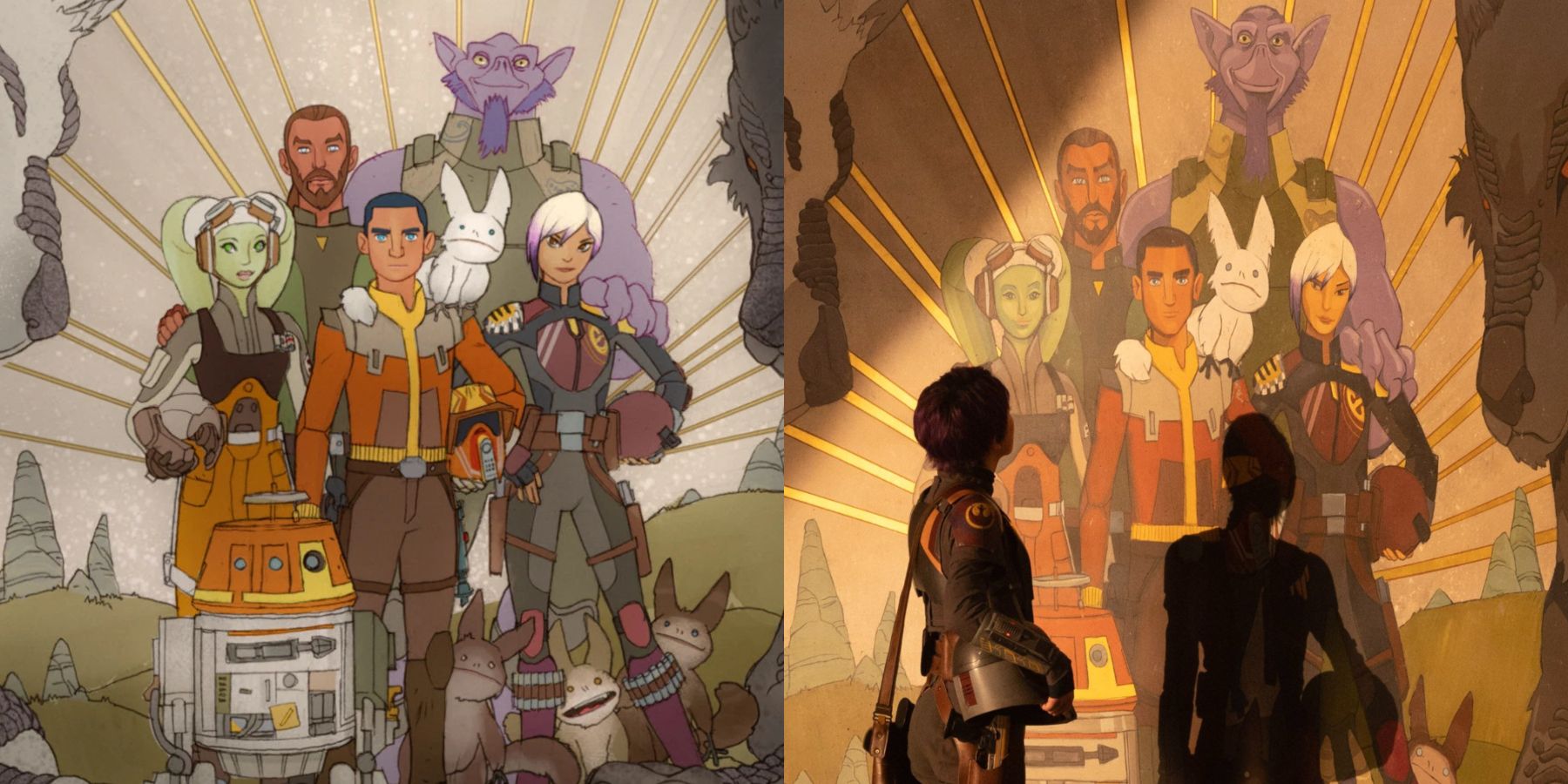 Interestingly, some aspects of the new mural look virtually identical to the previous version, such as the face of Rebels protagonist Ezra Bridger (also set to appear in Ahsoka). Meanwhile, the artist has taken some liberties with other characters. Most notably, this can be seen with the tall purple alien Zeb, who prominently featured in Rebels and even recently had a cameo in The Mandalorian, voiced once again by Steve Blum. Other minor changes appear throughout, but overall, the rest of the mural is pretty spot-on to its original version.
The newly released image appears to be a live-action recreation of an epilogue scene from Rebels, which depicted Sabine looking at the mural before setting off with Ahsoka to search for Ezra. It supports claims that Ahsoka will serve as a sequel to Rebels but also occasionally dip back into the latter show's timeline. Rebels ended with Ezra pulling off a dangerous gambit to defeat Grand Admiral Thrawn (played by Lars Mikkelsen in Rebels and Ahsoka), jumping himself and Thrawn into hyperspace to save the rest of the rebels. Now, the search for Ezra appears to play into at least part of Ahsoka's overarching story. But if Ahsoka and Sabine find Ezra, they'll likely also find Thrawn, and they must be prepared.
The rest of the new images released offer more HD looks at already revealed characters like Ahsoka herself, Mary Elizabeth Winstead's Hera Syndulla (originally from Rebels), and new characters Shin Hati (Ivanna Sakhno) and Baylan Skoll (played by the late Ray Stevenson). This clear look at all these original and returning characters helps increase those hype levels. Luckily, there's not much time left before Ahsoka finally releases.
Ahsoka will premiere on August 23rd on Disney Plus.
MORE: Star Wars: Who Are The 501st Legion?
Source: Star Wars TV/Twitter


#Updated #Star #Wars #Rebels #Mural #Revealed #Image