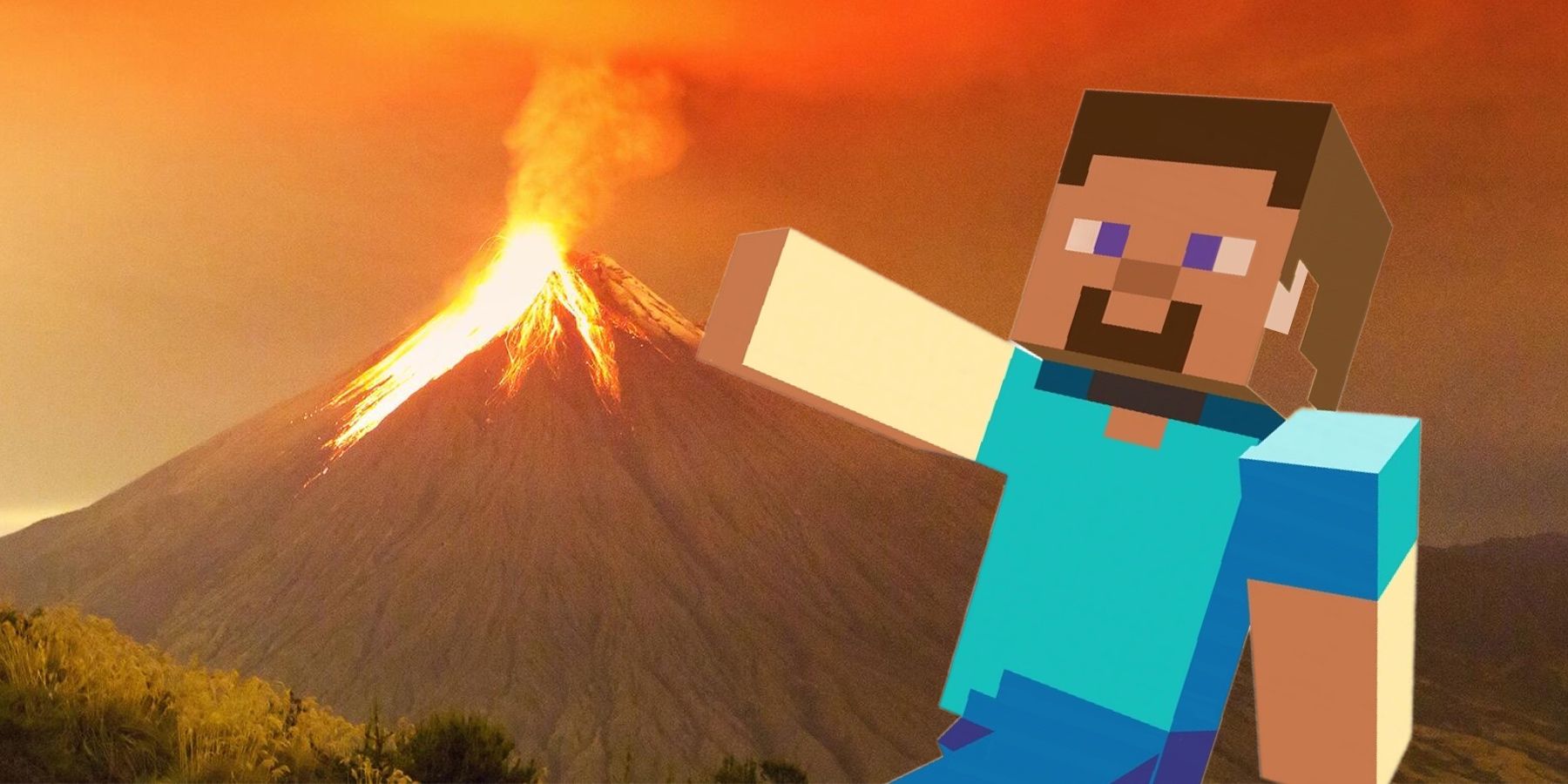 A talented Minecraft player has used the game to build an incredibly impressive volcano. Since the game's inception there have been nearly countless jaw-dropping creations built by Minecraft players, and this volcano is a great addition to that list.
From hardcore gamers to the casual gaming fan, Minecraft has attracted a diverse audience with its immensely enjoyable sandbox approach to gaming. The freedom Minecraft allows with its gameplay leaves players at the mercy of their own imaginations, challenging them to see what they're capable of creating. Whether a player builds a small village or complex worlds that take years to complete, the game leaves everything in the hands of the player, and this is one of the many reasons Minecraft is still one of the most popular games around. Presenting players with the opportunity to flex their creativity muscles can be both a challenging and rewarding experience, and those who have experienced Minecraft know that players can build nearly anything they set their minds to.
RELATED: Minecraft Player Adds Herobrine to the Game
When it comes to Reddit user World-Devourer, they chose to build an amazing replica of a volcano that even has lava spewing from the crater. There have been various players through the years who have built nature-centric locations in Minecraft, and World-Devourer's volcano is another fun homage to the outdoors.
The volcano that World-Devourer has brought to life looks even more impressive at nighttime when the lava is shown glowing in the dark. Another great aspect to note about this build is how World-Devourer absolutely nailed the shape and formation of the volcano. Instead of just building a rigid pyramid structure that would be much easier to accomplish, World-Devourer took the time and effort to give dimension and character to the volcano's shape, making it feel more realistic. When first picking up Minecraft, it's natural for a player's first instinct to focus on building a house or some variation of a building, but once a player becomes more comfortable with the game's mechanics, sometimes Minecraft players build more organic creations, like this volcano.
With a game like Minecraft, there's pretty much zero limit to what one can build. Some players love to create skyscrapers and vast cities while others love to pay homage to their favorite moments in pop culture, like a Minecraft recreation of the Hogwarts castle. No matter what a player chooses to build in Minecraft, the diversity of creation that is allowed is what makes the game still just as popular today as it was when it was first launched.
Minecraft is available now for PC, PS4, Switch, Xbox One, and legacy platforms.
MORE: 19 Games Perfect For Long-Distance Couples
#Minecraft #Player #Creates #Impressive #Volcano #Game