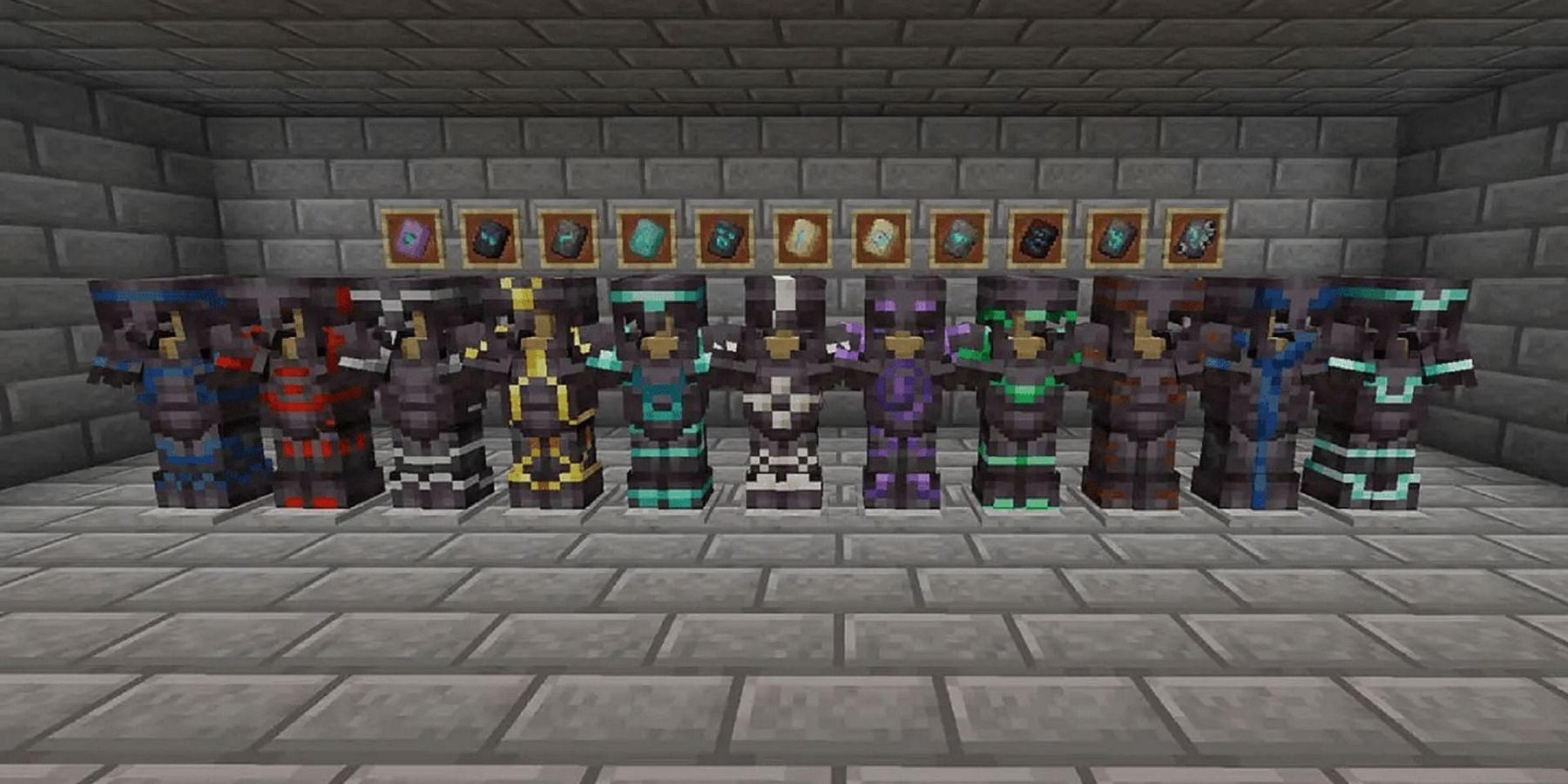 Highlights
Minecraft's Trails and Tales update introduced new decorative blocks and customization options like armor trims, enhancing players' creativity and self-expression.
One dedicated player collected all the armor trims in his hardcore world, showcasing their impressive project on Reddit and receiving praise from other players.
Armor trims in Minecraft offer a new level of customization, with different rarity levels and the ability to combine different trims, bringing the game closer to RPG staples like transmogrification.
An incredibly dedicated Minecraft player has collected all the armor trims in the game in his hardcore world and shared the result with other players. Minecraft is a game that is always reinventing itself thanks to community creations and the features introduced by Mojang.
After much waiting, Minecraft finally got the Trails and Tales update in June. To support the update's theme of creativity and self-expression, Minecraft introduced new decorative blocks like cherry wood, part of the new Minecraft biome added in the update. Minecraft also introduced pottery shards which can turn into different decorative pots and new customization options like armor trims.
RELATED: Minecraft Player Builds and Displays Every Armor Trim in the Game
Reddit user TreyOvard shared images of his impressive project: collecting all the armor trims that exist in Minecraft in his hardcore world. Minecraft's armor trims can be created by using smithing templates that players find in a variety of structures. Minecraft has 16 different armor trims, but the project became even bigger by bringing the variants of each armor trim, something Minecraft players can do using other materials. With this, the same armor trim can gain the color green if Minecraft players use emerald, or blue if the armor trim is combined with lapis lazuli. To show off the result of his work the player created an impressive display for all armor trims and especially praised Silence, the rarest armor trim in Minecraft.
TreyOvard's post on the Minecraft subreddit reached almost 10,000 upvotes and over 400 comments with many players impressed by the player's patience. One of the users even asked how many diamonds the player used. Although the player could not specify the exact number, he revealed that his Minecraft statistics show 17,809 diamond ores mined. The player said he also utilized Fortune 3, one of the best Minecraft enchants for pickaxes, so around 34,000 diamond ores were used. TreyOvard also has a YouTube channel where the player published a video showing the journey to collect all the Minecraft armor trims.
Armor trims are among the most interesting features introduced by the Trails and Tales update, as they give a new level of customization to Minecraft. Because of them, players have an extra reason to explore their worlds, as each armor trim has a rarity level, and two pieces of armor can be combined with different armor trims, resulting in hundreds of possible combinations. In addition, armor trims bring Minecraft closer to transmogrification, one of the RPG's staples. Transmogrification has not yet been implemented in Minecraft, but it is a feature present in games like Diablo 4. It offers a wide range of visual customizations, giving players different ways to express themselves.
Minecraft is available on Mobile, PC, PS4, Switch, Xbox One, and legacy platforms.
MORE: Zelda: Tears of the Kingdom DLC for Minecraft Would be a Match Made in Heaven
#Minecraft #Player #Collects #Armor #Trim #Set #Hardcore