Highlights
Adding basketball, a minigame that hasn't appeared since San Andreas, could help Grand Theft Auto 6 maintain its quality and keep fans engaged.
Minigames in Grand Theft Auto provide players with additional content, increasing replay value and humanizing the player character.
Basketball, a unique aspect of San Andreas, could make a comeback in GTA 6 and be expanded upon with new skills, AI opponents, and rewards for players to enjoy.
Grand Theft Auto 6 could have a surprising amount to gain from adding a minigame that hasn't made an appearance since San Andreas. It's always good for a sandbox game to keep growing, as long as it maintains the same level of quality that fans expect from it. In the case of Grand Theft Auto 6, there is a lot of pressure to succeed after the runaway success of Grand Theft Auto 5. For that reason, delving deep into the series to find aspects worthy of returning is a good idea for the developers to consider.
Minigames make up a large part of Grand Theft Auto's impressive amount of content. Players in Grand Theft Auto games have a wealth of ways to pass time between missions, from bowling, to golf, to racing. Obviously, this gives players more to do, stretching its runtime and giving it more replay value. This also often carries the secondary effect of humanizing the player character. After all, while a character like Niko or CJ will spend a lot of time in firefights with their foes, seeing them unwind with a round of darts or pool can help them feel a little more relatable to players.
RELATED: Grand Theft Auto 6 is Poised to Break a Huge Rockstar Tradition
Grand Theft Auto 6 Could Let Players Onto the Basketball Court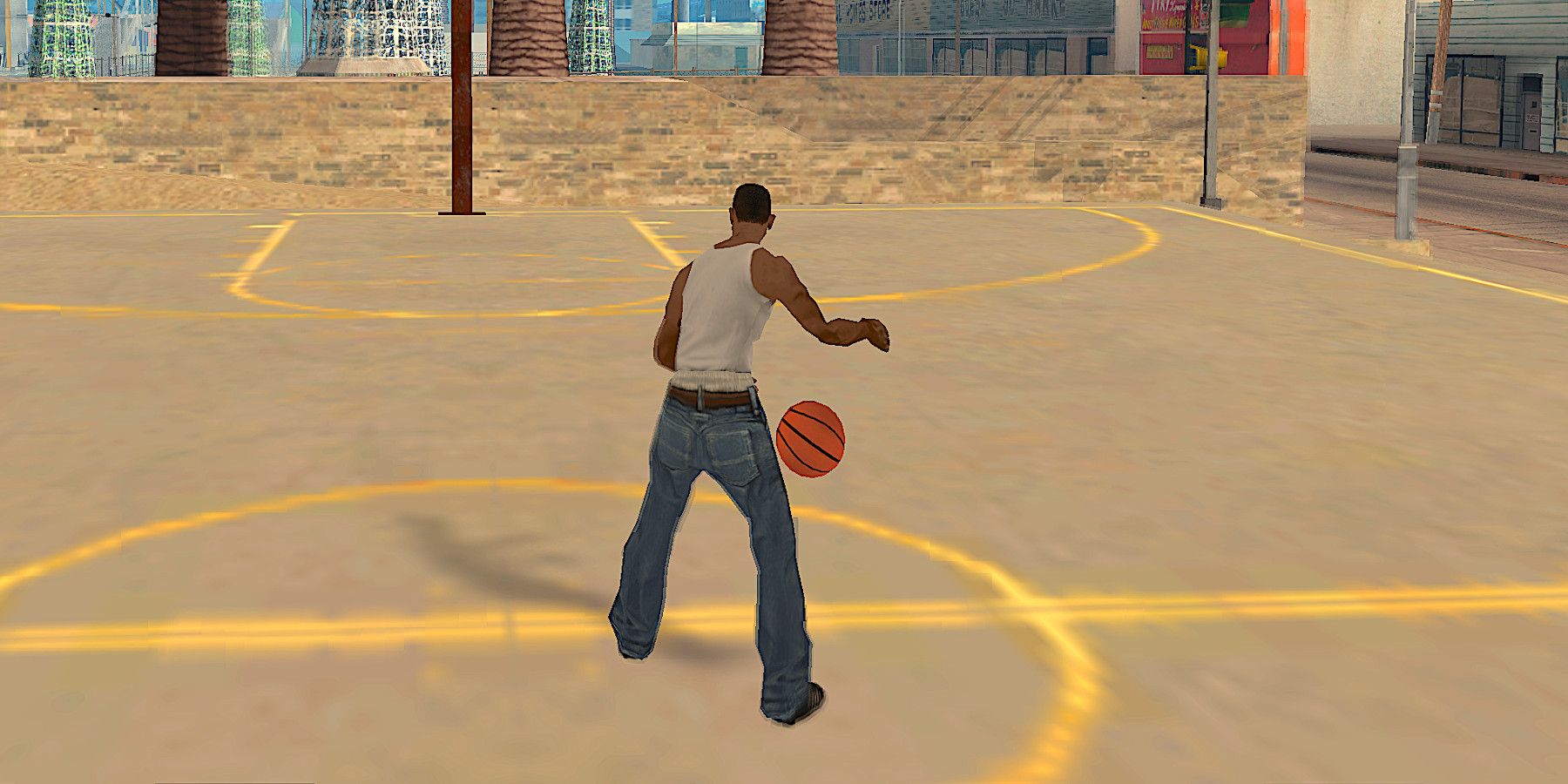 Rockstar surprised fans a decade ago with the announcement that Grand Theft Auto 5 would return to Los Santos, but it didn't take everything from San Andreas into the next generation. Of course, there were always going to be a few aspects of CJ's adventure that would be unique to him. After all, GTA 5's protagonists wouldn't have much reason to go around spraying over Ballas tags, nor would balancing multiple girlfriends work with any of their goals or personalities. However, there is one activity that is strangely still unique to San Andreas that could come back for GTA 6, and that is basketball.
Basketball in San Andreas wasn't a particularly deep experience, especially in comparison to many of Grand Theft Auto's side missions, but it could be expanded upon. While CJ could shoot and dunk by himself on the court, Grand Theft Auto 6 could give the player an expanded list of skills to play with. They could show off flashy moves and dunks like they were trying out for the Harlem Globetrotters. Of course, GTA 6 could also introduce one mechanic that was badly missing from San Andreas' basketball minigame and let them play against AI opponents to see who rules the court.
While basketball in San Andreas didn't have any rewards, GTA 6 could make it well worth the player's time to hit the court. Similar to unlocking achievements in other GTA games, GTA 6 could offer players rewards for playing basketball. One idea could be for players to unlock a new jersey for the protagonists for every court where they win a game. Giving players more outifts to choose from is a good idea regardless of circumstance, and earning jerseys via basketball victories could be a fun way of justifying it in-universe. That could make basketball a lucrative pastime without making the rewards unbalanced.
Basketball does not have a long history in the Grand Theft Auto series, but it has enough potential to justify a return in the next game. While the list of features that can return in GTA 6 is long, basketball could find a place in the game. There's potential to take what was a simple minigame and turn it into something great, offering a solid challenge as well as rewards for excelling at it. Letting players check out Vice City's basketball scene could help the world of Grand Theft Auto 6 come to life.
Grand Theft Auto 6 is in development.
MORE: Why Grand Theft Auto 6 May Have Backed Away From GTA 5's Triple Protagonist Approach
#GTA #Benefit #Long #Lost #San #Andreas #Feature