The beginning of the 21st century has been all about online gaming, with MMORPGs dominating the landscape. The end of the 20th century, on the other hand, was dominated by first-person shooter, or FPS games. They were a change from the longer, more complex RPG games that dominated PCs and consoles at the time. Their storylines and gameplay were linear, fast-paced, and often included more than one player.
The plot of the FPS game was simple if it existed at all, and the game mechanics were intuitive and consisted of only two or three buttons. This worked well with the graphic capabilities of earlier computers and gaming consoles, since the monsters, explosions, and gore weren't that sophisticated. The popularity of the FPS game also gave rise to another popular genre, survival horror.
Updated July 31, 2023, by Kristy Ambrose:The rise of VR is revamping the classic first-person shooter genre, putting the players into the dungeons and corridors as opposed to the first or third-person POV. The trend is breathing new life into FPS games, one of the oldest and best-loved genres in history, right up there with sports, tournament fighters, and fantasy role-playing, which are also expanding their horizons thanks to VR. Many of the best 90s first-person shooters are getting remakes and remastered versions for consoles and PCs, making them more accessible than ever for both seasoned players and new fans.
Related: Best First-Person Shooter Games For Kids
26
Unreal Tournament (1999)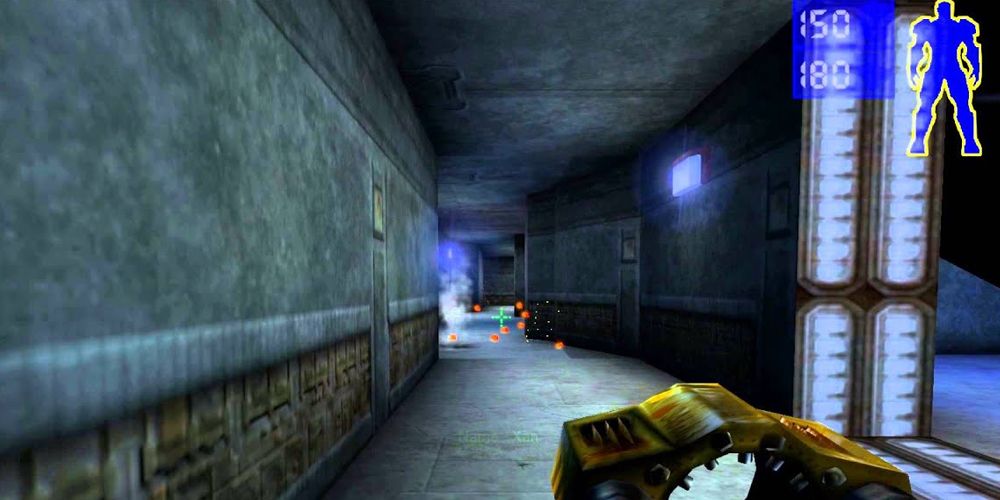 There's some debate among series fans as to which of the Unreal Tournament games is better, but there's a strong argument to be made for the original. More than 20 years on from its original release and the game remains incredibly fun to play. It lacks the polish of a modern title, but compared to games like Doom and Wolfenstein it's aged gracefully.
With Epic Games currently focusing most of its attention on Fortnite, it seems unlikely that the developer will be returning to the Unreal franchise anytime soon. The game's legacy continues to live on, both through its groundbreaking engine and the inspiration it provided to the developers of countless other first-person shooter titles.
25
Rebel Moon Rising (1997)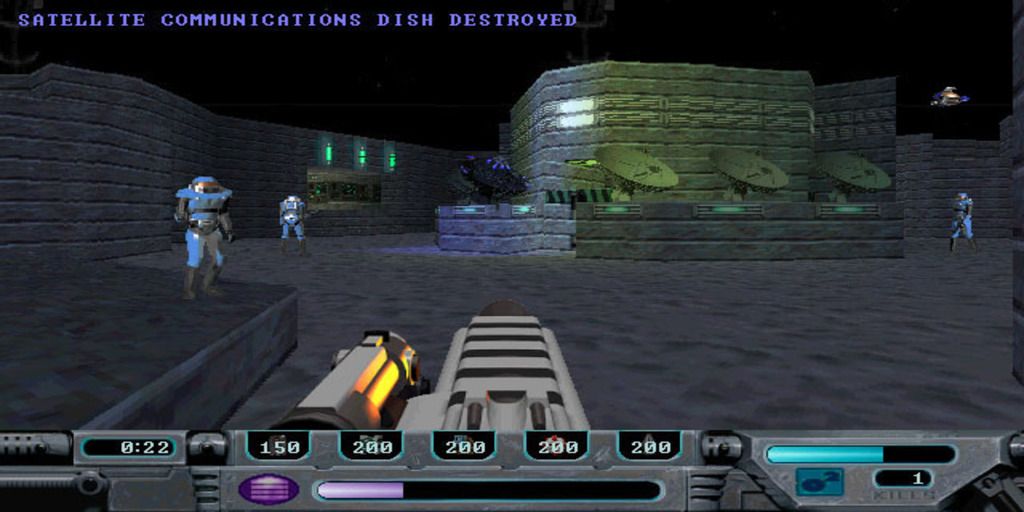 It's the independent Moon Colony versus the tyranny of the Earth United Nations world government, which continues the story that began in the previous game in this series, Rebel Moon. The stakes are higher this time with the government of Earth now aligned with a race of malicious aliens.
Related: Most Iconic FPS Weapons
Rebel Moon Rising combines real-time strategy elements with the first-person shooter aesthetic. Teams have to find, gather, and defend strategic locations and resources, which also means that some of the weapons used double as high-tech space tools.
24
Star Wars Jedi Knight: Dark Forces 2 (1997)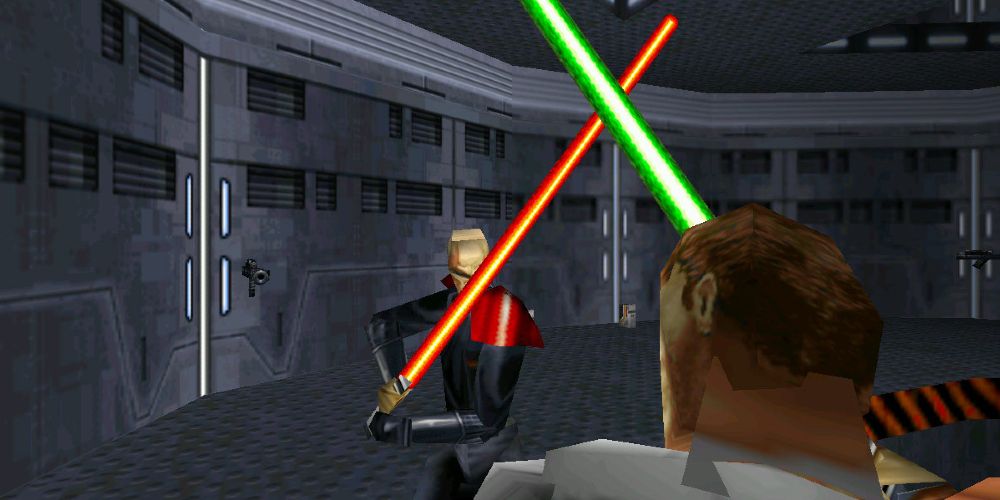 An obscure title that fell under the radar as the field got more and more cluttered, Star Wars Jedi Knight: Dark Forces 2 is set a year after Return of The Jedi ended and features the same protagonist as the first game, mercenary Kyle Katarn, as he discovers his own Jedi powers and seeks revenge for his father's death.
Not only does the game incorporate some interesting details of the Star Wars expanded universe, but it integrates ranged battles with melee fighting. In a game with Star Wars lore that means light sabers, which is one of the unique details that makes this first-person shooter stand out from the crowd. It was launched on Steam in 2009 and again in 2015, so more than 20 years later, it still has a decent fanbase.
23
Medal of Honor (1999)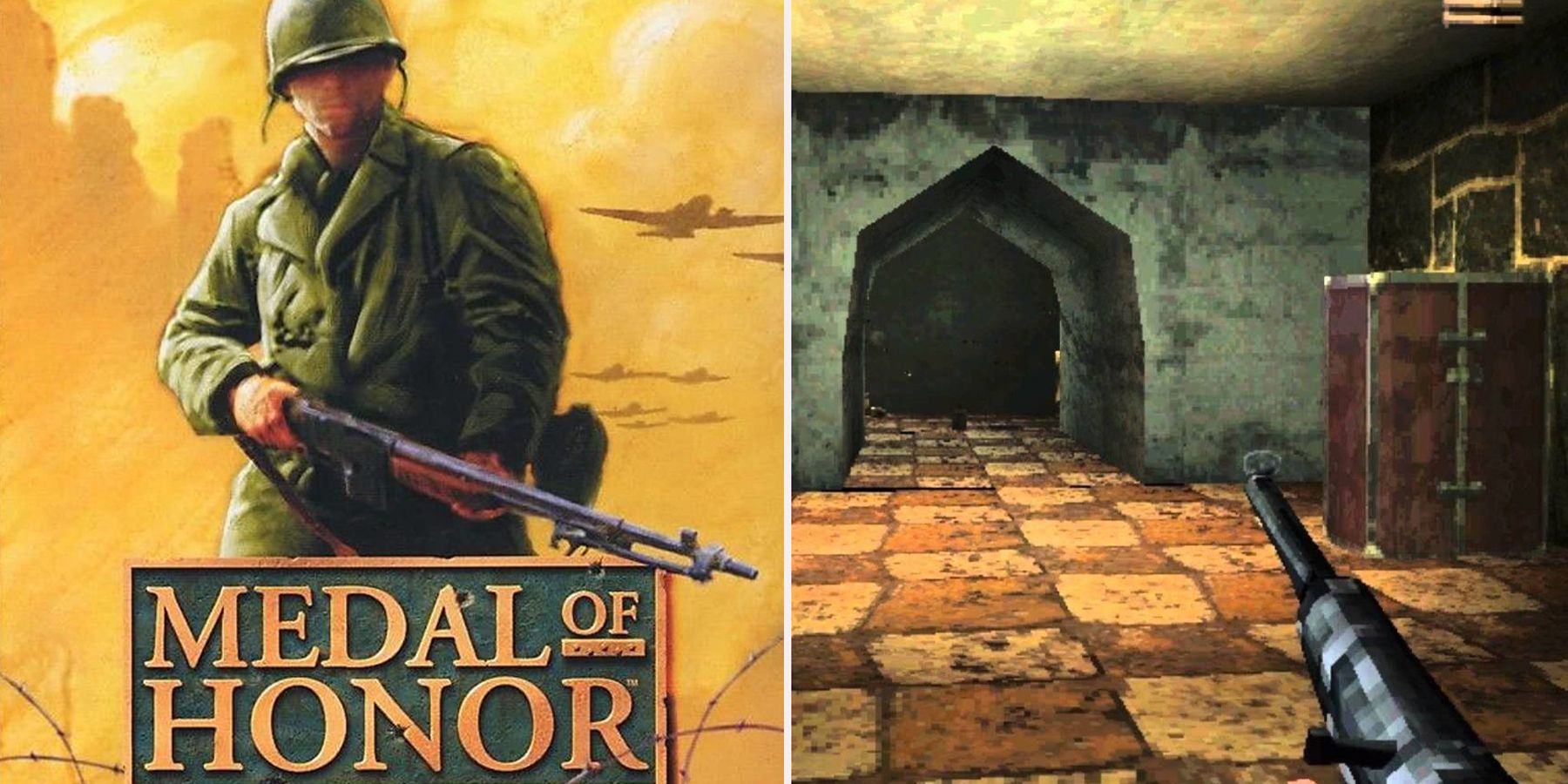 The first installment for what would become a successful franchise and inspire many other FPS games, Medal of Honor got a lot of attention before it was even launched. Stephen Spielburg was the main creator and producer of the game, and he drew on his interest in WW2 history along with a notable game his son was playing called GoldenEye.
Medal of Honor was initially controversial because of the Columbine High School shooting, which also took place in 1999. I was also criticized by the Medal of Honor Society for making a serious, even sacred subject into something as common as a video game. However, it received critical acclaim and eventually turned a handsome profit, the legacy of which continues to the present day.
22
Shadow Warrior (1997)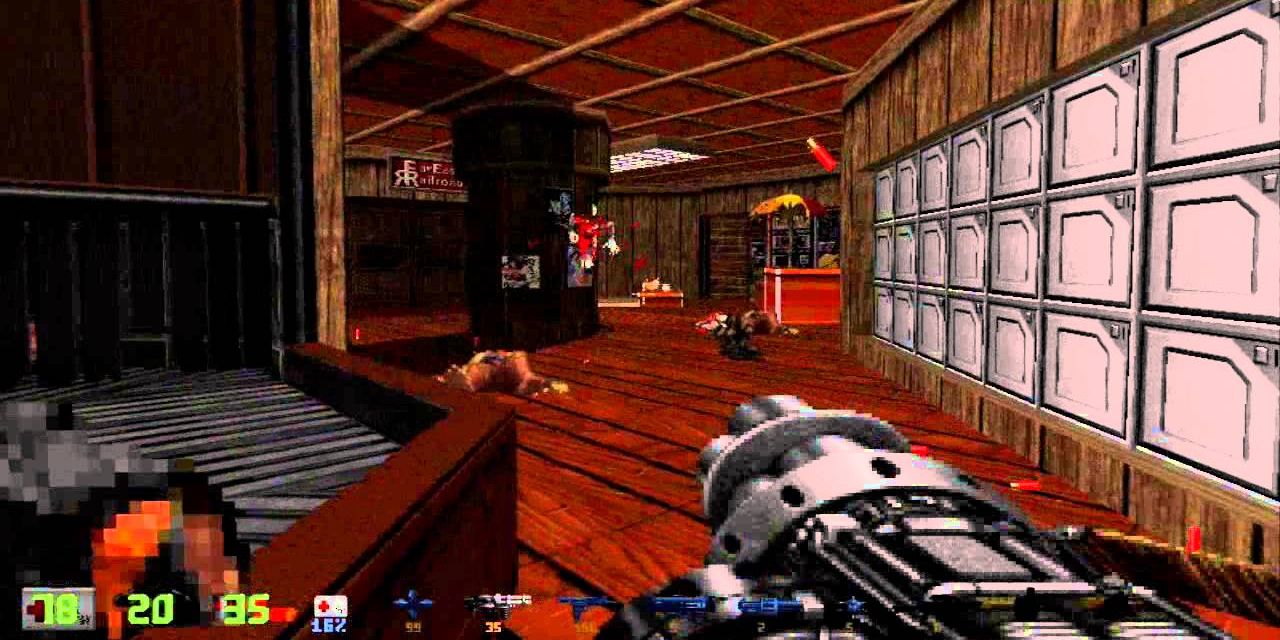 Unlike Unreal Tournament, the original Shadow Warrior hasn't aged well, nor has the game's main protagonist Lo Wang. The game was already a little dated at the time of its release, but till provided an enjoyable experience despite its often offensive dialogue and last-gen visuals.
Had the game arrived just a few years earlier it would have likely been considered groundbreaking. Even so, its wonderful environments and challenging combat helped to set it apart from much of the competition and provided hours of first-person shooter fun for those willing to give it a shot.
21
Xenomorph (1990)
There were all kinds of video games based on the Alien movie franchise, and several were FPS shooters. Xenomorph mixed some of that with elements of other popular genres of the time from both arcades and consoles. It was popular enough for the producers at Pandora to plan a sequel, but unfortunately, that ended up in development hell and faded into obscurity.
The game only available on home computers of the era like the Commodore 64 and the Amiga, making it one of the oldest FPS games for PCs. Those looking for original floppy disk copies might have to save their money and do some searching, but it is available on modern computers if a simple download will suffice.
Xenomorph was one of the first games to define the FPS games of the future. By mixing strategy and survival aspects in the first-person viewpoint, it paved the way for games like those in the Resident Evil franchise. It also relied on a sci-fi aesthetic instead of a medieval one like other games in the same style, which made it stand out from other first-person shooter games.
20
Team Fortress Classic (1999)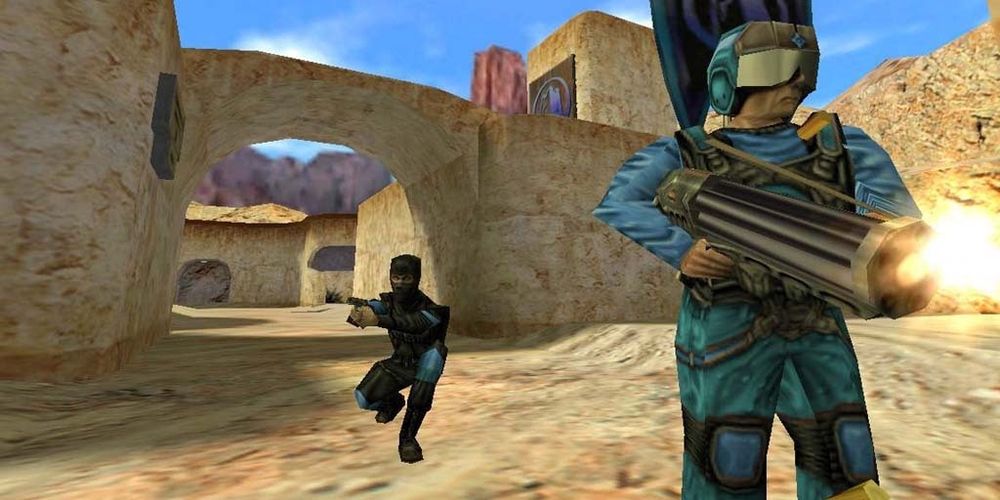 Team Fortress started life in 1996 as a Half-Life mod before eventually being given a full release in the late nineties. With nine unique classes and a wide array of weapons, it was one of the biggest titles of the decade and laid the groundwork for many of Valve's future games. The most notable of these was Team Fortress 2; a game that remains popular to this day.
Related: Best FPS Games On Nintendo Switch
Any fans of the sequel looking to see where it all began should consider checking out the original. Unfortunately, the game's dated mechanics and poor visuals make for a frustrating and lackluster experience. As a piece of gaming history, however, it serves as a great reminder of a bygone era and offers an interesting insight into the series' roots.
19
Space Hulk (1993)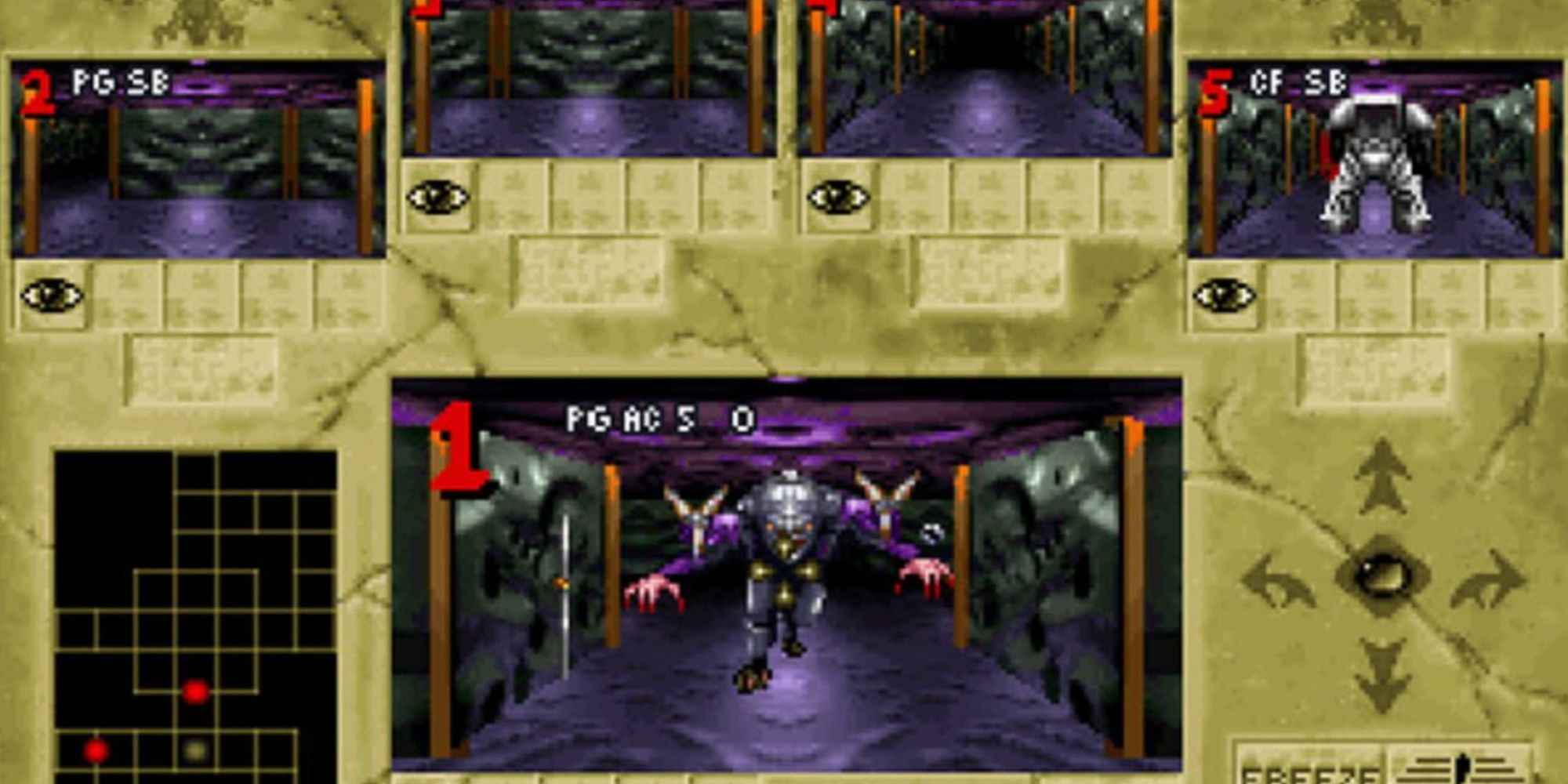 Combining elements of real-time strategy and first-person shooters with a science fiction setting, Space Hulk was the product of a few different influences. It was a PC version of a board game from 1989 that was based on the lore of Warhammer 40,000, produced by Electronic Arts and Games Workshop.
There's a lot of variety here for such an early first-person shooter, with plenty for the player to do other than simply shoot things. The game had a loyal following that was enough to inspire a sequel in 1996 and probably would have reached a wider audience if it had been available on more platforms.
18
System Shock (1994)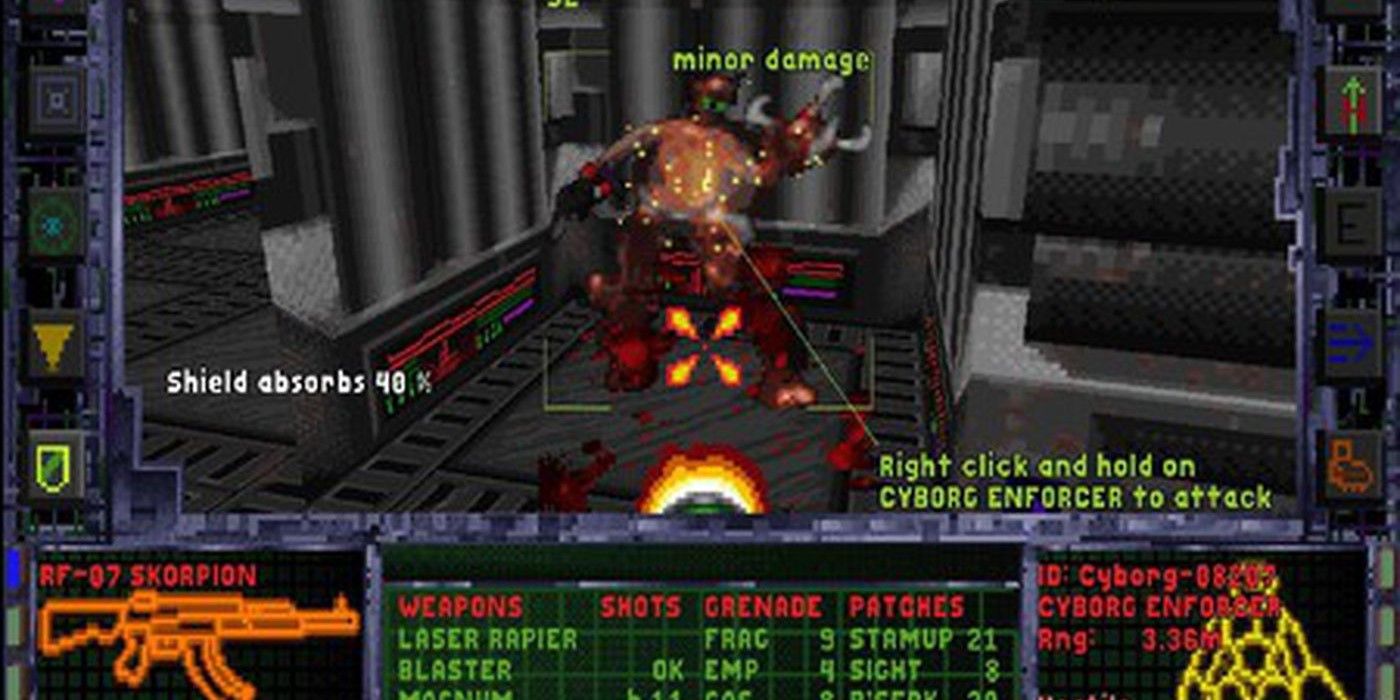 System Shock shares a lot of similarities with Looking Glass Studios' Ultima Underworld games, particularly when it comes to the general look and feel of the title. The fantastic 3D engine was miles ahead of anything else being used at the time. Its gameplay was also ahead of the pack, going beyond the typical point-and-shoot mechanics that were prevalent at the time.
The game's sequel and an enhanced edition launched in 2015 undoubtedly provide a far superior experience to the original, but neither was anywhere near as innovative nor influential. Games like Half-Life and Doom rightfully receive a lot of plaudits for their impact on first-person shooter gaming, but System Shock was every bit as important in shaping and kickstarting the evolution of the genre.
17
Turok 2: Seeds Of Evil (1998)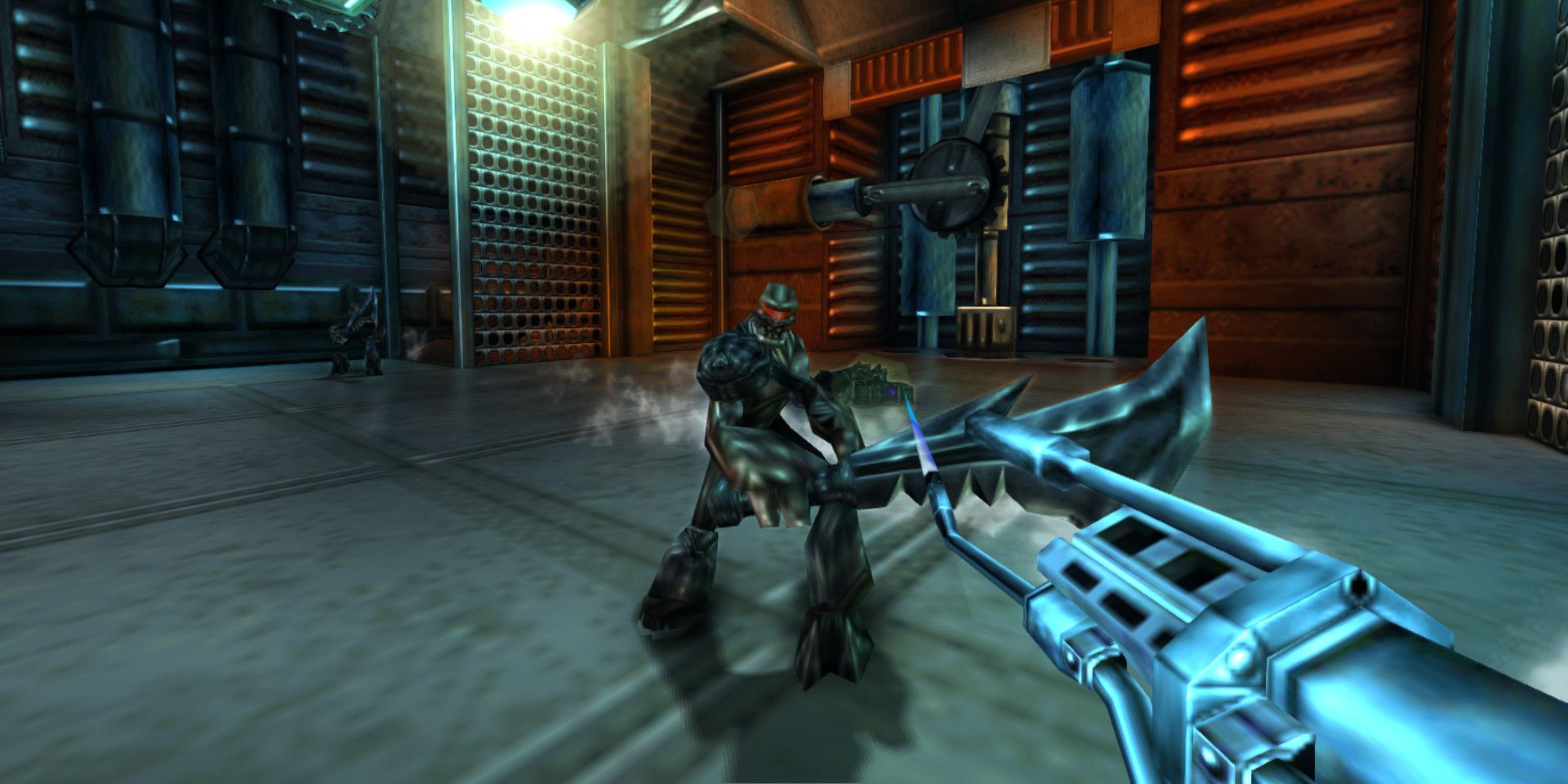 While Goldeneye 007 and Perfect Dark are seen by many as the best FPS titles on the N64, neither could match the high-quality visuals on display in Turok 2: Seeds of Evil. It looked more like a PS2 title than a cartridge-based game and features one of the best multiplayer experiences of the nineties. It did suffer from some occasional frame-rate issues due to how hard it pushed the system, but that was a small price to pay for what was on offer.
Although there were multiple sequels launched over the following years, Turok 2 is easily the best that the series has to offer. It still holds up fairly well today and thanks to the 2019 Switch remaster, it's easily accessible to modern gamers. The lack of multiplayer does hold the remaster back a little though as this was one of the original game's strongest assets.
16
Unreal (1998)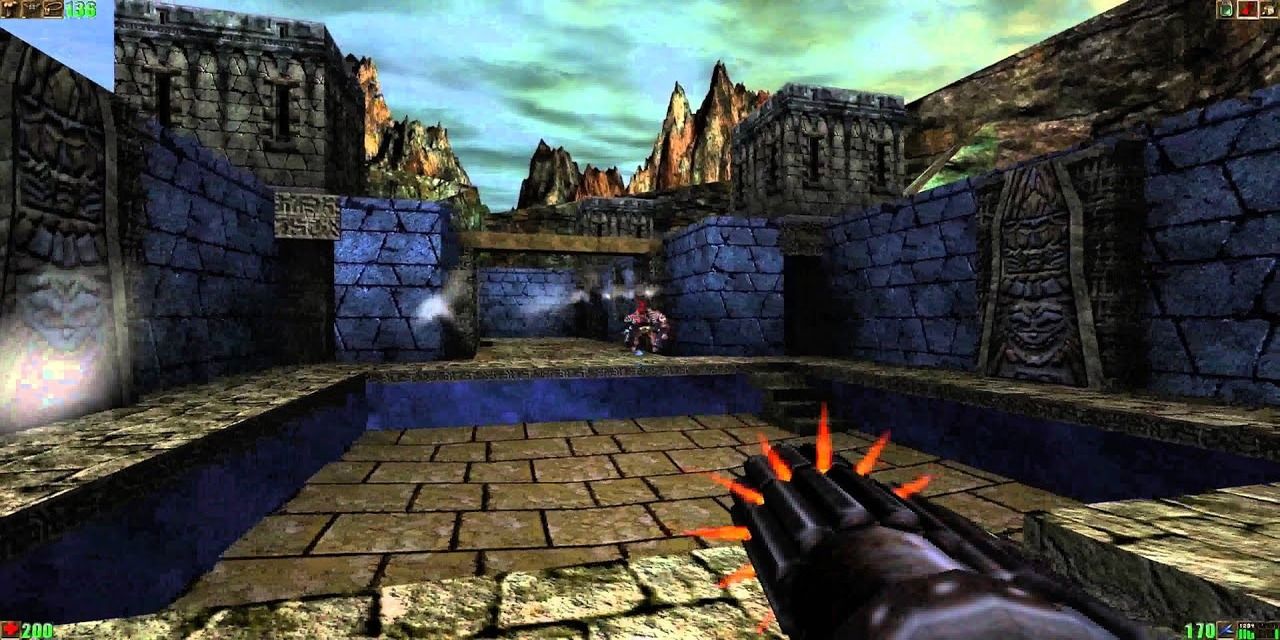 Unlike many of the other games on this list, Unreal was built using its own unique engine instead of using one from an existing game . It was the technology from this game, not really the game itself, that made a huge impact on the FPS shooter genre.
Related: Craziest Weapons From First-Person Shooters
That's unfortunate, because this is a unique and creative game with a lot to offer players, starting with a compelling storyline. It begins with a spaceship crash on a hostile planet and a lone survivor, so it's nice to see it get some attention in recent years.
15
Doom (1993)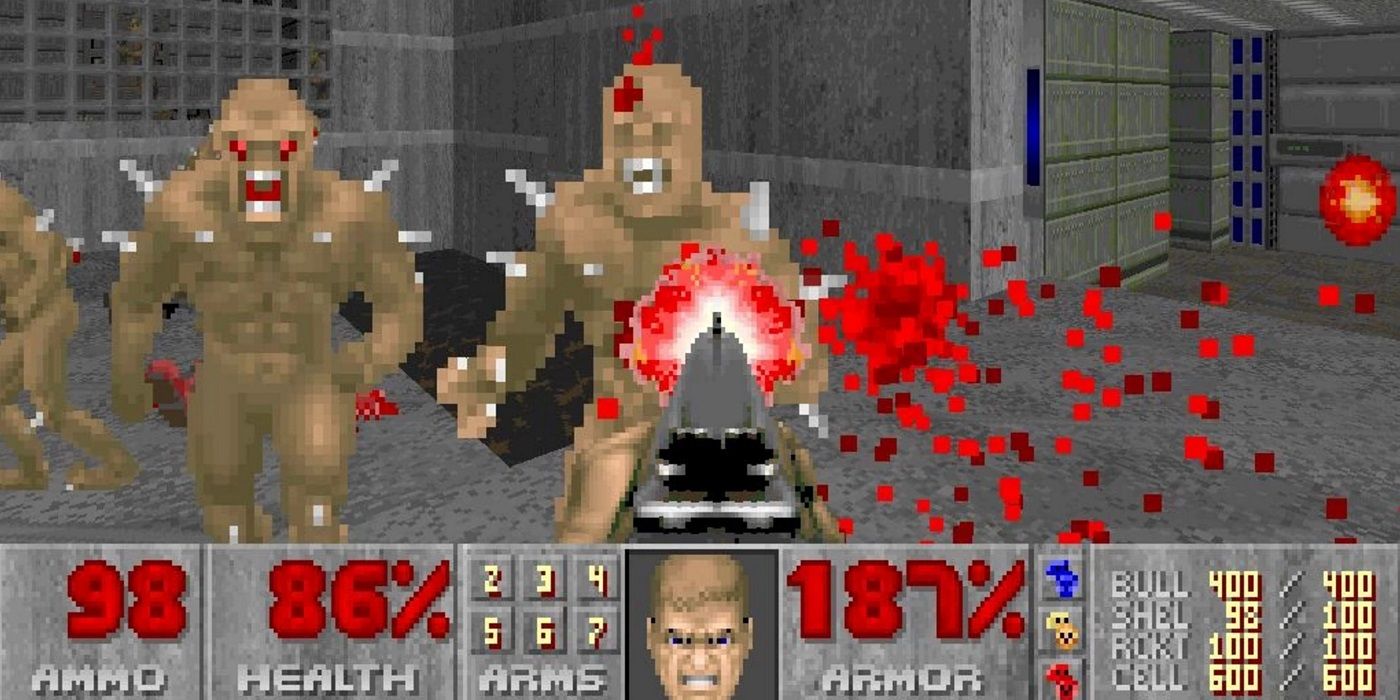 The phrase "Doom helped me get through high school" could be a meme. It was simple, savage, and deeply satisfying. The original Doom took the gaming world by storm, and it could be argued that it blew the whole genre wide open. The late 1990s were famous for the variety of Doom WADs that players could use to turn the aesthetic into something else, and everything from anime to Disney was available.
Virtually everything in first-person shooter games of the present day, including the satirical levels of violence, elaborate weapons, and multiplayer options all started with this game. Every FPS has a BFG these days, but it was Doom that invented that joke.
14
Witchaven 2: Blood Vengeance (1996)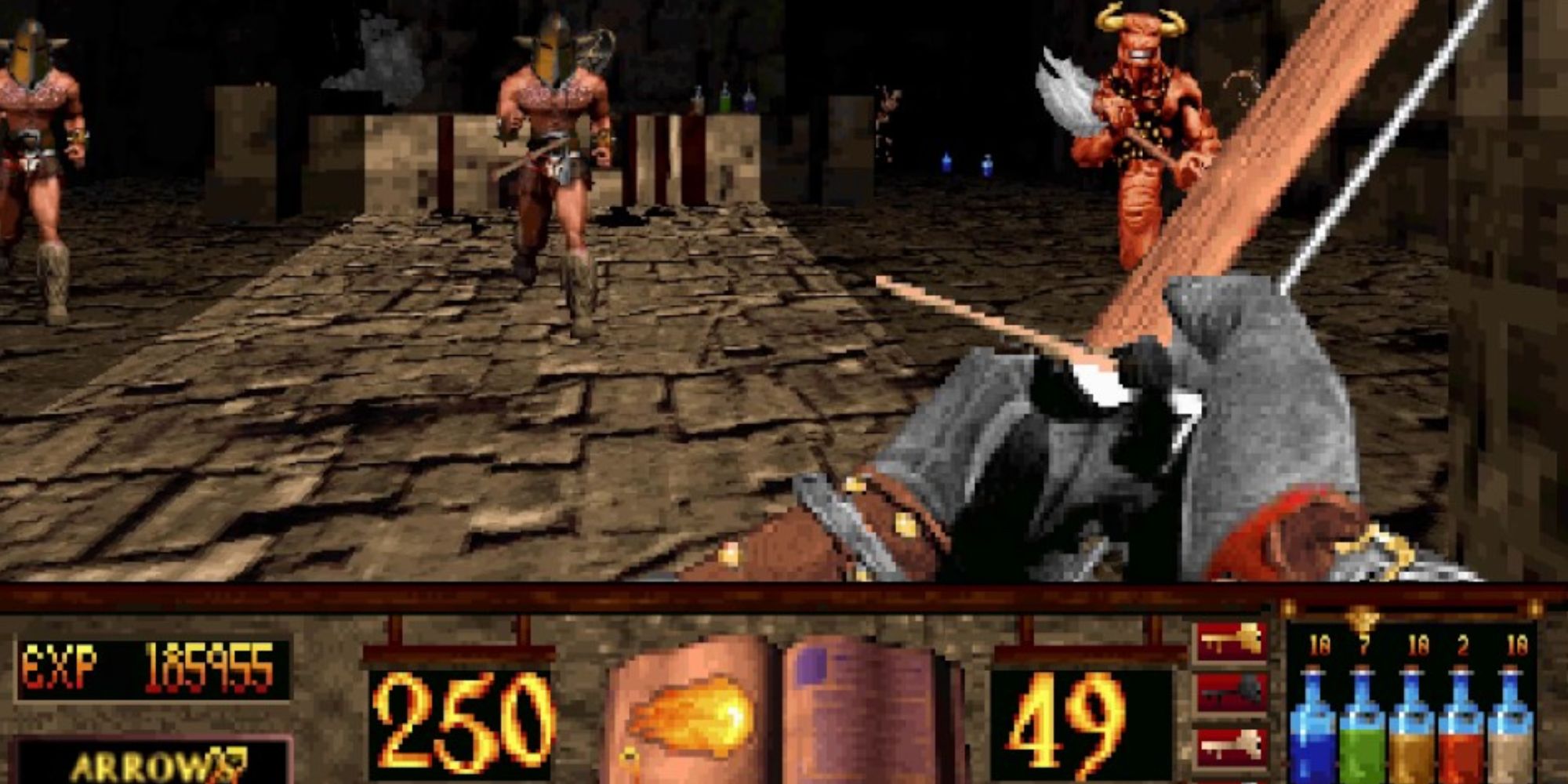 Witchaven II: Blood Vengeance continued the story of the brave knight Grondoval's quest to rid the land of evil witches. He succeeds in his quest, kills the Witch Queen Illwhyrin, and parties until he passes out. The sequel starts the morning after the previous game. Grondoval wakes from a dream involving a golden dragon named Ikethsti, who warns him that the Witch Queen's sister is on her way to exact revenge. The plot continues to include not only his new foe, Cirae-Argoth, but her demon army as well. Instead of just destroying the witch queen, this time Grondoval has to rescue the local citizens and his lady love Princess Elizabeth.
The story includes many cut scenes, which was ambitious for the time, the last of which got critical recognition from Computer Gaming World for being one of the most unsatisfying ending sequences in video game history. It's a surprisingly detailed story for a game with a simple premise, but that's one of the reasons it has such a dedicated cult following. In addition to the mix of RPG and FPS elements, the sequel added a few extra features like dual-wielding and using a shield. There was also a Build component that allowed players to build their custom dungeon levels, an idea way ahead of its time. However, critics said the game was a rushed sequel that wasn't as impressive as the original.
13
Hexen: Beyond Heretic (1995)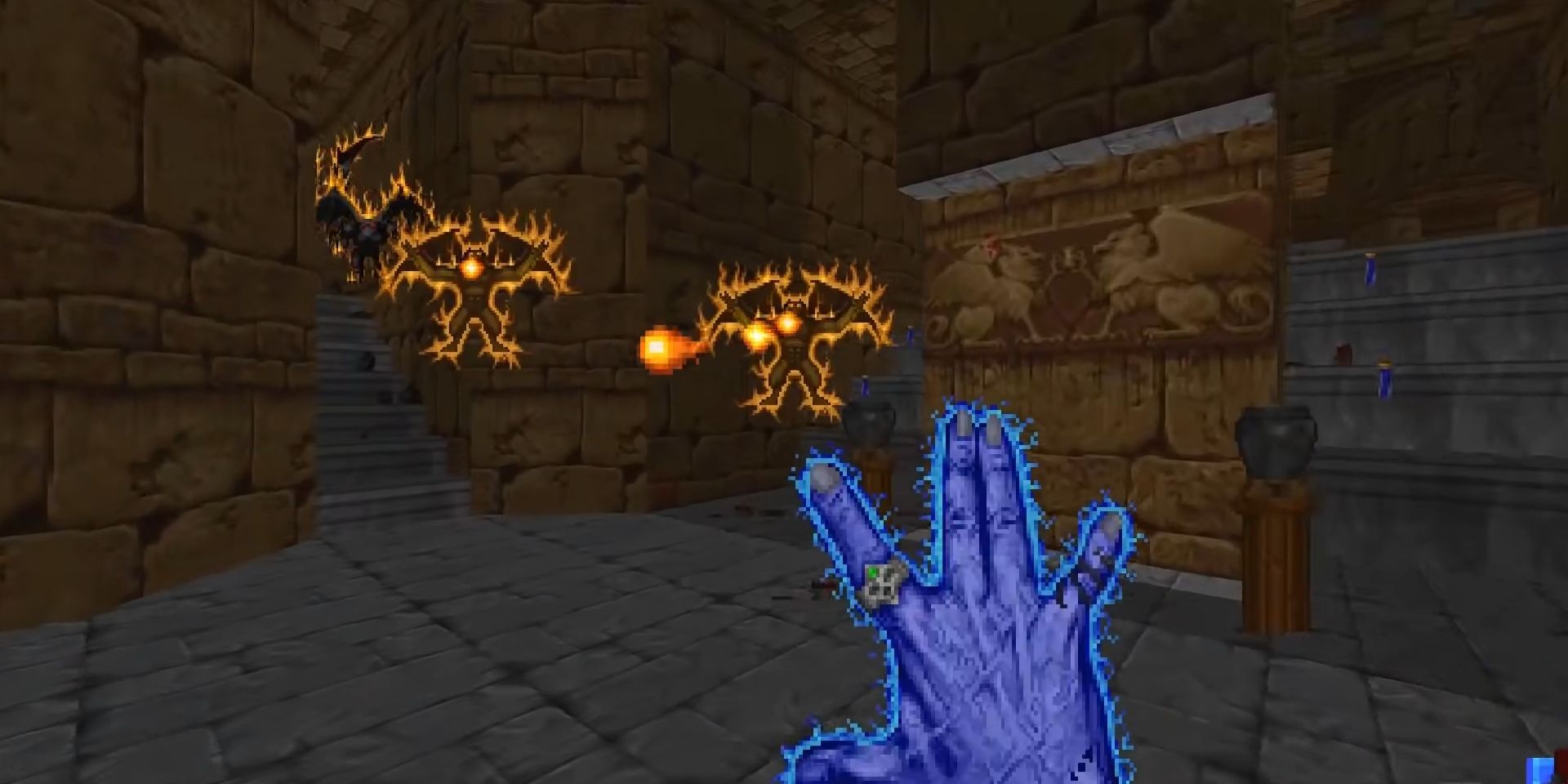 Hexen: Beyond Heretic is designed and intended as an indirect sequel to another popular first-person shooter from the same era, Heretic. This game also had the same RPG elements that players liked from the first game, such as the complicated storyline and choice of playable characters.
This time, the setting is the world of Cronos. The heroes must seek out and defeat Korax, one of the three serpent-riders in the previous game. Cronos is a world with some impressive visuals and settings, especially considering the time when it was made. Players can travel through dungeons, forests, castles, and a necropolis before they face the final boss.
12
Alien Versus Predator (1999)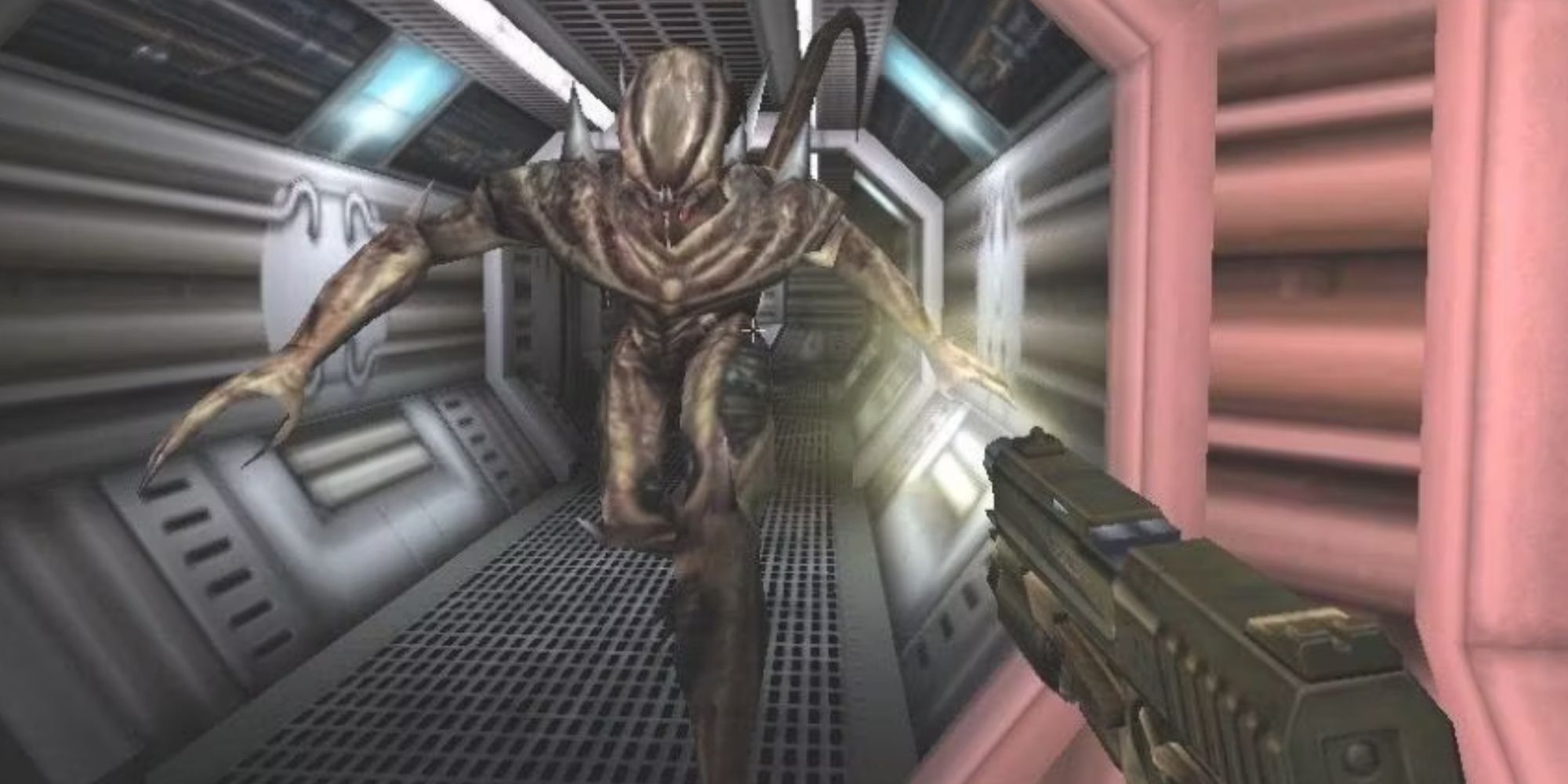 It makes perfect sense that one of the last FPS games to come out of the 20th century would be an Alien and Predator crossover. This was a game for Windows and macOS that was similar to another title from 1993 for the Atari Jaguar in the sense that they both had campaigns and players could choose characters of different races. Aliens could climb walls and explore more of the environment, while Marines and Predators had access to complicated weapons.
Playing as the bad guys, in this case, the Aliens, was a novel concept. By this time there was a whole library of FPS shooters and video games based in the Alien universe and the choice of being able to play as a colonial marine or as one of the deadly creatures trying to kill them.
11
Wolfenstein 3D (1992)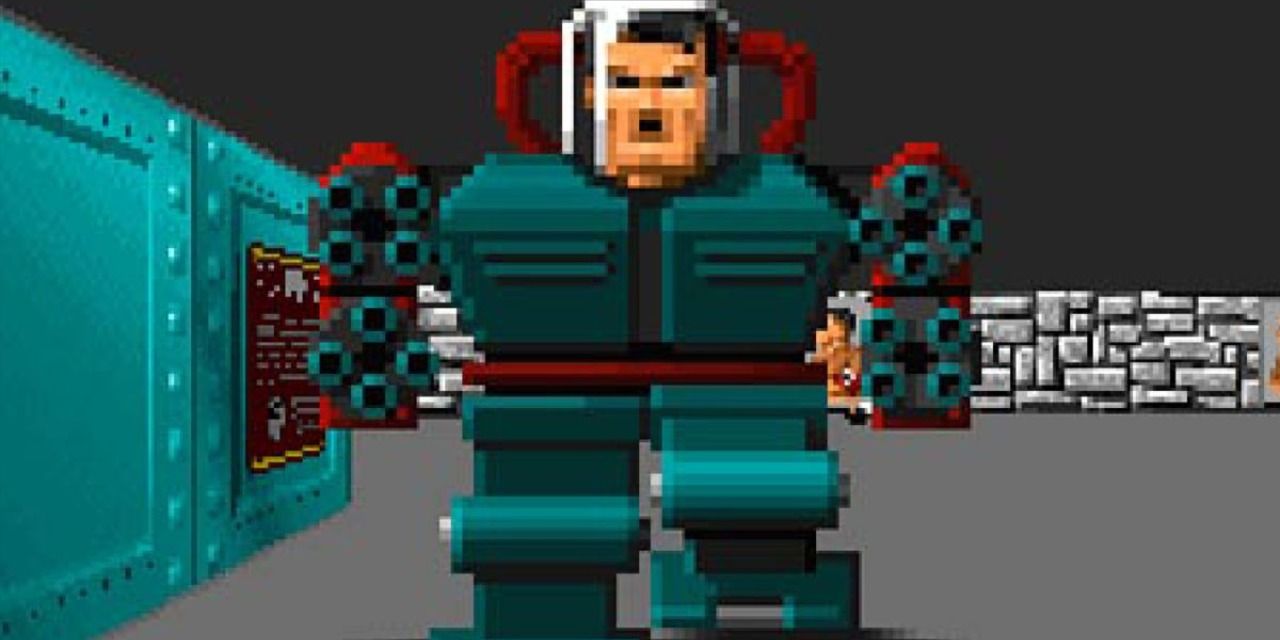 FPS games had their golden age during the 1990s, but that wasn't when they started. A game called Castle Wolfenstein was launched in 1981 and is one of the oldest PC FPS games there is. It mixed old-school video game lore and storylines with the FPS genre. It's easy to get behind an intrepid WW2 hero who's out to kill Nazis and recover stolen relics.
Wolfenstein 3D was inspired by the original Wolfenstein and was produced by id Software, the same folks who made Doom and Quake. This version was faster, bloodier, and more visceral in every way than the previous installment, but the title is slightly misleading. Today, 3D might mean actual 3D or even virtual reality, but in this case, it was just an expression of the improved graphics and gameplay.
10
Goldeneye 007 (1997)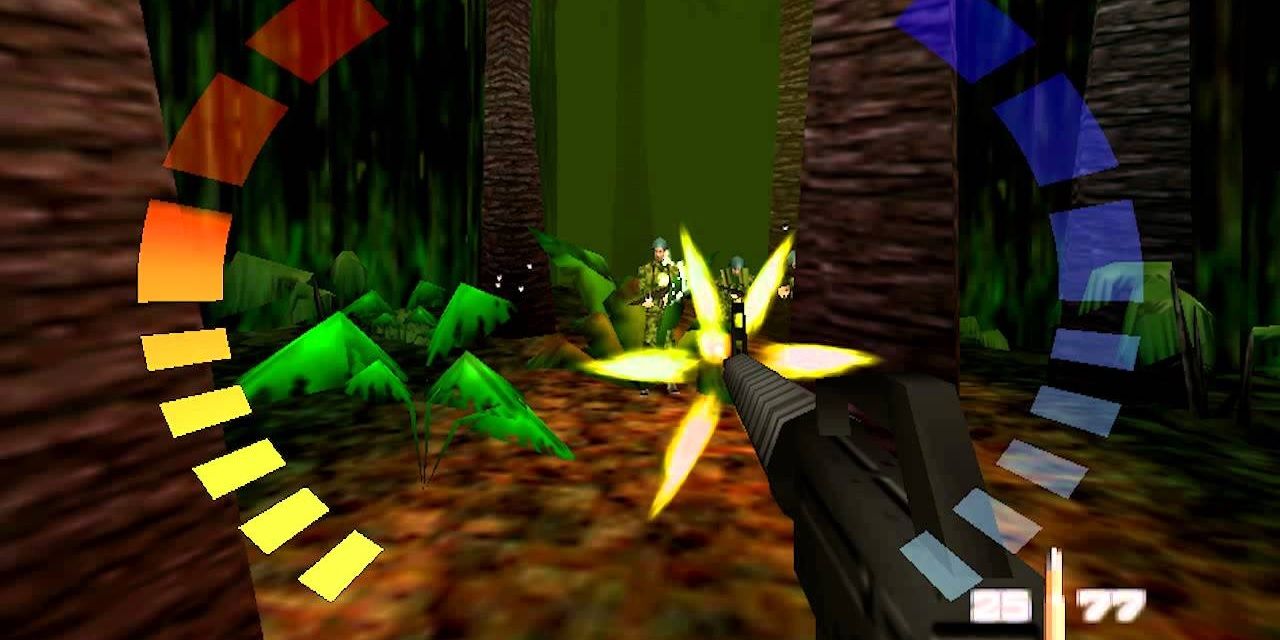 Most video games based on movies are poor, but Goldeneye is a famous exception. When it comes to first-person shooter games of the 1990s, this is the one that everyone knows, even if they haven't touched a video game for decades. The film of the same name was a smash hit as well, the first in which Pierce Brosnan took on the role after years of dithering, which helped the marketing department.
Related: Ways GoldenEye 007 Still Holds Up Today
The original idea for this game made it a classic side-scroller, but the success of '90s shooting games at the time inspired the team at Nintendo to develop another type of game from a first-person perspective. Multi-player modes had existed before, but Goldeneye improved the whole "Deathmatch" concept and raised the bar.
9
Half-Life (1998)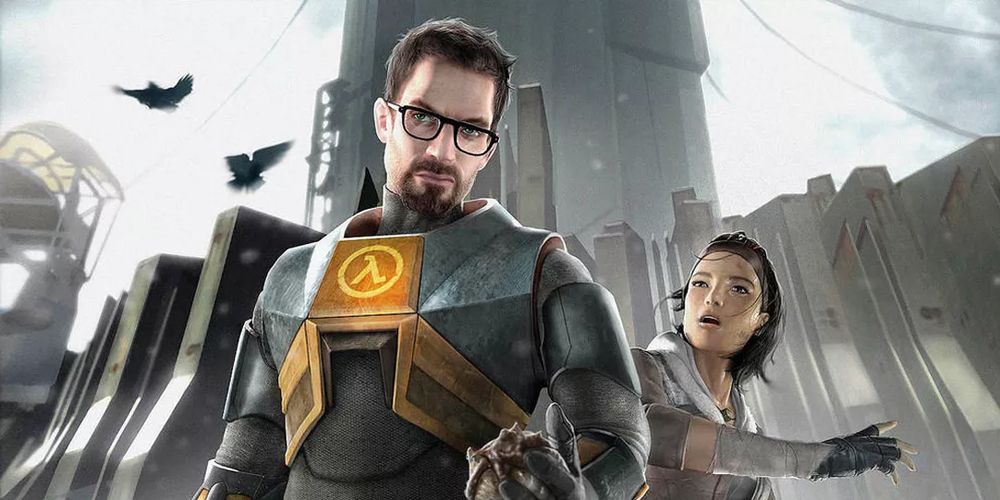 Half-Life has an interesting place in gaming history. Not only was it the culmination of everything that made first-person shooter games so great in the late 1990s, but it was also the debut title from Valve. By this time, the "shooting gallery" concept had fallen out of favor for the same reasons that it had been so popular at first; the simple viewpoint, in-the-face gore, and lack of a plot.
This game reversed all those trends and included a sophisticated storyline. The game was so influential that it inspired several mods and third-party remakes and sequels in the last two decades, including Black Mesa, which was launched in 2020.
8
Quake (1996)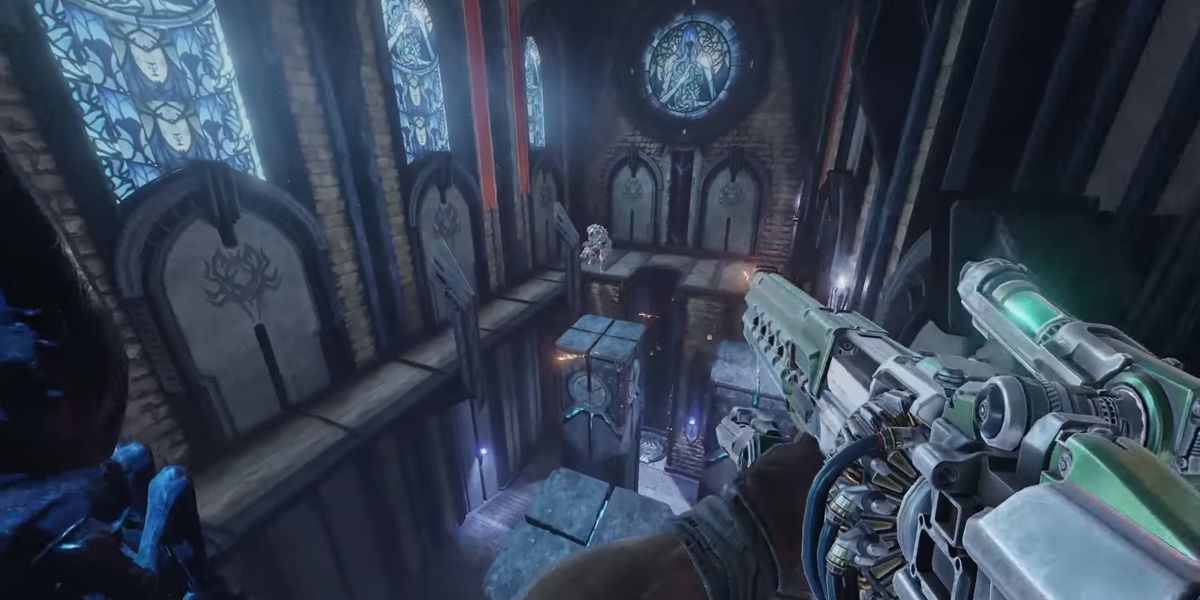 The successor to the Doom series of games and another offering from id Software, Quake combined the first-person shooter format with the best features from other popular genres, namely survival horror and medieval fantasy RPG settings.
The whole game was also beautifully rendered, beginning a trend in which fans of '90s FPS games would start demanding more sophisticated graphics and design, something that hadn't been a priority in the past. This game tested the true depth of the third dimension in video games, and every single first-person shooter created since has followed suit.
7
Duke Nukem 3D (1996)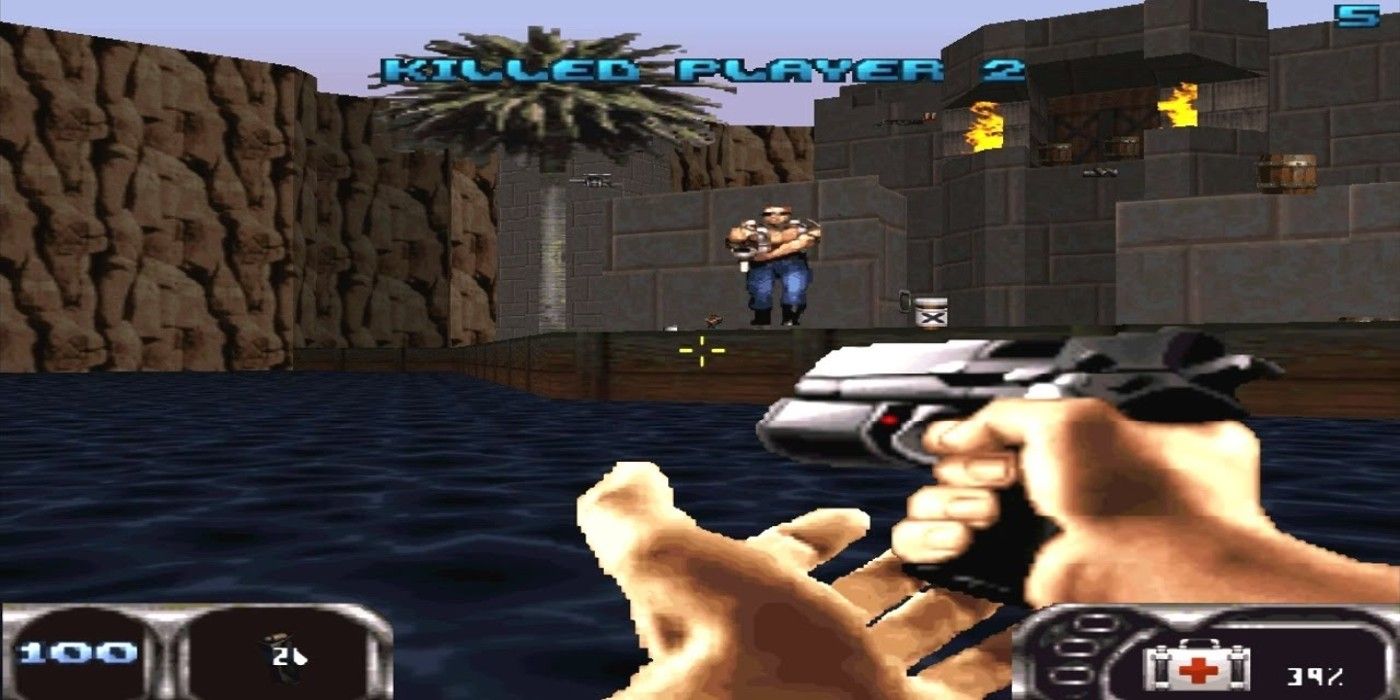 It's easy to get confused between the Duke Nukem games and other franchise titles like Wolfenstein 3D or Doom because the basic look, premise, and gameplay are so similar. What makes this '90s first-person shooter game stand out is the protagonist, Duke, who has a dedicated fan following. Some of that drama stems from ongoing copyright issues with the game that have gone on for decades. Duke Nuken 3D is the third game in the series and the first one that used the first-person shooter design.
Related: Forgotten One-Off FPS Games That Are Worth Revisiting
The game was originally intended for PCs, but its popularity caused an explosion that spread it to virtually every platform in existence. As a simple two-dimensional shooter, it leaned heavily on the less sophisticated side of the FPS genre and became extremely popular as a result.
#FPS #Games #1990s