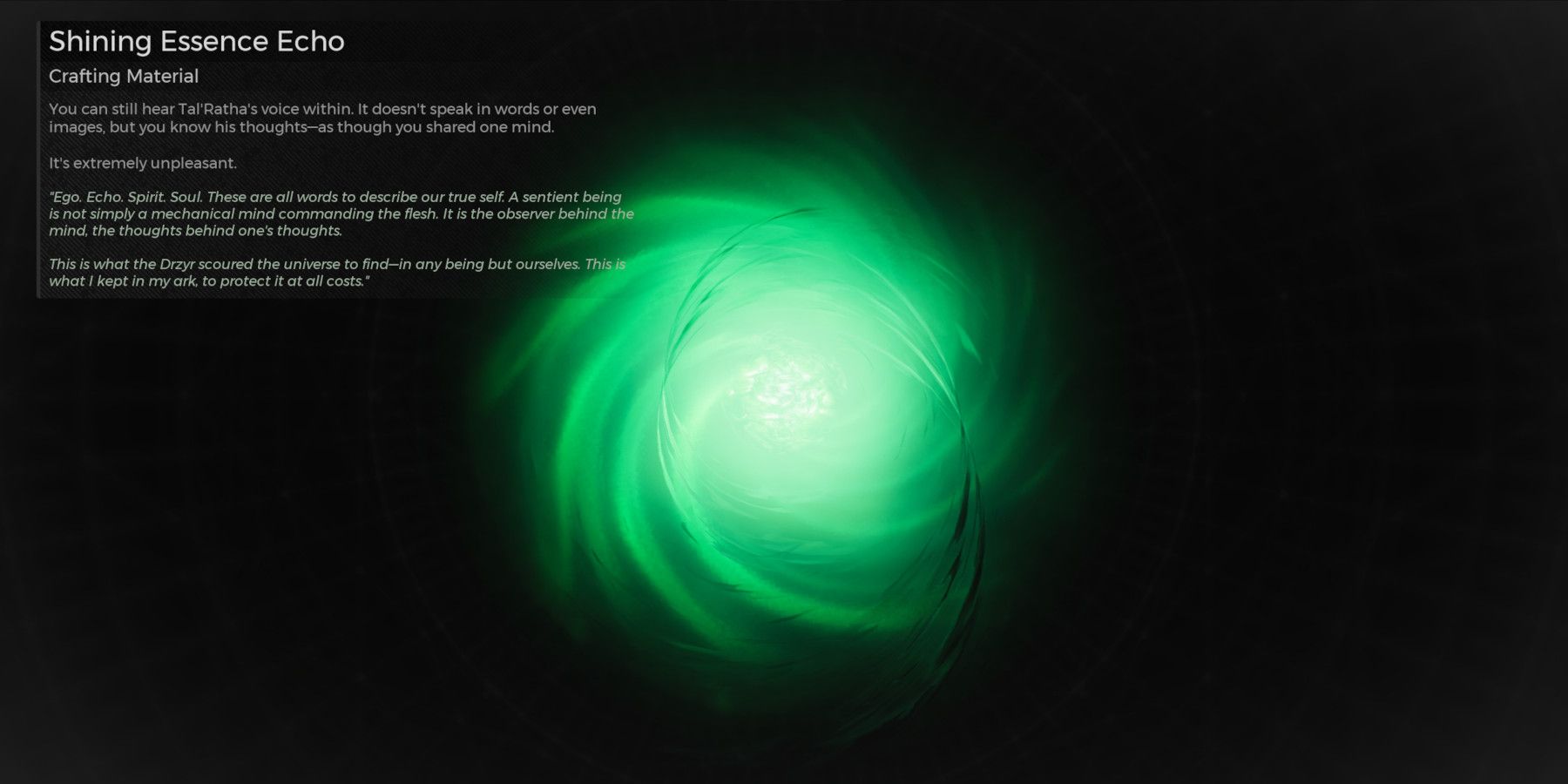 Quick Links
Remnant 2: Shining Essence Echo Uses
Remnant 2: How to Get Shining Essence Echo
The Shining Essence Echo is a crafting material in Remnant 2 that players can exchange for one of two items. More specifically, fans can turn the material into either the Siphon Heart relic or the Void Idol amulet, though they may be confused about how that is done. This guide is here to alleviate that confusion, and it will help players find the NPCs that can make use of the Shining Essence Echo in Remnant 2.
Remnant 2: Shining Essence Echo Uses
Players that want to use the Shining Essence Echo should set their sights on finding the Custodian, an NPC that is within the spire next to the Ascension Spire checkpoint on N'Erud. For the uninitiated, this checkpoint is found on the Abyssal Rift and Phantom Wasteland maps, and Remnant 2 players should simply target the map that is available in their current roll of N'Erud.
RELATED: Remnant 2: Tower of the Unseen Guide (All Puzzles & Secrets)
Players that have reached the spire now have two options to consider, the first of which is to interact with the Custodian and give him the Shining Essence Echo. Fans that pursue this option will receive the Siphon Heart relic, which grants 10% of base damage dealt as Lifesteal for 10 seconds when used.
Alternatively, players can take the Shining Essence Echo to the Dryzr Replicator and use it to craft the Void Idol amulet, which increases reload speed by 20% and halves the amount of ammunition that is required to fully reload a weapon in Remnant 2. To locate the Dryzr Replicator, fans should simply look to the seated statues that are just inside the spire. Indeed, there is a hole in the ground behind the statues on the left, and fans that fall through it will find themselves in a room with the relevant NPC.
To note, it is possible to claim both the Siphon Heart relic and Void Idol amulet, provided that the player is willing to obtain the Shining Essence Echo twice. While not everyone will be interested in putting time toward that endeavor, some fans will be happy to know that the opportunity to earn the second item is available through re-rolling in Remnant 2.
Remnant 2: How to Get Shining Essence Echo
While it is expected that most readers will already have the Shining Essence Echo in their possession, a few words on how this crafting material is obtained may still be pertinent. Quite simply, players will receive the item upon defeating Tal Ratha at the end of one of N'Erud's two main story scenarios. Fans will know that they have access to the relevant scenario in their N'Erud roll if it begins at the Forgotten Prison, and they will receive the Shining Essence Echo regardless off the Tal Ratha choice that they make.
Remnant 2 is available for PC, PS5, and Xbox Series X.
MORE: Remnant 2: How to Get Dreamcatcher (& Its Uses)
#Shining #Essence #Echo