The Cerulean Hidden Tear is one of the most powerful Crystal Tears in Elden Ring, temporarily eliminating all FP consumption when ingested through the Flask of Wondrous Physick. Not only does this effect make it possible to endlessly cast spells and execute weapon skills for its duration, it also allows players to use abilities with FP requirements that are beyond their maximum Focus Power. For those fans that would like to experience this effect firsthand, this guide will detail exactly how to find Elden Ring's Cerulean Hidden Tear.
Updated August 3rd, 2023: Players that rely heavily on their spells and abilities will want to ensure they have the Infinite FP Tear to place into their Flask of Wondrous Physick. By using the Cerulean Tear, they'll gain Infinite FP in Elden Ring for a short period of time. This can help take down particularly tough bosses and is a lifesaver for those that are pursing a Mage-style build. Elden Ring's Infinite FP Tear is a little difficult to find for players that don't know where to look. To better help aspiring spellcasters achieve Unlimited FP in Elden Ring, the following guide has been updated to include a video.
Players that are on the hunt for the Cerulean Hidden Tear should turn their attention to Mt. Gelmir, the region just west of the Altus Plateau. More specifically, fans must reach this region's Minor Erdtree, and the route to it can prove to be quite complex. Here is a step-by-step walkthrough of how to get to the Minor Erdtree in Mt. Gelmir starting from the Erdtree-Gazing Hill Site of Grace, which is at the Lux Ruins just north of Elden Ring's Grand Lift of Dectus:
RELATED: Elden Ring: Hyetta Full Quest Walkthrough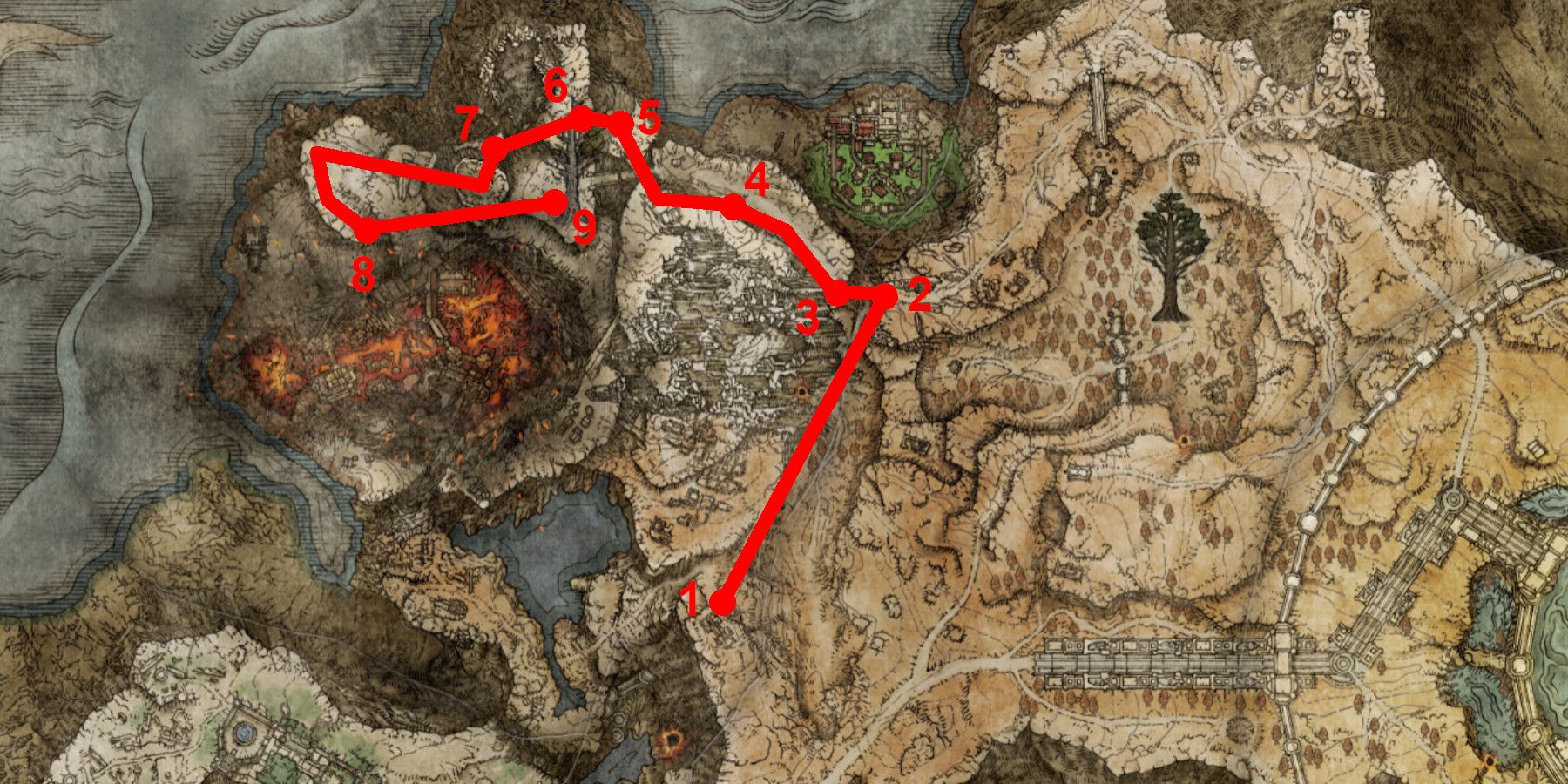 Start at the Erdtree-Gazing Hill Site of Grace in southwest Altus Plateau.
Summon Torrent in Elden Ring and ride northeast to reach a Spiritspring that should be ridden.
Go west across the wooden bridge to reach the Bridge of Inquiry Site of Grace.
Ride northwest into the area with the large Pendulum Statue enemies and climb the ladder that is against the cliff on the west side. The ladder is flanked by two burning torches.
Continue west to pass by a guard tower, head north across a stone bridge, and climb the ladder with the torch and brazier next to it.
Turn left at the top of this first ladder, climb a second ladder that is just ahead, pass by a trader, and climb a third ladder.
Head west and cross the wooden bridge to reach the Ninth Mt. Gelmir Campsite Site of Grace in Elden Ring and a Spiritspring.
Ride the Spiritspring, use a narrow strip of stone to travel west, continue west to the edge of the map, and then ride south to the Mt. Gelmir map fragment.
Travel east, past the Road of Inquiry Site of Grace and through the area with the suspended giants, to reach the Minor Erdtree.
Upon arriving at the Mt. Gelmir Minor Erdtree, fans must defeat the Ulcerated Tree Spirit. This battle can be slightly tricky, depending on the player's level, and fans may want to consider summoning Spirit Ashes in Elden Ring and fighting from Torrent's back. Regardless of how a player ultimately chooses to approach the Ulcerated Tree Spirit, they will receive the Cerulean Hidden Tear when the foe is slain.
Elden Ring is available now for PC, PlayStation 4 and 5, and Xbox One and Series X|S.
MORE: Complete Guide To Elden Ring: Weapons, Items, Tips, Tricks, Bosses, & Builds
#Unlimited #Tear #Cerulean #Hidden #Tear #Location