Finding Linus' blackberry basket is a quest most players will pick up in Stardew Valley. This quest, like Robin's lost axe task, asks players to find an item the quest giver lost somewhere in the valley and return it to its owner – in this case, Linus.
RELATED: Stardew Valley: Coolest Clothing Items & How To Make Them
By helping out this friendly man, players will have his gratitude and earn a friendship heart as a reward. Here's how players start the Linus' basket Stardew Valley quest, complete it, and the reward they'll earn for finishing.
Updated August 4, 2023 by Erik Petrovich: Stardew Valley players nearing the end of their first year in the game will always get a quest in the mail from Linus in the middle of Fall. He asks players to bring back his blackberry basket, which is easier said than done. Players who know exactly where Linus' blackberry basket is, though, can save potentially days of frustration looking for the Linus basket location on their own. In fact, Linus' blackberry basket is found not so far from the farm itself – it's practically around the corner. The tough part is actually being able to see where it is, because the basket has a tendency to fade into the background. Read on to find out exactly where to find Linus' basket in a semi-secret area of Stardew Valley.
Activating The Stardew Valley Linus' Basket Quest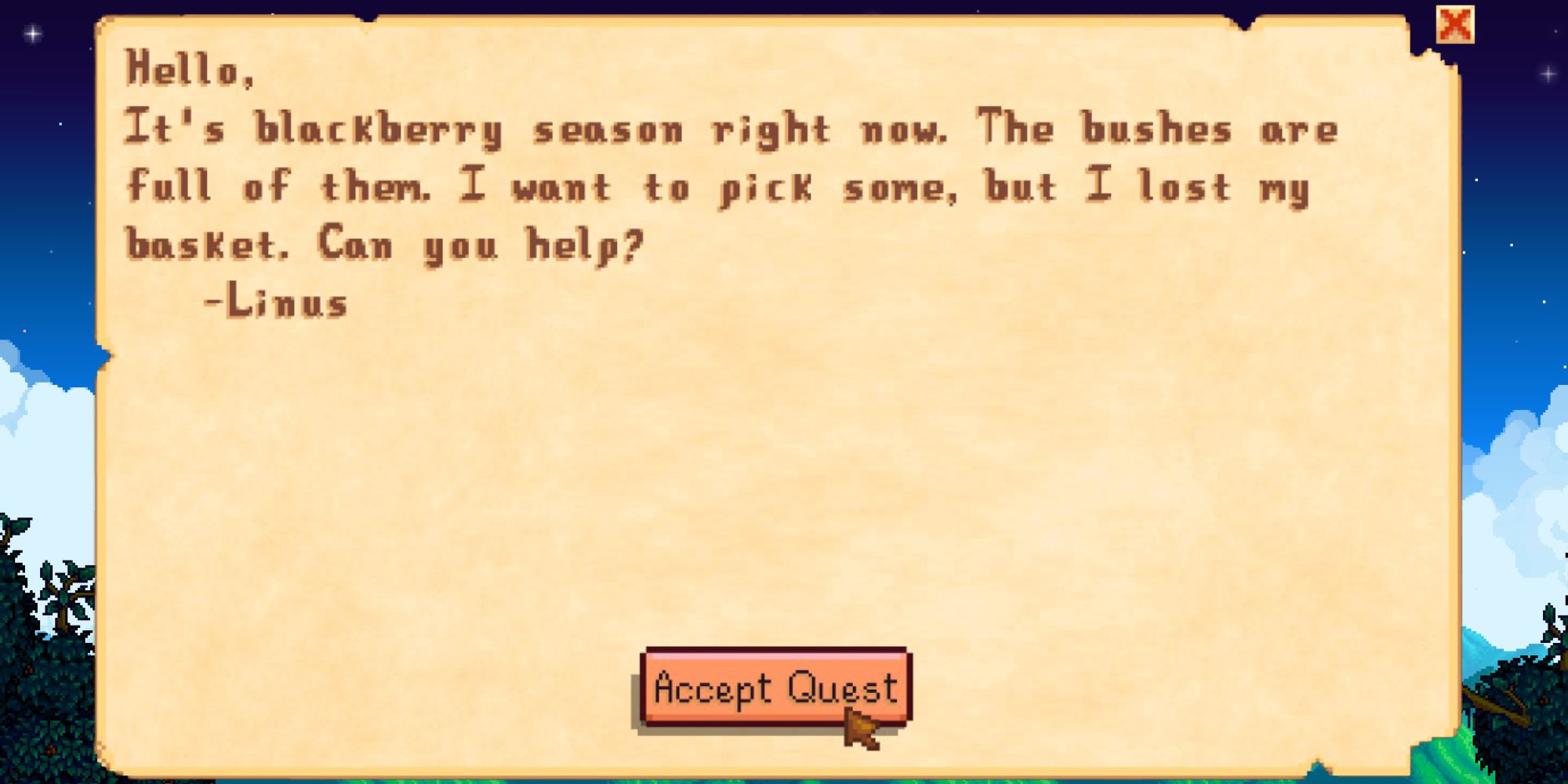 Throughout the year in Stardew Valley, the player will receive a number of quests that are typically triggered on a specific day in a specific season. Some quests can be given by Linus, who spends most of his time in a tent in the mountains by Robin's house. He considers himself an outcast of the town; most villagers don't treat him well, which has led to his distrust in others.
Still, Linus operates the same as other Stardew Valley villagers and can be gifted items and has his very own unique heart events.
RELATED: Stardew Valley: How to Get Blue Chickens
But no matter the player's relationship level with Linus in Stardew Valley, on Fall 8 of the first year, the player will receive a letter from Linus asking for help finding his blackberry basket. After reading this letter in the mail, all the player needs to do is figure out where to find Linus' basket and return it to him.
It's actually hiding in plain sight but can be hard to spot. During the Fall, it's especially difficult to spot because its color makes it blend in with the bright orange and browns of the turning grass and leaves in Pelican Town.
Linus' Basket Location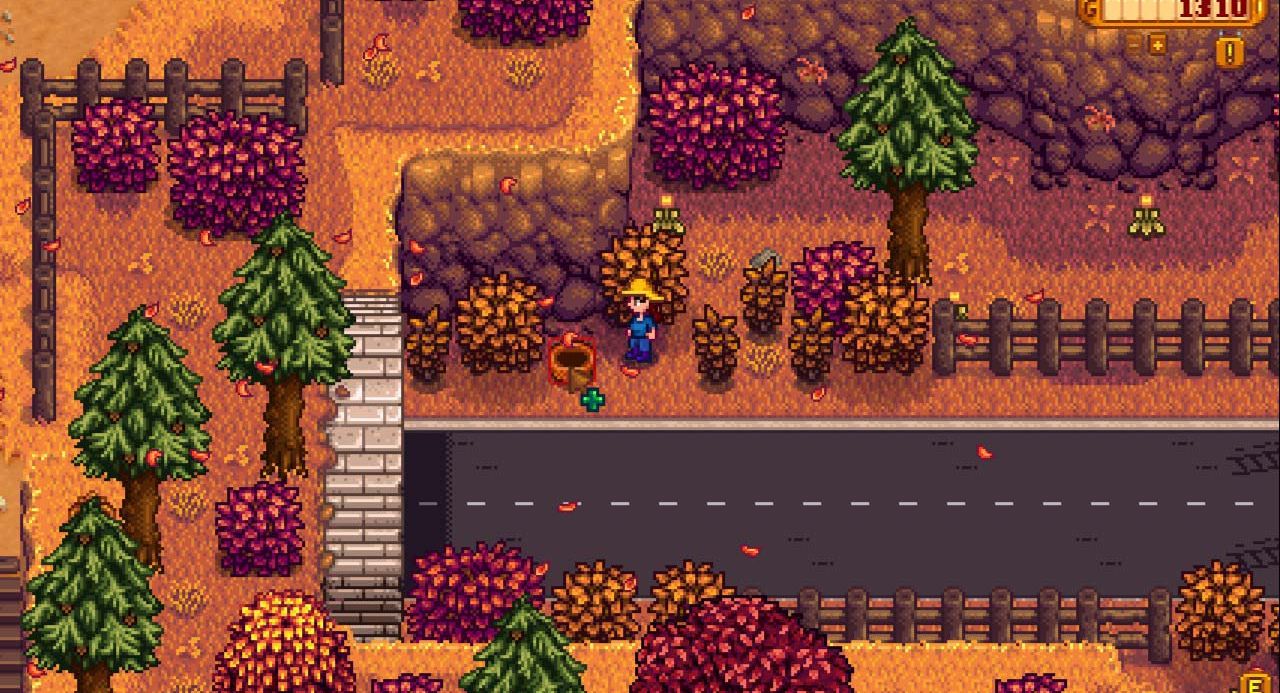 Exit the farm on the east side to get to the bus stop screen. Then, walk up to the bus, but don't get a ticket: instead, head west of it, to another screen. This one may look familiar, because it's partially visible from the north entrance to the player farm. Navigate along the paved road into the Backwoods and look in the bushes to find out where is Linus' blackberry basket.
If it doesn't pop out immediately, look at the bush just next to the mouth of the adjacent tunnel. Depending on what season it is, the basket can either be extremely obvious or difficult to see at all – because this quest starts in Fall, it's normally pretty hard to make out against all the brown hues of the season. When players do eventually find out the Linus basket location, though, it's a simple matter of pressing the Use key to pick it up, the head back to Linus, who is most likely hanging out by his tent or the lake in the mountains.
While many Stardew Valley quests reward the player with money, sometimes even thousands of gold, finishing this quest doesn't offer any money in exchange. Instead, those who return Linus' blackberry basket will earn a friendship heart with him, as he'll be grateful for the help.
Returning Linus' Basket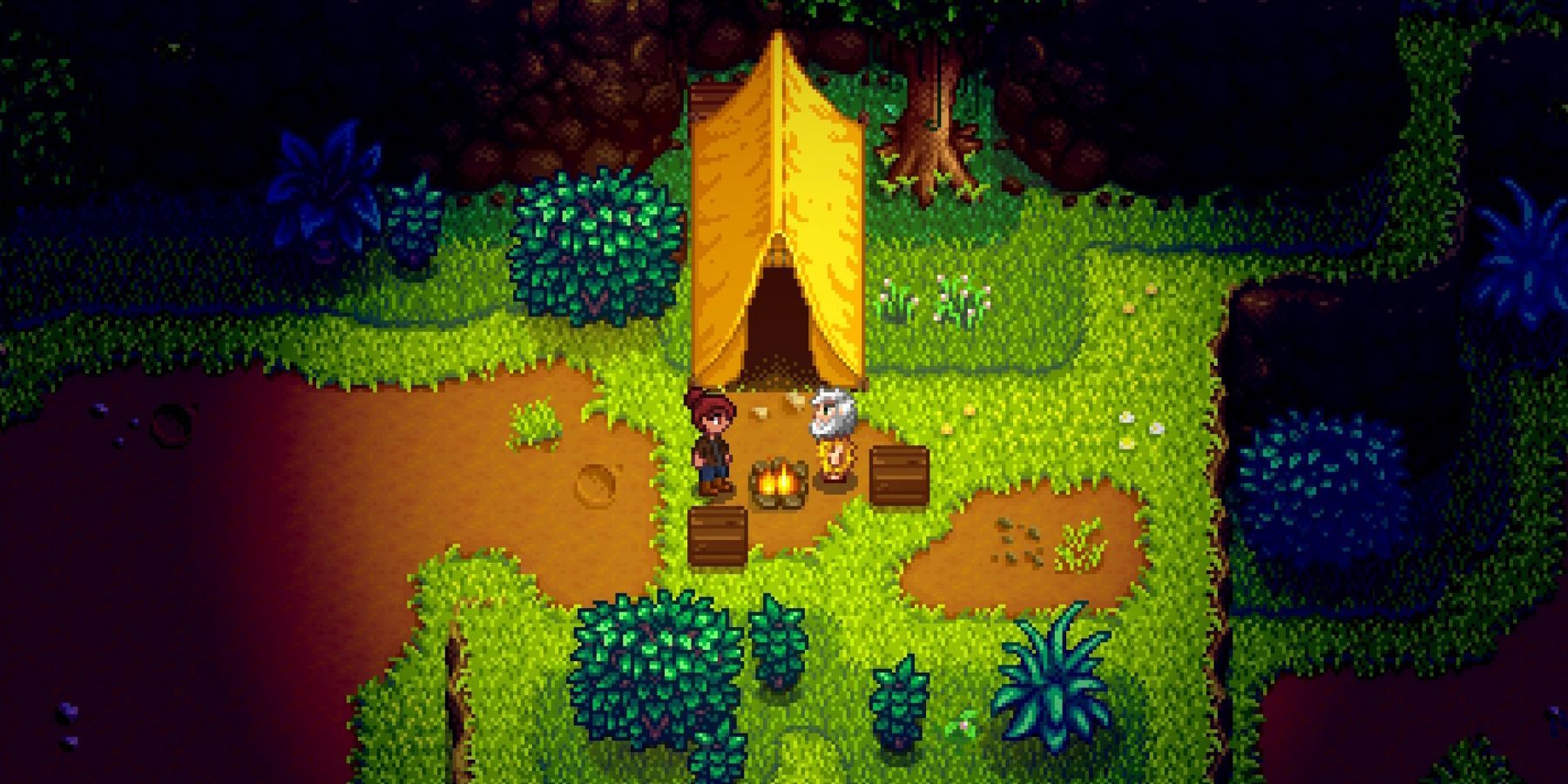 Every player has their own schedule on where they go each day, depending on the weather, time, season and sometimes year or what's unlocked in the game. The same thing goes for Stardew Valley's friendly man living in the tent. While he doesn't do much every day, it can still be tricky to find where he is since he's not normally someone players see on their daily routine.
RELATED: How To Get Every Secret Statue In Stardew Valley
But thankfully, Linus never strays too far away from his home. His Fall schedule is fairly simple, the only difference is if the weather has changed to raining or not. Listed below are the times and locations players can find this fan-favorite character.
This first table is Linus' schedule on normal days.
| Time | Location |
| --- | --- |
| 6:00am | Inside his tent |
| 7:00am | Standing behind the bush that is left of his tent |
| 7:40am | Left of the fireplace in front of his tent |
| 9:00am | Walks to the Spa, stands on the right side of the building |
| 2:00pm | Left side of the lake |
| 6:00pm | Returns to his tent |
And this is his schedule if the weather is raining:
| Time | Location |
| --- | --- |
| 6:00am | Inside his tent |
| 9:30am | Standing behind the bush that is left of his tent |
| 10:10am | Returns to his tent |
| 3:00pm | Stands under the tree on the left side of his tent |
| 7:00pm | Returns to his tent |
Benefit Of Linus' Friendship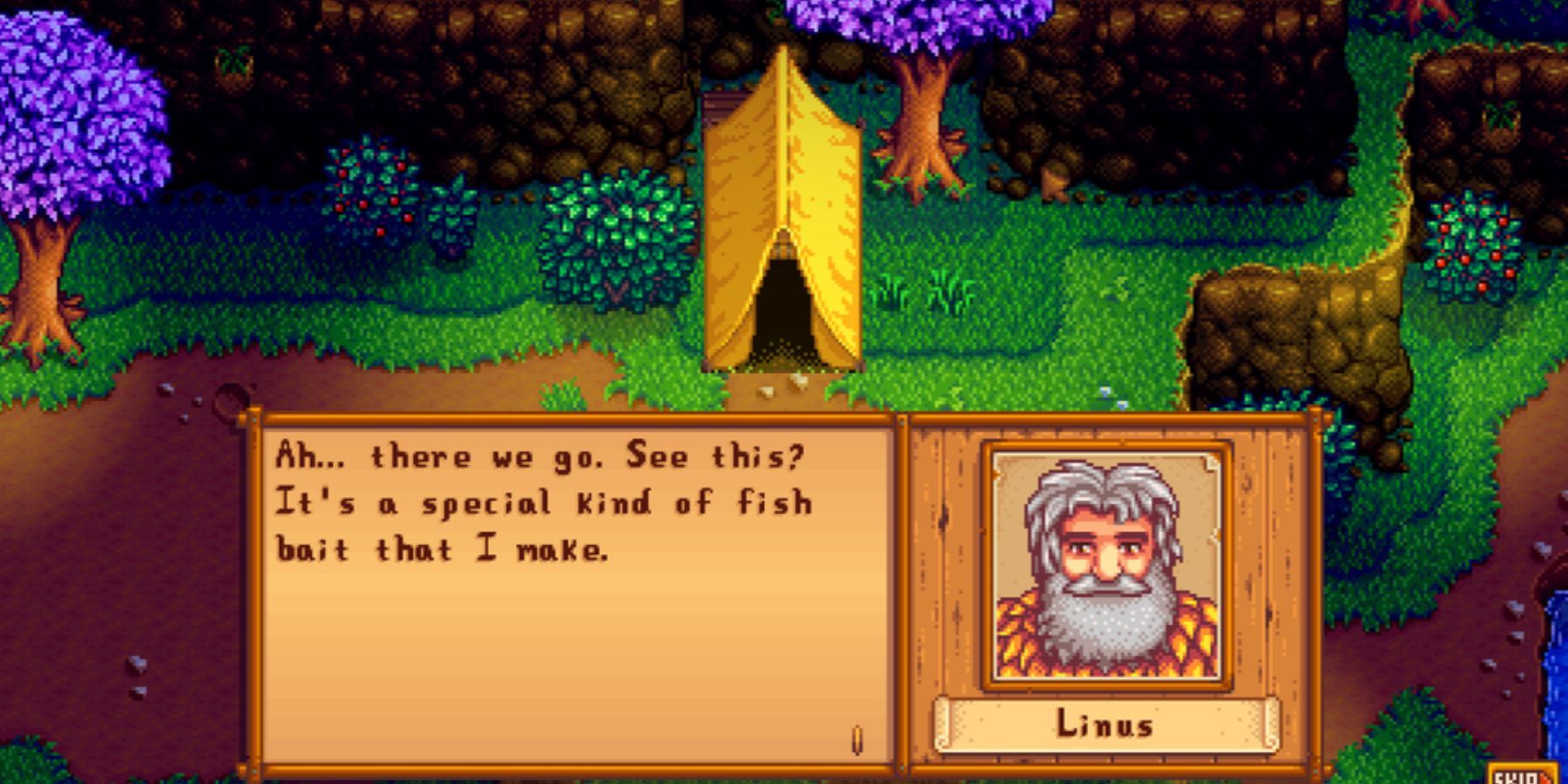 While most might not pay much attention to the old man, nor care about the relationship they have with him, he is beneficial to talk to. There isn't much known about him, and only through special dialogue will players know that he is friends with the Wizard, there are some special perks to boosting a friendship with him. It will take Three Hearts for Linus to send a recipe in the mail for Sashimi (+75 Energy, 33+ Health). After reaching Four Hearts, if players enter the mountain area near his tent between 8am-12pm, players will have a cutscene where Linus invites them to his tent, where he will show players how to craft Wild Bait, which gives players a chance at catching two fish.
The Seven Heart achievement is to gain the recipe for Fish Tacos (165+ Energy, 75+ Health, 2min Fishing Buff). And finally, after reaching Eight Hearts, players will receive a special cutscene that will not be described due to preventing spoilers! Additional aid to get players up to the Eight Heart marker is to gift Linus with his universal loves, such as Yams, Coconuts, Blueberry Tarts, Cactus Fruits and Dish O' The Seas.
Stardew Valley is available now on Mobile, PC, PS4, Switch, and Xbox One.
MORE: Stardew Valley Mods That Make The Game Even Better
#Find #Linus #Basket #Stardew #Valley