Auntie Ethel may be one of the most lethal boss fights in Baldur's Gate 3. She's commonly encountered in the opening act and yet uses spells and attacks that can doom a level twelve group of adventurers. On top of that, she's got several obstacles and minions between her two major phases.
RELATED: Baldur's Gate 3: Where To Go First
If gamers want to beat her, they'll need to be prepared and have some good direction. Baldur's Gate 3 allows players to "win" or complete the mission but even some of the victory outcomes have a major cost. Those who want to beat Auntie Ethel effectively could use some pointers.
This article divulges consequences within the game and reveals information the player's character may not know. Gamers committed to role-playing may wish to stop reading and find these things out for themselves.
Beating Auntie Ethel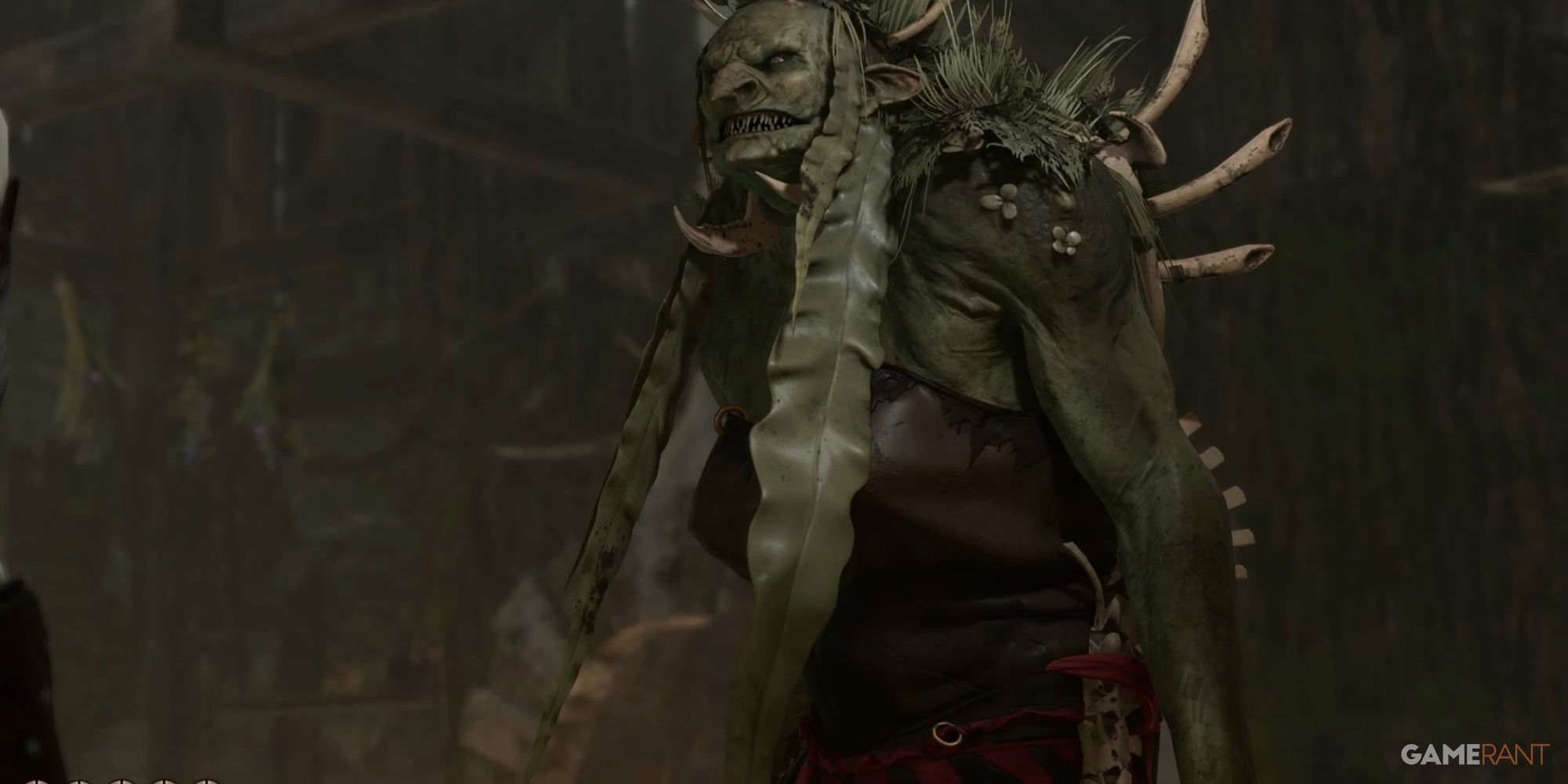 Players don't technically need to fight Auntie Ethel. In fact, they can have a purely amicable relationship with her. But outside of the most evil-aligned players, gamers will want to stop the vicious monster. She's murdered a few people during the campaign and her list of victims grows as players discover more about the hag.
Preparation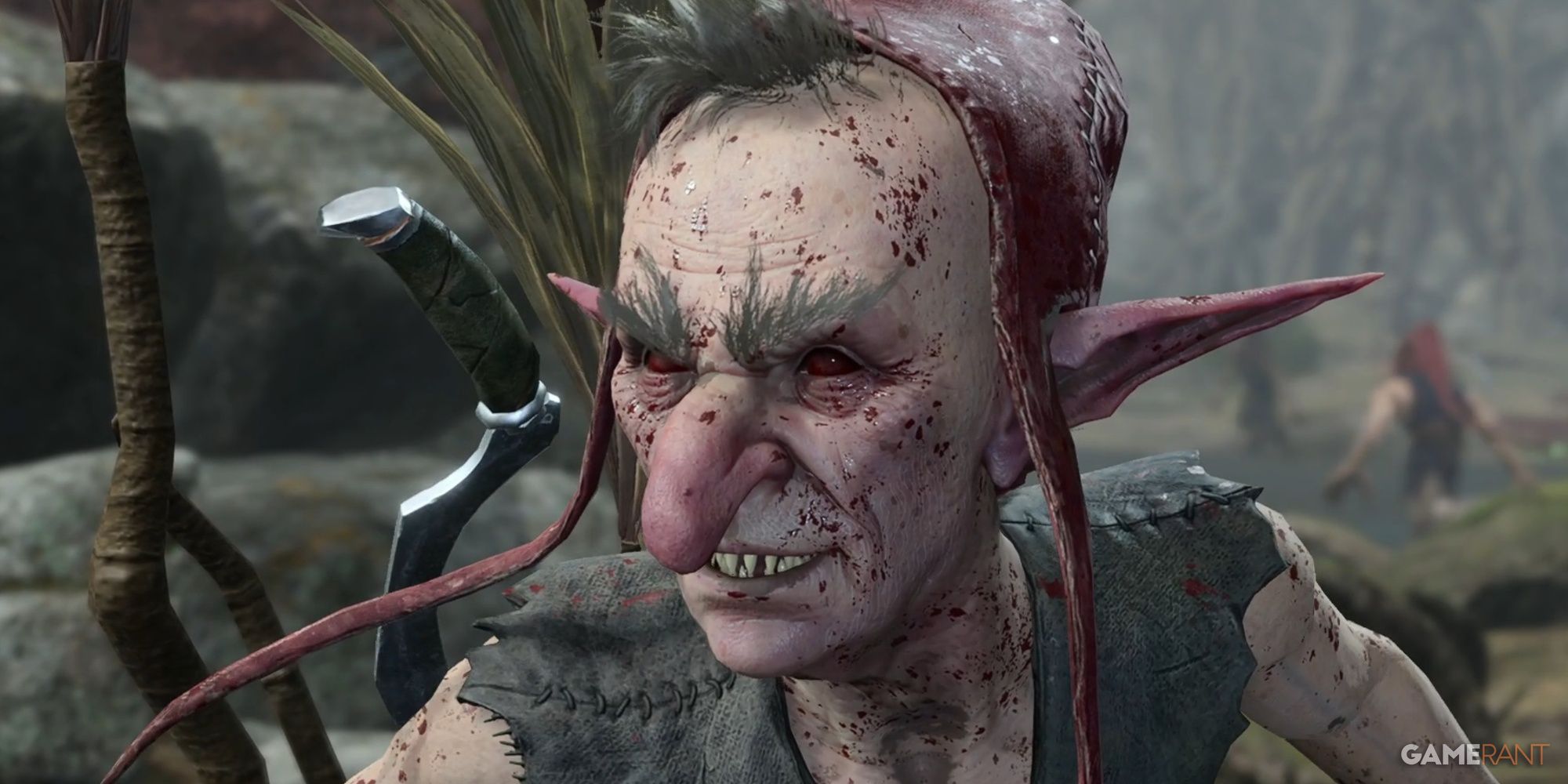 Do not drink from the well yet.
Reject Auntie Ethel's cure.
Have both the Fire Bolt and Thunderwave spells or scrolls prepared.
Have either one jar of water or the Create Water spell prepared.
Have a spell with a long debuff duration, such as Bane, prepared.
Have four to six dispensible and inexpensive items in the inventory.
Have one low-damage grenade in the inventory.
Kill the Redcaps/sheep outside.
Aside from these recommendations, it's always a good idea to rest up and be at full health. There are many treasures to take from Auntie Ethel, so manage encumbrance by selling down to a vendor or leaving unnecessary items back at camp. While a low-level party can "cheese" the encounter, it's probably best to attempt this fight at level ten or higher.
The Redcaps outside will join the fight once initiated. This guide will tell players how to save every victim possible but these evil-aligned creatures have no redemption arc. Kill them before initiating the boss fight to make the first stage of the battle much easier.
Players who have already had water from the well should reload a new save file from before the well or take a long rest. The buff turns into a nasty debuff once the encounter begins.
First Stage Of Combat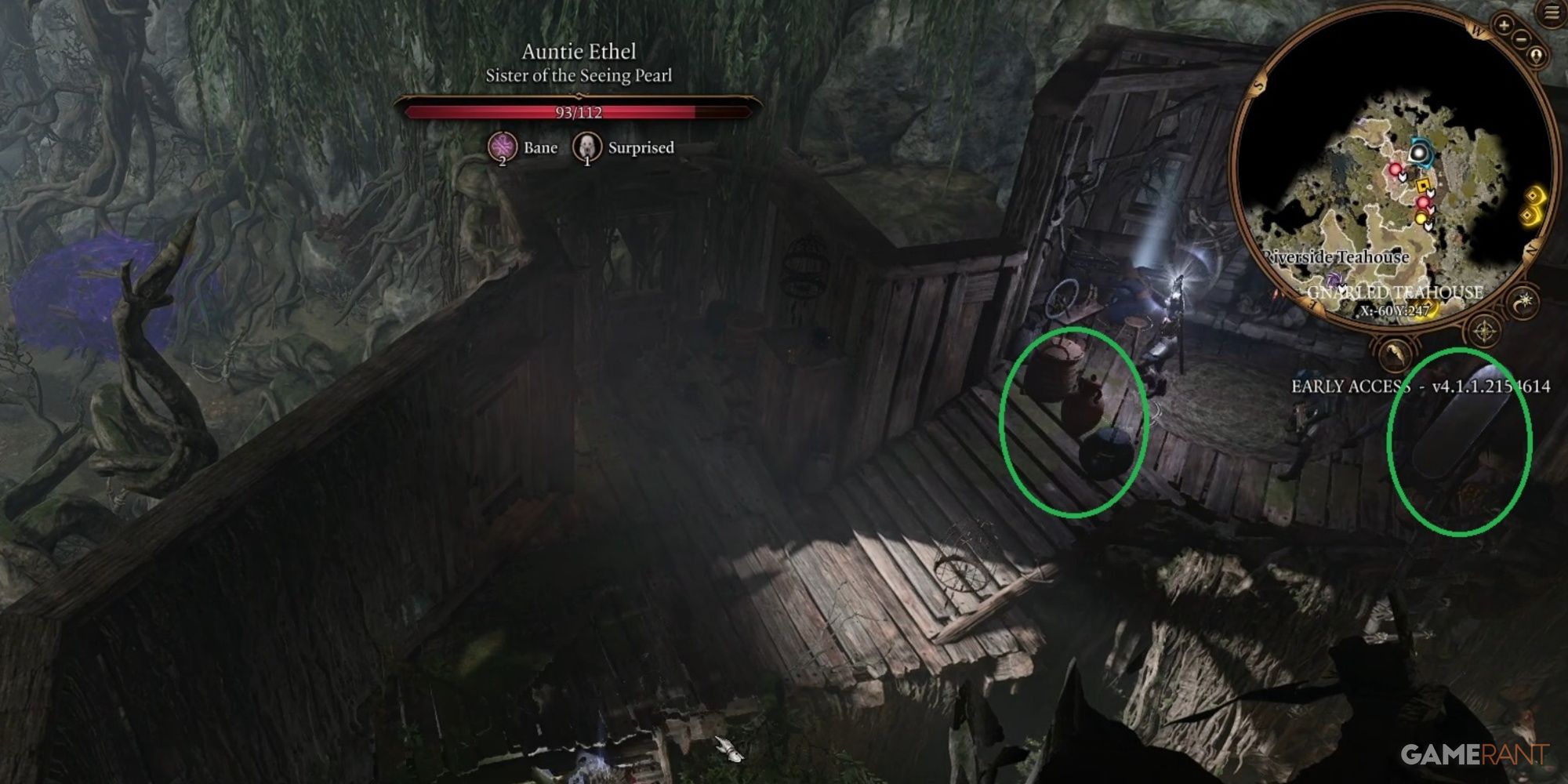 The fight begins shortly after locating Mayrina. Players can "cheese" this fight by blocking the way to themselves with various clutter from around the home. If Auntie Ethel can't get into melee range, her attack abilities are severely limited. She prefers her melee attacks in this stage, saving her best blows for later.
RELATED: Baldur's Gate 3: All Elemental Surface Types (& What They Do)
Those who want to get in the first blow can attack the Hag outside of the conversation. It may feel rewarding to tell her you're going to stop her, but getting in a perfect first blow may be more critical for a dangerous encounter such as this one.
When Auntie Ethel gets to half health, she'll run past the back of the fireplace (which was an illusion). Follow her.
Getting Past The Gnarled Door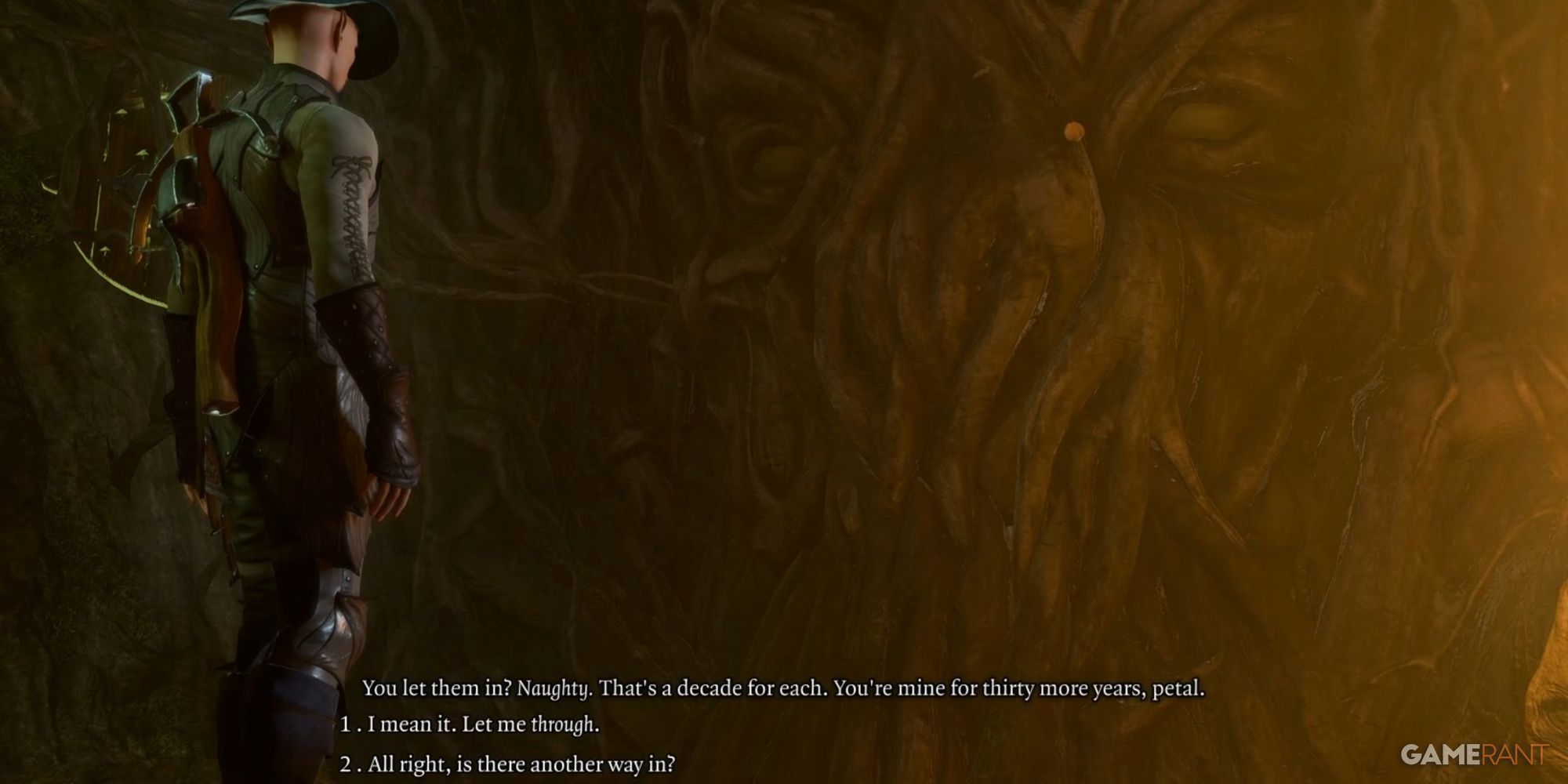 Players will now be in a room full of Auntie Ethel's victims, permanently stuck in a state of torture. The Gnarled Door blocks the path but players can talk to the door and find that this, too, is one of Auntie Ethel's victims. The door is also an illusion.
If players walk straight through the door, Auntie Ethel will set this victim on fire and kill him for not doing his job. To save the Gnarled Door, put use a Whispering Mask, equip it very briefly, go through the door, and then unequip the mask as soon as possible.
Dealing With The Masked Minions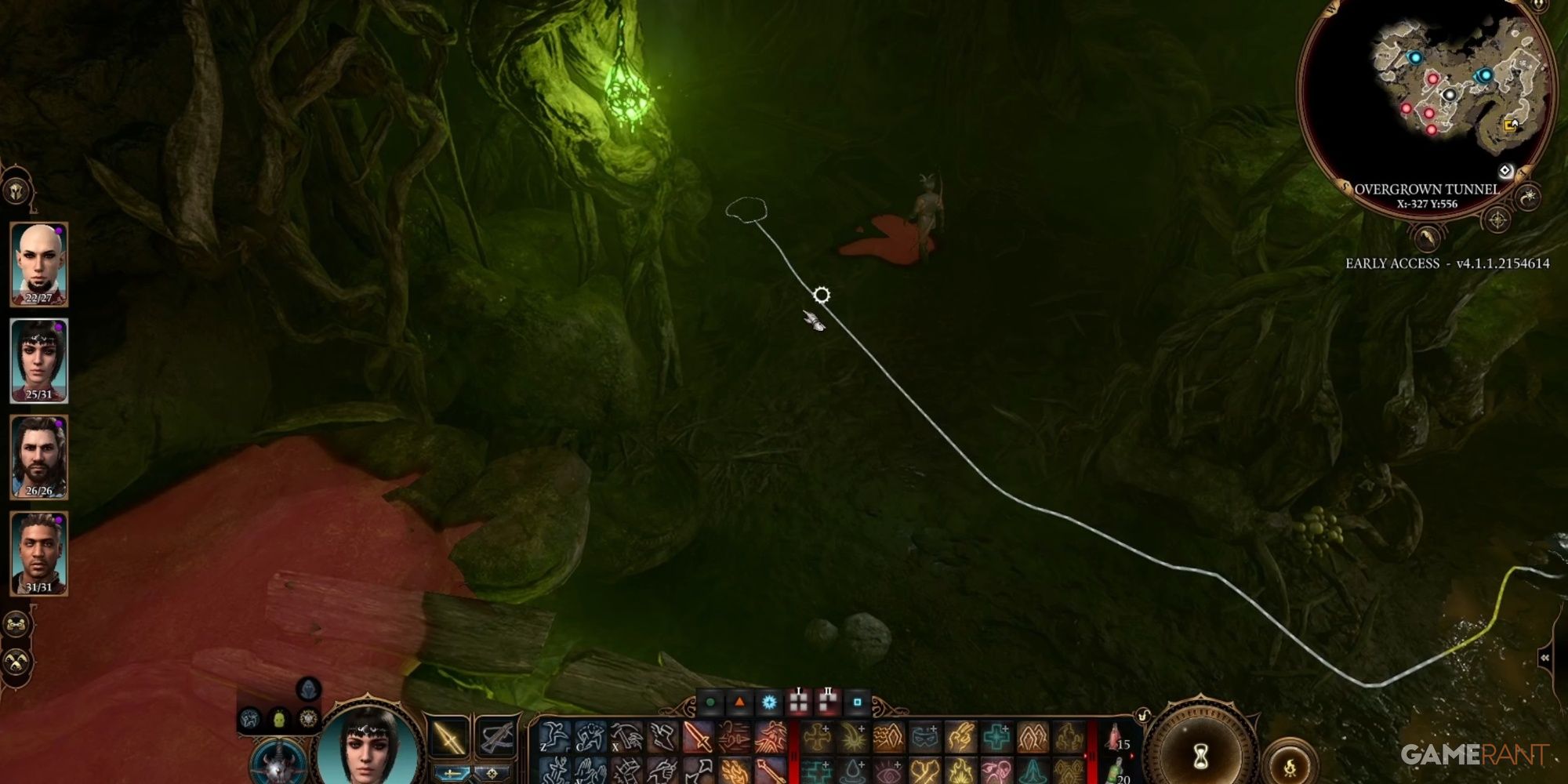 There are opponents in this room, all of them wearing their own masks. These are also victims of Auntie Ethel. Players now have a choice. The second stage of the boss fight is much harder if these victims are alive since they will appear and attack the party.
RELATED: Baldur's Gate 3: All Negative Combat Status Effects, Explained
Killing them now makes the second stage easier. Sadly, this does mean these poor souls will die. Good-aligned parties can sneak through this room. The exit is through a waterfall on the right. Wait for the one masked opponent over there to patrol facing away, then use the Stealth option. If this doesn't work, toggle off Group mode, then switch party members and guide each one past the waterfall individually, having them just to the other side at the end.
Passing The Noxious Fumes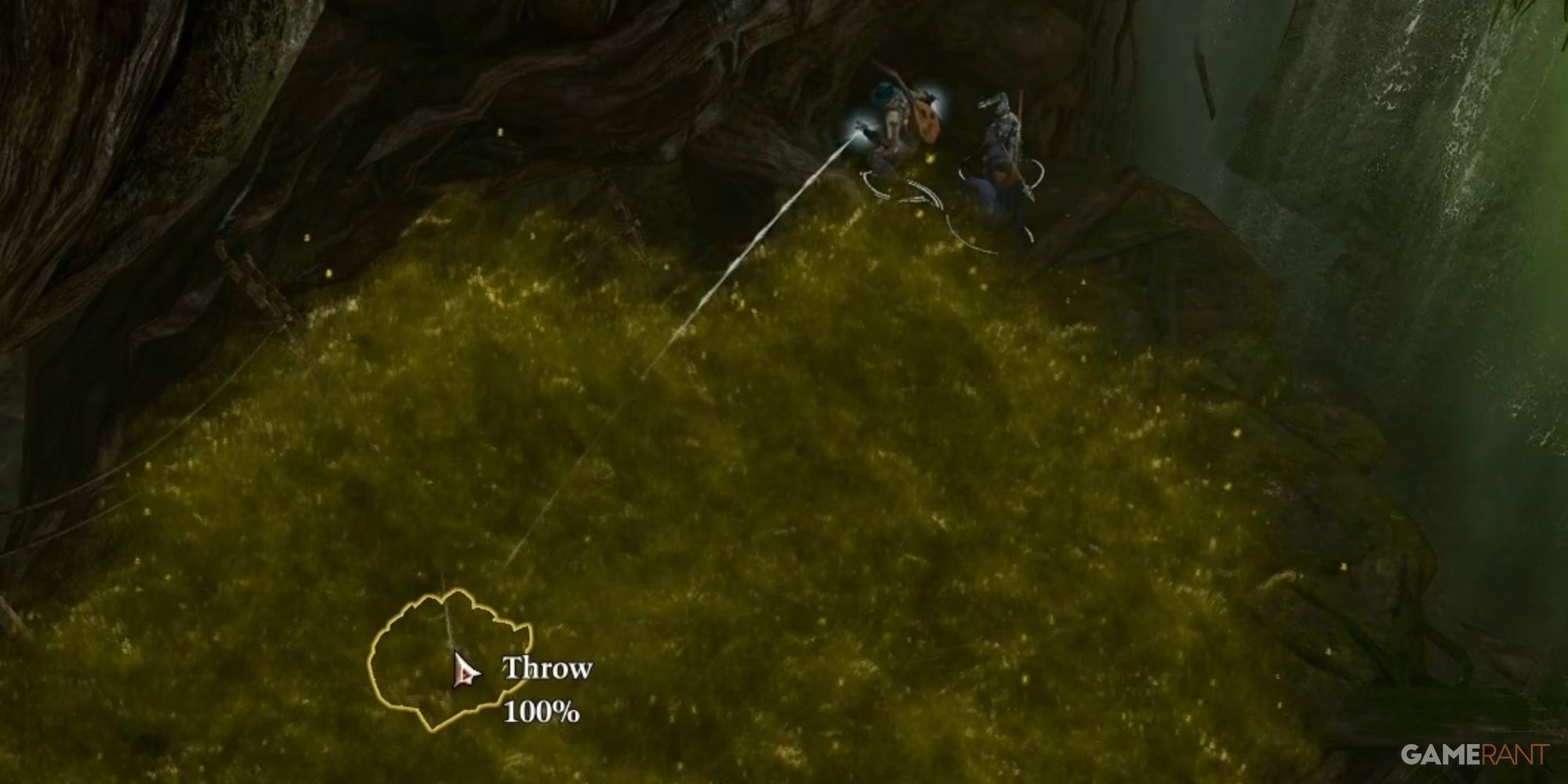 Disable the Noxious Fumes by using the Fire Bolt cantrip. This new fiery area will still damage the player but use this moment to locate a Ruptured Stone. Throw a useless item on top of this and the vent will close, preventing both the fumes and the fire from getting out.
There are Peculiar Flowers in this area that require a Perception check to see. These explode on contact. To stop from running over them, it's a good idea to keep group mode toggled off and guide each character through individually.
Final Stage Of Combat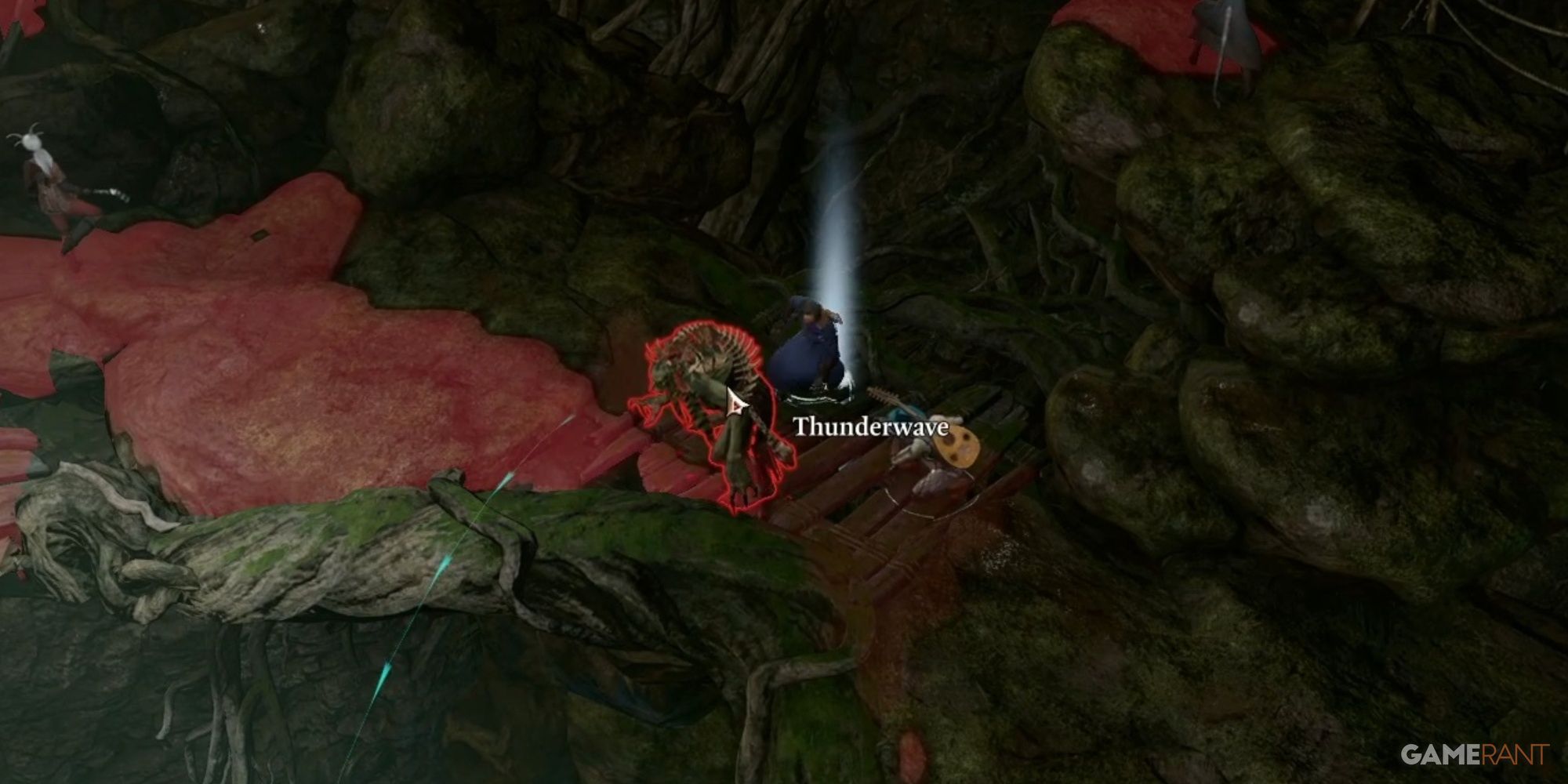 Use the jar of water or Create Water spell to douse the cage when Auntie Ethel sets it on fire.
When Auntie Ethel splits into illusions of herself, look for the one with the debuff on it to find the real boss.
When Auntie Ethel clones herself to look like Mayrina, use a low-damage grenade to hit them both and reveal the hag.
As soon as the fight begins, Auntie Ethel will set Mayrina's cell on fire and summon the masked victims to attack on her behalf if the player left them alive. Douse this flame. To "cheese" this fight, use Thunderwave and toss Auntie Ethel to her death off of the cliff she's next to. The only downside to this is that she does have some valuable items and coins on her person. But it does ensure that the victims are saved.
When fighting her traditionally, players will likely be unable to survive a prolonged fight, so focus on the true Auntie Ethel with the damage dealers and have the healers try to keep everyone alive. She will cast Hold Person, making anybody caught essentially dead for the remainder of the fight. If players don't resist this spell, consider reloading a save from earlier in the fight.
Now that she's gone, players should loot her makeshift laboratory for the wand and finish Mayrina's quest. Also, speak to the Addled Frog for some positive results.
Baldur's Gate 3 is available now for PC. The PlayStation 5 version will be available on September 6th, 2023. A version for Xbox Series X/S is still in development.
MORE: Baldur's Gate 3: All Positive Conditions & Buffs, Explained
#Auntie #Ethel #Boss #Fight #Guide