After the Auntie Ethel boss fight in Baldur's Gate 3, players will be rewarded with many treasures and baubles that can immediately make the party better. There is also a wand to help out Mayrina's husband and some other role-playing literature and trinkets for gamers to enjoy.
RELATED: Baldur's Gate 3: Where To Go First
Prominently displayed are curiously-named potions. Those who are wary to drink anything without knowing what it does in Baldur's Gate 3 are correct to be cautious. Knowing Auntie Ethel, more than half of these potions should be immediately sold and discarded as the accursed beverages they are. Some, though, are worth a sip.
Auntie Ethel's Potions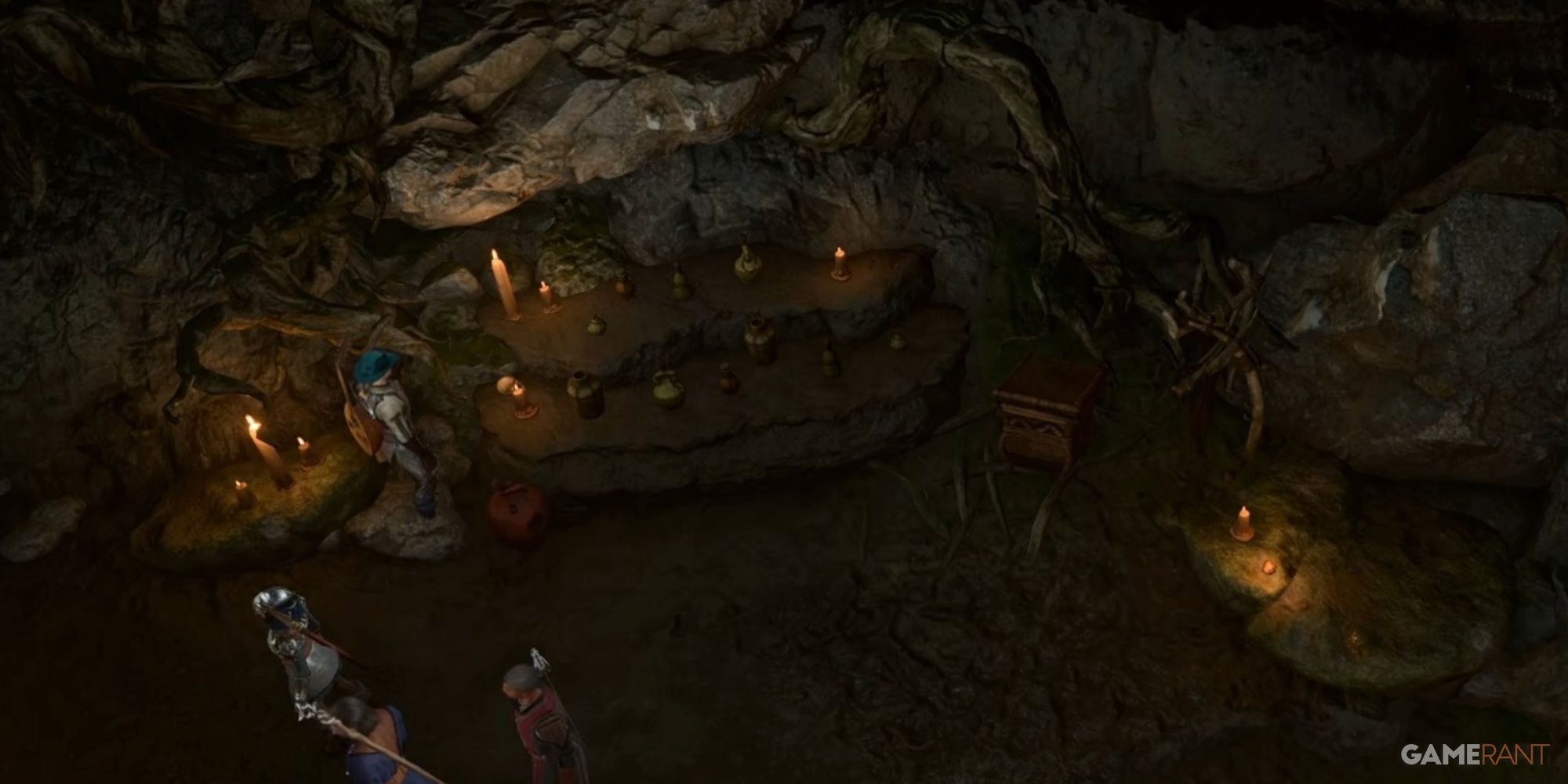 A Mother's Loathing (Good): Grants the Bite attack (2d4 piercing) until the next long rest.
Broken Promises: (Bad): Permanently grants +2 Strength but takes 1 Strength away after every lost rest.
Faltering Will (Bad): Applies disadvantage on Wisdom saving throws until the next long rest.
Heart of Stone (Good): Grants immunity to Poison until the next long rest.
Insanity's Kiss: (Bad): Makes drinker hostile to all nearby units for 4-5 turns.
Lost Time (Bad): Reduces AC by 2, disabled reactions for 50 turns.
Lover's Avarice (Bad): Permanently reduces Wisdom by 1.
Missing Pets (Bad): Applies disadvantage on attack rolls and ability checks for 3 turns.
Wilted Dreams (Bad): Deals 3d6 damage to the drinker during their next long rest.
RELATED: Baldur's Gate 3: All Negative Combat Status Effects, Explained
As should be expected, almost all of these potions are poisons in disguise, some of which can destroy a character build or result in a party wipe. A Mother's Loathing and Heart of Stone are situationally useful for a while but neither one grants a permanent buff.
Some players may want to use Broken Promises. If given to a certain character in the party to help with Strength checks for one or two days, then it can be beneficial. However, the drinker will eventually become the weakest member of the party and, ultimately, the world, so prepare to switch the party member out and never use the individual again.
Baldur's Gate 3 is available now for PC. The PlayStation 5 version will be available on September 6th, 2023. A version for Xbox Series X/S is still in development.
MORE: Baldur's Gate 3: All Positive Conditions & Buffs, Explained
#Baldurs #Gate #Auntie #Ethels #Potion #Effects