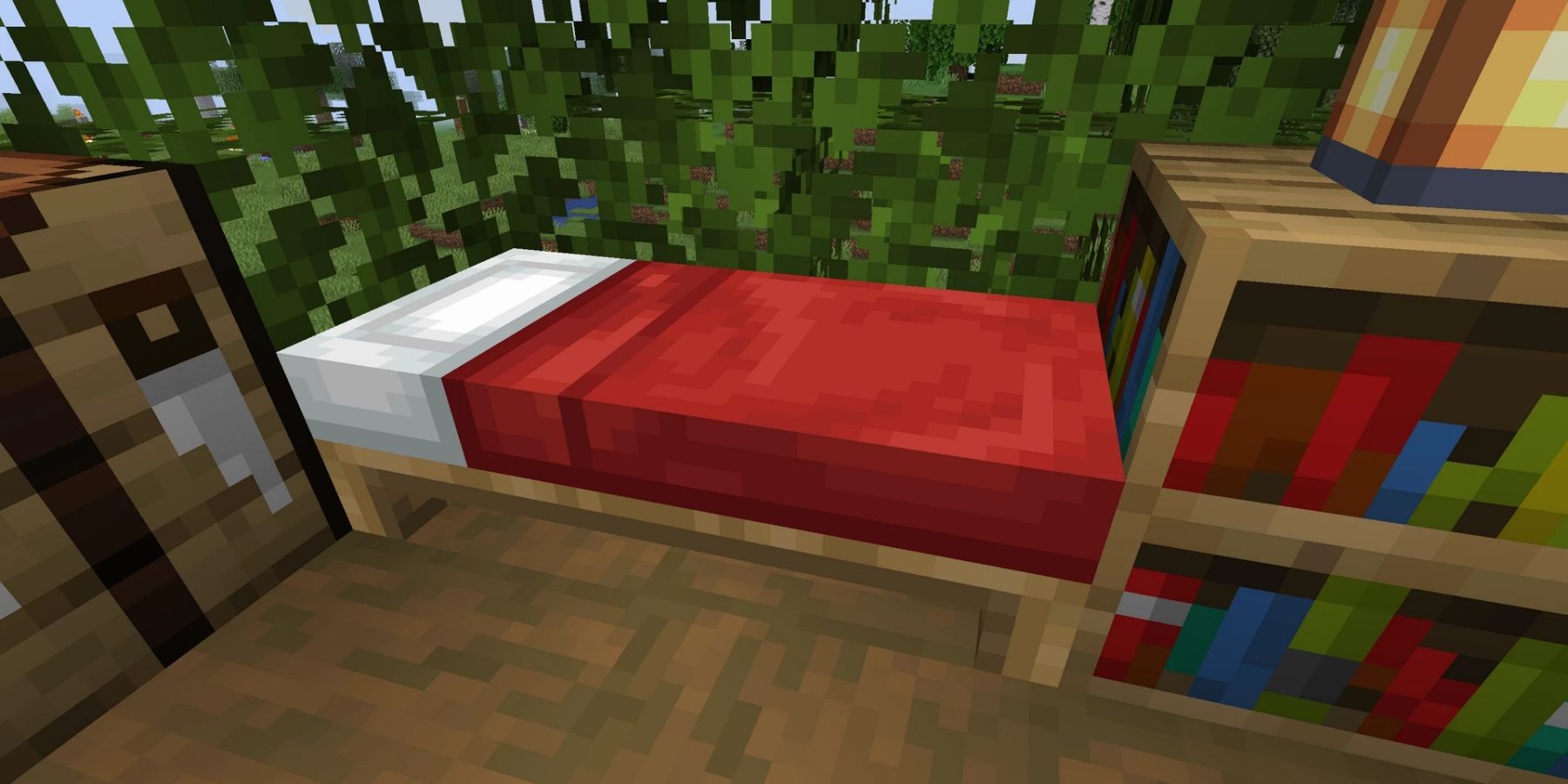 Highlights
Minecraft players are finding creative ways to improve the appearance of their beds, such as using wooden logs to create a headboard.
Making a bed in Minecraft not only adds to the aesthetic, but also serves as a save point for players.
The Minecraft community is a hub of creativity, with players sharing ideas and tricks to make the game more unique and enjoyable.
A Minecraft player has shared a simple trick to create a better-looking bed in the game by using wooden logs. Minecraft allows players to unleash their imagination by building almost any kind of thing their creativity desires.
Minecraft players are very dedicated to making amazing bases and maps, and the same dedication extends to decoration. With some patience and creativity, Minecraft players breathe new life into their base without using mods. It's not uncommon to find great design ideas for windows, doors, and ways to change a Minecraft bed, giving it a modern or medieval design, an aquarium, and more. But one Minecraft player found a way to change how beds look, and it's surprising in its simplicity.
RELATED: Minecraft Player Shows Off Impressive Base in 10,000-Day Survival World
Reddit user Mango_Flango has revealed a simple trick to improve the appearance of a Minecraft bed by placing wooden logs on top of it to create a headboard. The importance of making a bed in Minecraft goes beyond the aesthetic factor, as it marks the player's save point after they sleep in it. So if the Minecraft player dies, their respawn will be where the bed is – as long as the bed doesn't get destroyed or obstructed. The image shared by Mango_Flango shows two beds with a birch log on top of them, but with the inside visible instead of the side. In this way, the simple trick gives the beds a design similar to an iron headboard.
Mango_Flango's post on the Minecraft subreddit surprised other users and has already garnered over 5,000 upvotes. Some users commented on how this effect would change using other logs since wood in Minecraft has different looks. Birchwood log, for example, has a light bark and black spots, while the birchwood plank is pale. Another Redditor asked about the appearance of the base from the outside since the birchwood logs were placed on the wall. The player didn't get to answer, but other users cited a trick of making double walls. This way, Minecraft players can decorate the inside of the base as they wish, while the outside will keep its uniform appearance.
The Minecraft community is very creative in how to give the game its own spin. Some tech-savvy players make complex mods adding new functions or items. Other Minecraft players are highly patient in building incredible bases, digging up entire mountains, or collecting all variants of a specific Minecraft item. No matter how the Minecraft player decides to have fun, the community is always ready to share ideas and tricks to make the experience unique and entertaining.
Minecraft is available on mobile, PC, PS4, Switch, Xbox One, and most legacy platforms.
MORE: The Most Interesting Canceled Minecraft Content
#Minecraft #Fan #Reveals #Clever #Trick #Beds #Game