Players have to decide early if they try to get the artefact from Shadowheart in Baldur's Gate 3. Regardless of that outcome, at a certain stage, the artefact is given to the player and they get to decide what to do with it. It's a mysterious object and no amount of skill check successes reveal the truth about the device.
RELATED: Baldur's Gate 3: Where To Go First
So when two Kith'rak NPCs ask for the artefact, players should be conflicted. On one hand, they may be giving up something that has been useless so far and does very little. On the other hand, the artefact could be one of the most powerful and untapped resources that Baldur's Gate 3 has to offer.
This article divulges consequences within the game and reveals information the player's character may not know. Gamers committed to role-playing may wish to stop reading and find these things out for themselves.
Giving The Artefact To The Kith'rak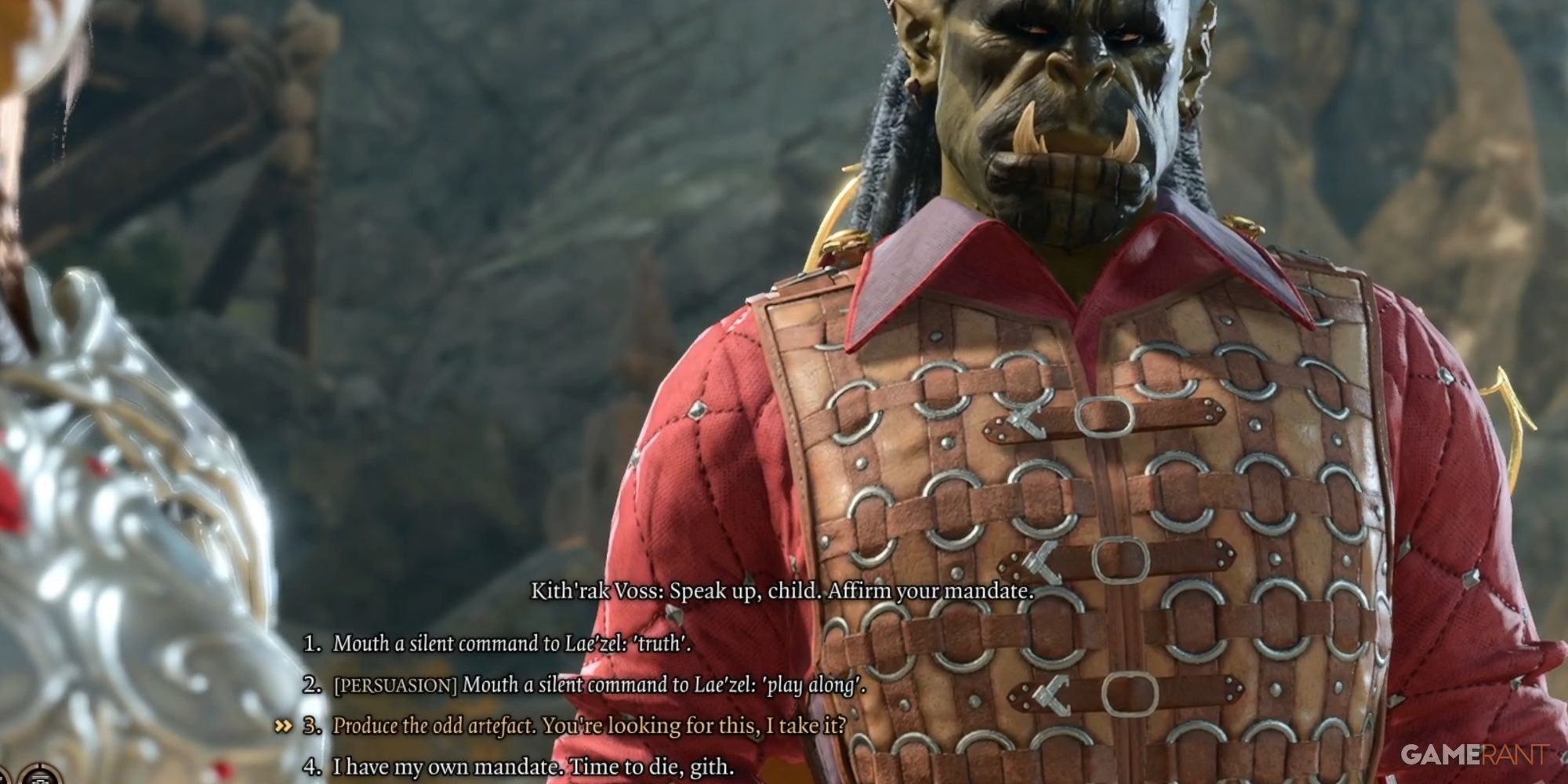 The artefact will return to the character no matter what.
Aside from Lae'zel, the party generally disapproves of this decision.
RELATED: Baldur's Gate 3: All Negative Combat Status Effects, Explained
This ends up being a non-decision as far as the long-term story goes but that hardly means it doesn't matter. If players are willing to part with the artefact, characters like Shadowheart and Astarion see this as a bit of a breach of trust. The character giving away power so easily that belongs or belonged to them at one point doesn't make them happy.
If players really want to make this choice, switch party members and have the bulk of the squad stay at the camp aside from Lae'zel. She actually approves of this decision due to her positive relationship with the gith at this stage. Players can make the offer to both Kith'rak Voss and Kith'rak Voss Therezzyn and Lae'zel will appreciate the giveaway in both instances.
Baldur's Gate 3 is available now for PC. The PlayStation 5 version will be available on September 6th, 2023. A version for Xbox Series X/S is still in development.
MORE: Baldur's Gate 3: All Positive Conditions & Buffs, Explained
#Give #Kithrak #Artefact